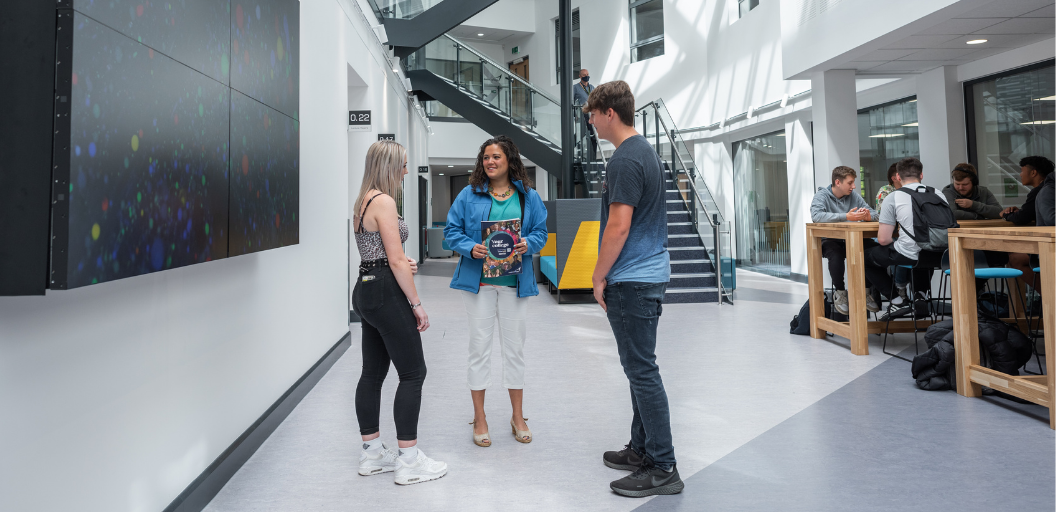 Your Exeter College Open Event 2021
We're excited to welcome you back for our upcoming open events.
Whether you already know what your plan is for next year or you're not sure what is next for you, by coming to one of our open events you will be taking an exciting step into your future. We hope that by visiting us we can inspire you to think about your future and discover all the amazing possibilities and opportunities that we can offer.
On Wednesday 13 October (4-8pm) and Wednesday 17 November (5-8pm), our city centre locations will be open to the public, with dedicated areas to find out about our different types of courses for all learners, including Apprenticeships, Adult Learning and our University Level Courses.
At our Open Events you get the chance to meet lecturers, learn about different subject routes and qualification types and see the variety of extra-curricular activities offered as part of our whole person approach to teaching and learning.
If this is your first time visiting us then there are some things we would recommend you do to get the most out of your visit. We also have some top tips to ensure your trip is as successful as possible.
Pre-Register, then plan your evening
If you pre-register your attendance then we will email you the programme for the evening prior to the event. This means you can plan which subjects you want to visit and make the most of your time with us.
Request a School Leavers' course guide
Request your 2022/23 course guide and we will post you a copy. This way you can have a read about the subjects you are interested in and get your questions ready for when you arrive. Alternatively, you can pick up a course guide during the Open Event.
Speak to subject lecturers
Talk to our experts about A Levels, the new T Levels, BTECs, vocational and technical programmes, Access to HE, Degrees and Apprenticeships, that way you have all the information you need and you can make an informed decision. You can search through our courses online too.
Find out about our wide range of academies and enrichment opportunities
We recognise that during your time at college you will want to do more than study. Our enrichment programme and academies enhance your core programme of study and help you to enjoy, achieve and make a positive contribution to life at college.
Looking for advice?
We recommend making the most of our lecturers' specialist knowledge, so make a shortlist of subjects to visit, and plan to ask lots of questions at the Open Event. However, if you're not sure where to start our College Advice Team will be happy to help! They will be on hand during the Open Events so please pop by with any queries. They also work with many schools across the South West so ask your school if you can make an appointment with them for further guidance, or call 01392 400600 to find out more. You can also book a one-to-one appointment with them if that suits you better.
Don't forget!
If you are coming from out of town then please remember that we don't have any on-site parking. Please take a look in advance at where you can park to save any stress on the night. You can see where all our sites are here and find the nearest car park here.
Here are our top tips for making sure you get the most out of your visit.
TALK to us – if you are unsure about what subjects to take then we are the best people to ask. Our lecturers will be able to inspire you and tell you about what you will learn from their course. We also have specialist advisers who can help you make informed decisions about your choices.
Step out of your comfort zone – you might have always known which subjects to take next but maybe you should see what else is on offer, just in case.
Cover all your options – talk to our experts about A Levels, BTECs, vocational and technical programmes, Access to HE, Degrees and Apprenticeships, that way you have all the information you need and you can make an informed decision.
If there is an extracurricular activity that you are interested in then make sure you take a look at the academies that are on offer with us. We have a wide range of academies covering subjects such as music, journalism, performing arts, sports and even academies aimed at getting you into world class universities.
Have a chat with our current students – there is no better way to find out about college life. There will be student representatives based in all our city centre sites so if there is anything you're worried about, just ask!
Grab a free tea and coffee and just sit down and think it all through, that way if you have any more questions, we're here to help.
Go to a Principal's talk – this is a great way of finding out about the college, our staff and students and how we can help you on your next steps.
If you haven't already pre-registered for the event, you can do so here. Can't make these ones? Don't worry, we hold open events throughout the year. See here for other dates.