Learning Resource Centres
Space to support students to study and learn
Exeter College has four staffed Learning Resource Centres (LRCs) across our Hele Road and Queen Street sites – we also have unstaffed LRCs and Study Hubs providing resources in our other sites.
The role of the LRCs is to support students with their independent and group study.
These communal areas are equipped with PC facilities, and some also have access to Macs. You'll find a range of books in our LRCs, and even more eBooks in our online catalogue and on our SharePoint page.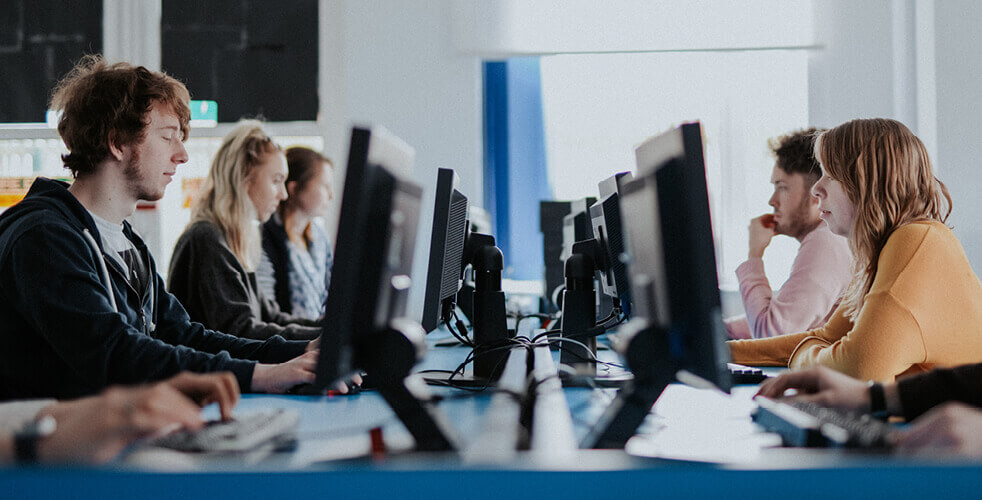 How to find us
Different centres operate a variety of opening times between 7:30am and 8.30pm to meet student needs.
The wide range of online resources including e-books, e-journals, databases and streamed media are available 24 hours a day, on or off campus.
Our LRCs at Tower, Hele, Victoria House, and CCI have staff available to give you advice and support on how you can enhance your learning journey. They are always ready to help with library enquiries, information searches, referencing, password resets, printing, copying, scanning, IT enquiries and all aspects of the LRC services and facilities. Students are also welcome to bring their own devices and WiFi is available college wide. Specialist software is available in the different LRCs to support specific subject areas. On our CCI site there is a shop selling art supplies.