Welcome to Exeter College and congratulations on making the decision to study with us as an adult learner or Higher Technical Education (HTE) student, we are delighted that you are joining us. We are pleased to be able to offer such a wide range of programmes across our 13 faculties, and the right opportunities for you, our diverse student community, to progress and achieve in your chosen subject area.
As well as completing your qualifications and training while at Exeter College, we think it is vital that we also provide you with the right wraparound support and personal development opportunities. We want to ensure that you are supported to succeed, achieve your goals and get help with deciding on your next steps. We also want to provide you with the right wellbeing support and access to our student services and resources. To do this we have introduced WRAAP (Wraparound support for Adults and Apprentices). You will find out more about this in the video opposite and through the information and resources on this page.
We want to ensure you have the best opportunity to prepare for your course at college so we have prepared a Stepping Up or Flying Start guide. Please click here to access this and scroll down to find your course.
To help new students settle into College, we have created a Getting Started booklet with useful information. Please click below to access.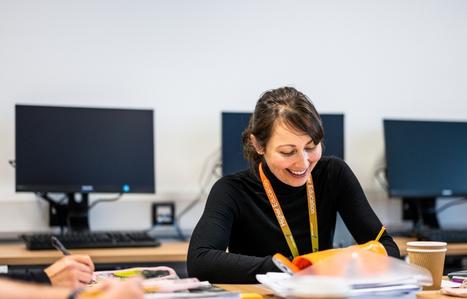 Making the most of your time at Exeter College
When you go to College, it is only natural that you want to do well and get the best outcomes possible, so you can work towards a bright future and enjoy the many benefits that come with further and higher education. However, to do this, you need to ensure you make the most of your time at College and seize the educational opportunity you have with both hands.
It is our expectation that you will attend all your timetabled activities, always aim for 100% and be punctual. Please talk to your lecturer if you are struggling with attendance. While you are on your course, your lecturer will set you work to complete. Plan your time and work load so that you meet set deadlines. Make sure you participate in all learning activities and set yourself goals and targets and review them regularly.
Making the most of your time at College is not just about studying, it can be about meeting new people, making new friendships and having a great experience. Exeter College provides a positive and respectful environment and has a zero-tolerance approach to any form of discrimination, abuse or harassment.
You will find out more about support and expectations through your WRAAP Induction when you start your programme.
If needed, you will be able to access learning support to meet your individual needs and ensure you successfully progress through your programme.
Depending on your circumstances, you could get financial help while at College, which can make it easier to access your learning and complete your course.
Your voice matters to us, you will have ongoing opportunities to give us feedback on your student experience and ensure that we achieve our aim of providing enjoyable education and training that enables learners from all backgrounds to progress and succeed.
Wellbeing
Our wellbeing service is here to help you succeed and enjoy College. The team can support you with any questions or concerns you might have around your health or wellbeing and can help with all sorts of things, from wanting to feel more confident with exams, to supporting those with mental or physical health conditions/concerns.
Please note the links below will only work for current students signed into their College account.
Safeguarding
Here at Exeter College we take your safety and wellbeing extremely seriously and want to make sure we give you the best support possible. We believe that your safety and wellbeing matters above all else at College. The Safeguarding Team are trained to deal with any concerns you may have and work closely with relevant agencies to make sure you get the best support possible.

Meet the Adult Advice Team
Who are we?
We are a team of experts made up of a Student Experience Lead, a Lead Adult Adviser, and two Adult Advisers and Student Experience Officers. We have a wide range of experience to be able to support and guide you throughout your time at Exeter College.
What do we do?
We are here to provide impartial advice for adult students and to help you achieve your full potential, whether that be on a full or part-time basis, or as a hobby.
Read more about our Adult Advice team and how we can help you here.
Where are we based?
We are based in the Digital and Data Centre on our Hele Road campus. You can find us in room 0.15 on the ground floor at the back of the building. We are open Monday – Thursday 9:00-21:00 and Friday 9:00-16:00 during term time and you are more than welcome to drop in anytime to speak with us.
Contact Us
For more information about WRAAP and for any student experience related queries during your course you can email adultandhe@exe-coll.ac.uk or call 01392 400511.
For enquiries about moving onto a new course at Exeter College or advice on your options, you can make an appointment with the Adult Advice team by calling 01392 400170 or emailing AdultAdvice@exe-coll.ac.uk
If you are an Apprentice and you require support, please contact Apprentices@exe-coll.ac.uk
More about WRAAP
WRAAP is the wraparound support for adult learners and Apprentices at Exeter College.
WRAAP includes advice and guidance, including careers advice, health and wellbeing support, resources and leisure activities, and enrichment opportunities.
While at Exeter College we want to give you the opportunity to explore new hobbies and interests as well as supporting your physical and mental health. You will be able to book on a range of free of charge leisure and creative workshops and taster sessions delivered here at the College. We will also provide you with information and updates on sports facilities, activities and access to other wellbeing resources and information.
Thrive offers you guidance and resources to help prepare you for your next steps, whatever that may be. You can book careers advice appointments with our Future Steps Team or find out about further study options by meeting with our Adult Advisers. We will help you to discover what your future options are and understand what you need to do to make that next step. We are very proud of our many key partnerships, these include university, community and industry partners. We provide opportunities for our students to explore the work of our partners through employer events, visits and talks. These encounters support our learners in preparing for their next steps as well as engaging with their local community. We also have lots of free resources available to develop wider skills and knowledge. These include our iDEA Badges and LifeSkills with Barclays. You will also be able to access Life Pilot, our dedicated adult learner online resource for you to research all options and local opportunities for qualifications and jobs.

At Exeter College we believe that creating a sense of community for our learners is key to the student experience. We create a safe and inclusive environment that meets the needs of all learners. We believe that the student voice should be heard, and we promote opportunities for student feedback throughout the learner journey, by having course student representatives, through the delivery of student surveys, and asking for comments and suggestions throughout the year.
Dedicated adult study spaces
We have three dedicated spaces for our adult learners. These are located on the first floor of the Digital and Data Centre in room 1.29, in the Victoria House LRC and a dedicated space at the Future Skills Centre. These are fully equipped spaces and are open to all HE and Adult students in the College.
College cafes
There is a College cafe in most of our buildings, so you are never far away from being able to buy a hot or cold drink. Exeter City Centre is only a short walk from our main Hele Road campus so you can make the most of it being on your doorstep in your free time.
Learning Resource Centres
Exeter College has four staffed Learning Resource Centres (LRCs) to support students with their studies. You will find these in the Tower building, Hele building, Victoria House and Centre for Creative Industries (CCI).