A thriving university city
The city is on a clear upward trajectory and is one of the fastest growing in the country.
As a student of Exeter College you will be able to take full advantage of student discount events, club nights, art exhibitions, live music, theatre, comedy and sporting events.
Exeter may be one of the country's oldest cities, but that doesn't mean it's behind the times. Far from it, the city is in fact a prosperous and thriving cultural hotspot which is continually developing and growing. It is already home to major firms such as Europe's largest regional airline Flybe and the Met Office and there is a world class Science Park just east of the city.
From shops, theatres, museums and a thriving nightlife, Exeter is the perfect backdrop for students to learn and study in and it provides plenty of employment opportunities for your future too.
The city also offers a wide variety of accommodation for students (18+) including studio flats, cluster flats and shared houses (through private landlords).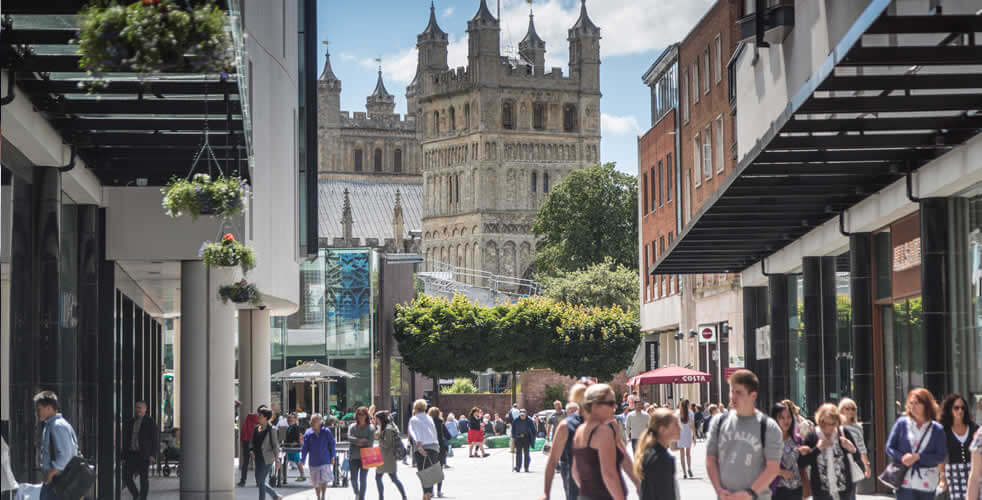 "A snazzy contemporary shopping centre brings bursts of the modern; thousands of university students ensure a buzzing nightlife; and the vibrant quayside acts as a launch pad for cycling or kayaking trips. Throw in some stylish places to stay and eat, and you have a relaxed but lively base for explorations."
Lonely Planet Guide