Digital and Data Centre
The new Digital and Data Centre on our Hele Road site is part of a wider South West Institute of Technology (SWIOT) plan to revolutionise digital, engineering and manufacturing technology across the region.
The new £10.3million building is match-funded by the college and focuses on providing education opportunities in the digital sector, including courses around data analytics, cyber security and software development.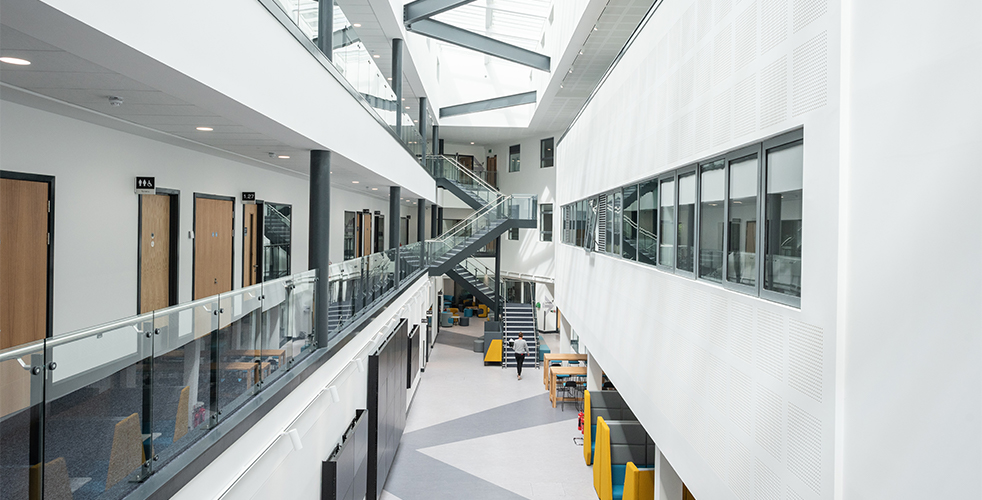 The new Centre at Exeter College provides a nationally significant and prestigious digital learning centre in the heart of the city. Complete with digital learning laboratories, state-of-the-art IT suites and interactive seminar spaces, learners have access to cutting edge equipment to help gear them to move directly in to industry or further study.
The Digital and Data Centre is the home of a variety of employer-led curriculum programmes at different education levels with the aim of proactively meeting the skills challenges of the future in the digital sector.
Take a virtual tour of our South West Institute of Technology Digital and Data Centre
Explore the building's immersive digital twin model including a dollhouse view, floor plans, social spaces and classrooms, powered by Matterport.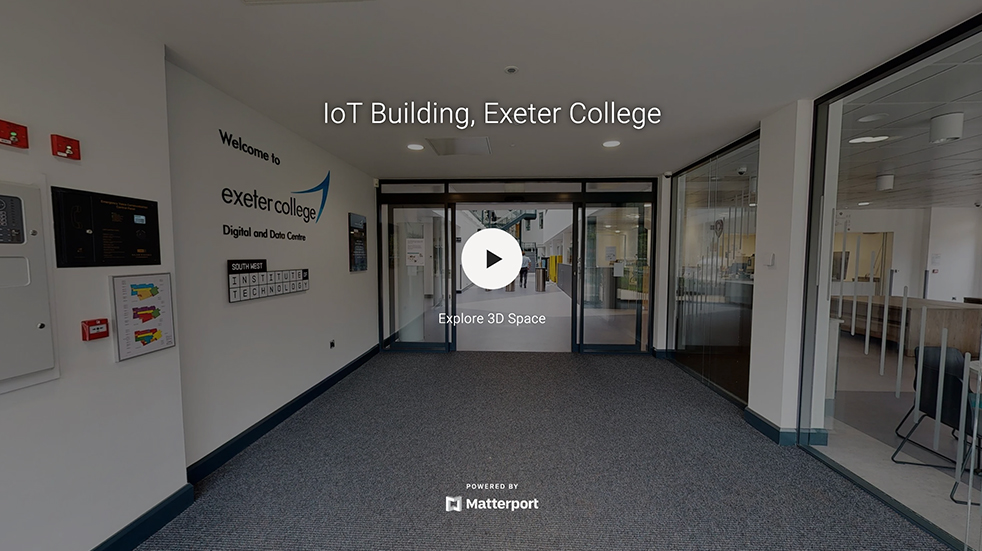 About the South West Institute of Technology
The government has supported a small number of Institutes of Technology across the country, following a rigorous selection process. The aim is to reinvigorate the technical education landscape, especially at Levels 4 and 5, to meet the changing and complex needs of businesses. As part of the development process, Institutes of Technology have engaged with employers to identify current and emerging skills challenges.
The core aim of the SWIOT is to provide the education opportunities to proactively plug those skills gaps in industry. The key 'anchor employers' who are working with the SWIOT on curriculum objectives are Oxygen House, Babcock, the Met Office and TDK Lambda, with Oxygen House and the Met Office playing a key role in the development of the Digital and Data Centre located at Exeter College.
The SWIOT draws on expertise from 12 partner organisations, including the University of Exeter, University of Plymouth, City College Plymouth, Exeter College, Petroc, Truro & Penwith College and Bridgwater & Taunton College, each investing in the development of state-of-the-art facilities for training in technical subjects to create Britain's next generation of highly skilled technicians and engineers.