Congratulations on receiving an offer of a place to study at Exeter College!
🎉 🎉 🎉
Click on the links below for all the information you need before you get started.
Logging in for the first time.
First you need to sign into you College IT account. This can be accessed with your username/email which is printed on your ID card, plus a password, printed on right hand side of your ID card.
We recommend you sign in (https://hub.execoll.ac.uk) and change your password asap. We've put together a quick video guide here.
---
GCSE results
GCSE results day is on Thursday 20th August. Representatives from Exeter College will be visiting a number of schools across Devon on GCSE results day, so you may be able to speak to someone in person if you have any questions about your results.
Alternatively, if you have any worries or concerns when you receive your results and we are not available in your school, you can call the dedicated GCSE Helpline on 01392 400555, which is open from results day until your enrolment appointment. If you have questions at any other time then please contact our College Advice Team on 01392 400600.
If you have not received the GCSE results you require it is essential that you contact our results helpline or still attend your enrolment appointment. You can check the results you need on your college offer form. It is important to remember that you cannot start at Exeter College without attending enrolment, and you will need to take confirmation of your results with you to your appointment. At enrolment our college tutors, college advisers and progression officers will be able to advise you of all your options and alternative courses if necessary.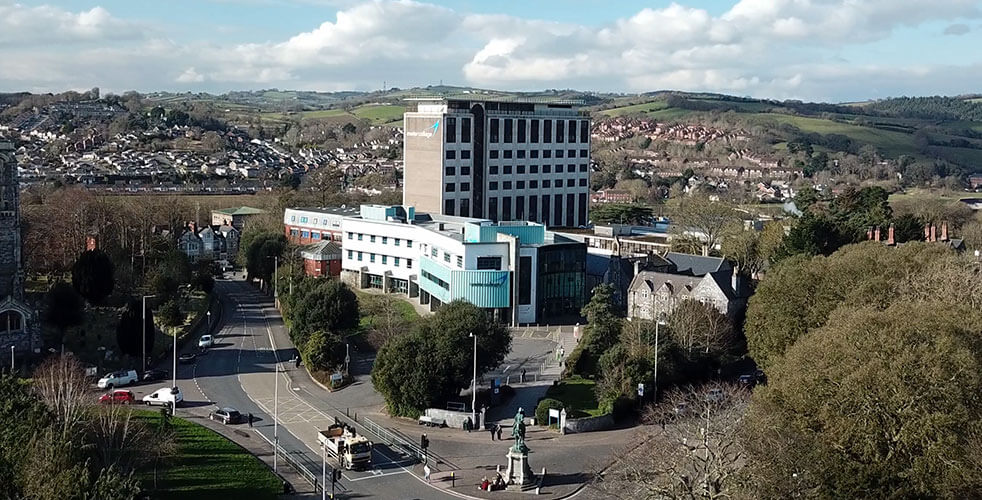 ---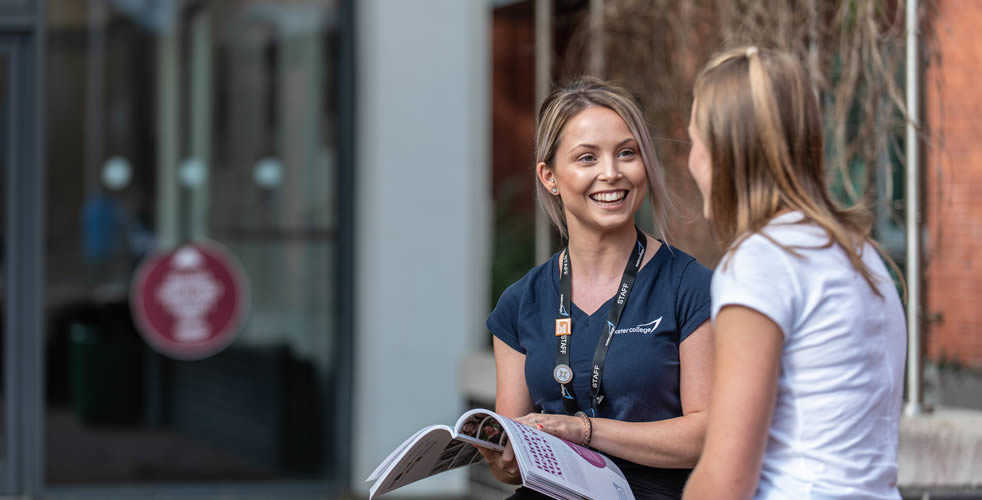 Enrolment
After you receive your GCSE results you will attend an enrolment appointment at college. At the appointment we will check that you have the grades required to do your chosen course and you will fill in the paperwork needed to become an Exeter College student.
You will be sent an enrolment pack in late July/early August which will include the details of your enrolment appointment. Your enrolment appointment will take place between Thursday 20th August and the start of term, so try not to book your holiday then. If you cannot make your enrolment appointment it is essential you let us know as soon as you receive your enrolment pack so we can arrange another time.
Please call 01392 400444 or email info@exe-coll.ac.uk to change your appointment.
For the latest enrolment information and arrangements for this year, please click here to visit our enrolment page.
When you enrol you will have your photo taken for your college ID card, and if necessary can find out more about travel and financial support. You will be at college for approximately 1 hour, although if you would like some advice and guidance about your courses, it may be a little more.
If you do not achieve the grades required for your first choice of course, please still come to enrolment as we will talk to you about alternative courses. There will also be representatives from the Exeter College Progression Team and Careers South West at enrolment to help you choose the right course for you.
You have to attend an enrolment appointment to become a student at Exeter College.
---
Flying Start
We have received lots of messages from Y11 learners, and their parents, about what they can be doing to get a head start on the courses they are due to start with us in September. Therefore, in response to the circumstances of the past few months we launched Flying Start earlier than previous years, as we are really keen to engage students in their new studies, meaning we have a chance to help shape your knowledge and skills before you join us.
Hopefully you have enjoyed working through Chapter's 1 and 2 that were emailed out to students during the summer term, and find that it helps to prepare you for the adjustment from school to college. This work won't be formally graded but instead will be discussed and taken in during your first classes with us in September. You should aim to bring along what you have completed to your first timetabled sessions with us in September. There is no need to get anxious about the tasks, we are not expecting you to know everything before you arrive, but are interested in your ideas and what you have found easy or difficult, as it helps us support you right from the beginning.
If you haven't received the Flying Start information you can find it here:
---
Your first week at college
At your enrolment appointment your tutor will tell you when and where you need to go on your first day of college on Friday 4th September.
When you arrive there will be lots of college staff to meet you and help you find your way around – just look for the people in blue.
Your first day at college is your induction day and will be spent with your tutor group. This is when you will receive your timetable. Teaching will begin on Monday 7th September
We know that lots of students are nervous about their first day and week of college, and about making new friends. Our tutors are really aware of this and will support you through this time. They will plan lots of activities to help you get to know one another, find your way around college, and feel welcomed and confident as quickly as possible. If you're nervous keep in mind that everyone is in the same situation and will be as nervous and eager to make friends as you are!
If you have any questions or are not sure where to go during your first day you can visit one of the Helpzones, which will be located at Hele Road, Victoria House, and CCI.
---
Timetables
You will receive your college timetable during your induction day. At your enrolment appointment your tutor will tell you when and where you need to go on your first day at college on Friday 4th September.
The structure of your timetable will depend on the type of programme you are studying at college e.g. an A Level or IB programme, a full time vocational course, or an apprenticeship. Either way, your timetable will be quite different from what you are used to at school. Choose your type of programme to find out more about what your timetable will look like: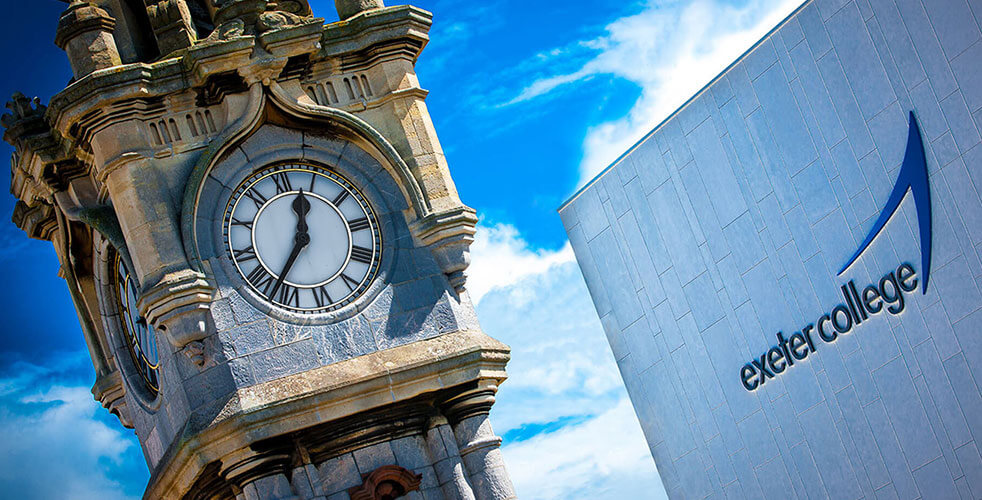 A Levels or the IB
The college day runs from 9am until 4:30pm, Monday to Friday. Within these times you will have a number of study periods. This could mean that you start college later on a certain day, or might finish before 4:30pm on some days, or you could have gaps between lessons in the middle of the day.
Here is an example of what an A Level timetable can look like:

Here is an example of what an IB timetable can look like:

Vocational and technical full time programmes
The college day runs from 9am until 4:30pm, Monday to Friday. Students studying full-time vocational courses often find that their teaching hours only take place over around three and a half of these days, however the structure of your timetable will vary depending on the subject you have chosen.
Here is an example of what a full-time vocational timetable can look like:

Apprenticeships
As an apprentice you will attend your place of work during most of the week, and will only attend Exeter College for one day between Monday and Friday. The college day runs from 9am until 4:30pm. Your hours and days at work will vary from employer to employer.
Here is an example of what an apprenticeship timetable can look like:

---
Personal Development Programme
To support you in succeeding in both your studies with us, and your preparation for life after college, we have created a Personal Development Programme (or PDP for short). The Personal Development Programme provides the foundation for your studies at Exeter College, ensuring you have a Personal Tutor to provide regular 1:1 support and guidance to help you achieve your goals. In addition to this, you will work together with other learners to explore a range of Essential Core Themes such as health and well-being, citizenship and personal safety, all of which provide an important basis for you to thrive both here at the college and beyond.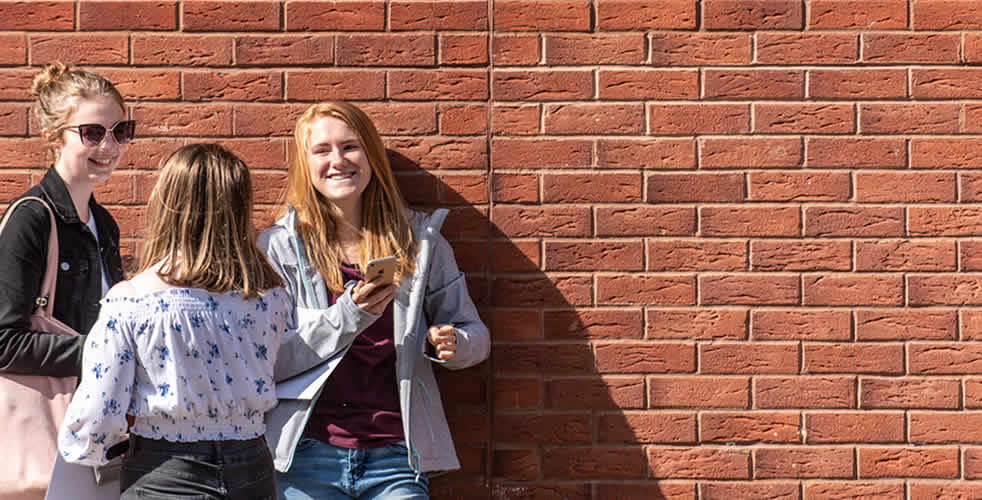 ---
Get involved
Whether it's surfing off the coast of Portugal, raising money for the college charity or having your views heard by the college leadership team, when you're a student at Exeter College there are loads of ways to get involved, have fun and make the most of your time with us!
Enrichment
Enrichment is a set of exciting activities that give you the opportunity to test out new hobbies, get a skill or qualification and make new friends. You can choose your activities throughout the academic year and there are enrichment activities available every day.
The Learner Voice
You can get involved in feeding back your views by becoming a tutor representative, taking part in the Learner Voice or giving your feedback via our student surveys. As well as asking questions about satisfaction, course quality and support, we use our Learner Voice to find out what students love about college and how we can improve. Students meet with the Principal twice per year and we feedback how their views are making an impact. A new IT room was created in the Hele Building and a dedicated MAC suite has been added in the CCI Building, as a direct result of Learner Voice feedback. In addition, we have introduced meal deals in all college cafes, extended the range of food on offer and developed a large range of healthy options.
Exeter College Students' Union
ECSU is run by students for students and is your Students' Union. ECSU's aim is to give students the best possible experiences at College. The SU is run day to day by the SU Committee who do loads of things from: running events and campaigns, collecting student feedback and making positive change and selling TOTUM student discount cards.
TOTUM (NUS Extra)
One great benefit of joining Exeter College is the ability to get an TOTUM (NUS Extra) card, your essential student discount card.
TOTUM (NUS Extra) is the #1 student card providing discounts in-store and online and it also can include PASS which is an accredited proof of age ID. You get access to over 250 student discounts, with new offers added every month at places like: GAME, Co-op, Boots, ASOS, Apple and Samsung and loads more.
---

Travel and Financial Support
16-19 Bursary Fund
The 16-19 Bursary Fund is available to help you to complete your studies if you are in financial hardship and struggling to pay with the costs of coming to college. For many students facing financial hardship, the Bursary Fund can be the key in enabling them to succeed at Exeter College and secure a better future.
If your household income is £24,000 or below you can apply and we will need to see evidence of your household income. The assistance you receive is discretionary and will always be conditional on your attendance and with you keeping within the terms of the 'Student Code of Conduct', which you sign at the start of your course.
The 16-19 Vulnerable Learner's Bursary is available for young people in care, care leavers, those claiming Universal Credit who are living independently or Employment and Support Allowance and Personal Independence Payment in their own right. You may be eligible for a bursary of up to £1,200 per year.
Free meals
Were you entitled to Free School Meals? If so, you may be entitled to Free Meals whilst studying at college…
Travel to Exeter College
There are many ways to travel to us; all our sites are easily accessible by train, bus, bike, car or on foot, depending where you're travelling from. As the county's only Outstanding College, we ensure that we work closely with all major providers of the region's train and bus routes to ensure that you are supported to get to us as inexpensively as possible.
We run an Exeter College subsidised travel pass scheme. You could save hundreds of pounds with our travel passes.