Exeter College is 50!
2020 marked 50 years since Exeter College was named as the UK's first tertiary College, though our origins date back to the 1800s.
Exeter College's status as a fully-fledged tertiary College was announced in 1970 with the aim of providing an education centrepiece for the community.
The fact that we have remained as a genuine tertiary College for 50 years is a testament to the foresight of civic leaders, the strength of partnerships within the city and the collaborative nature of schools in and around Exeter.
For the last 50 years, while we have grown and been recognised as one of the leading Colleges in the country, we have remained true to our initial purpose; to meet the academic, vocational and technical education needs of individuals and businesses.
The College is fully embedded within Exeter, both geographically and culturally. The schools, specialist mathematics school, College and university have together created a clear, coherent and impactful education ecosystem fit for the community.
In 2020, we celebrated 50 years of Exeter College by reflecting on our history and looking towards our future as one of the leading education providers in England. We shared stories from staff, industry partners and our inspirational alumni across our website and on our official Facebook, Twitter and Instagram accounts.
Check out all of our 50th Anniversary Stories
---
50 Years of Excellence – A Timeline
Our 50 years as the UK's first tertiary College have provided some memorable moments of success for us, our staff, and our students. Here are some of the highlights over the last 50 years.
Exeter College in the 1970s

September 1970
Exeter Technical College becomes Exeter College of Further Education and is announced as the first tertiary college in the country.

February 1972
Exeter College of Further Education is officially renamed Exeter College.
Exeter College in the 1980s

1981
William Hibberd's old grocery warehouse on Queen Street is acquired for College use as a training centre in mechanical motor vehicle and agricultural engineering.

December 1983
Phillip Merfield retires after 14 years as Principal. He had been at the helm since the College's shift to becoming a tertiary College.

August 1984
Dr John Capey CBE is appointed Principal, a position he would hold for 13 years.

November 1988
HM Inspectors gives a report of quality on Exeter College. 88% of lessons are marked as satisfactory or above, compared to a national average of 73%.
Exeter College in the 1990s

December 1992
Approval is given for Exeter College to offer the International Baccalaureate, a worldwide qualification intended to develop skills for a globalizing world.

June 1995
College purchases Victoria House, a building which now houses our Business, IT and Sports, Leisure and Tourism courses.

June 1997
Dr John Capey CBE retires, and Tim Smith is appointed as Principal
Exeter College in the 2000s

March 2000
College inspected by FE Funding Council's Inspectorate and is declared 'one of the best in the west'. 95% of lessons are marked as satisfactory or better.

January 2001
Victoria Yard Studios are officially opened by Malcolm Wicks, Minister for Lifelong Learning.

January 2002
Richard Atkins is appointed Principal, replacing Tim Smith after his five years as Principal.

September 2002
Sports Academy is formed, a scheme that would become a mainstay of the College's education offering. Today, our Sports Academies provide opportunities for gifted performers to focus on their sport while gaining qualifications and benefits from partnerships with Exeter's top professional sports clubs.

September 2004
Exeter College's Construction Centre at Falcon House is officially opened, giving students access to the latest industry equipment.

September 2005
Our Centre for Creative Industries is opened off Queen Street, complete with multimedia facilities and a state-of-the-art TV studio.

September 2006
£5.5million Hele Building opens, providing updated teaching and learning spaces, as well as a student canteen and new reception area.

September 2007
The Laurence Building opens its doors for the first time, providing specialist spaces for hospitality, catering, hair and beauty courses.

May 2008
Ofsted report shows 'Good' grades and highlights a 'broad and inclusive curriculum'.

September 2009
Reach Academy launches with an initial intake of 50 gifted and talented students, aiming to help propel these students to achieve their potential.
Exeter College in the 2010s

March 2010
Ofsted gives a glowing report of Exeter College, highlighting a 'culture of high expectations and ambition'.

2012
Exeter College is graded 'Outstanding' in a pilot "no notice" inspection by Ofsted and is awarded the Times Educational Supplement 'Outstanding Provider of the Year'.

2012
The Technology Centre at Monkerton opens, giving students the latest industry-standard facilities for technology-related courses.

2014
A full Ofsted inspection returns and once again grades the College as 'Outstanding'. We were also crowned BTEC College of the Year.

November 2015
Exeter College's state-of-the-art Maths and Science Centre is opened in the heart of Exeter, taking the place of a building which had been disused for the previous ten years.

April 2016
John Laramy is appointed Principal and Chief Executive, replacing Richard Atkins whose tenure was between 2002 and 2016.

2018
Our Advanced Engineering Centre, a £3million construction, welcomes students for the first time, creating a UK leading centre of excellence for robotics and virtual welding.

May 2019
A new £2.4million Gym and Dance Studio is opened, complete with the latest fitness equipment, spinning room and teaching spaces.
---
College of the Future
While our history shapes what we do, we're now using our status as a leader in education to provide a blueprint to take our place as the College of the future, showing how tertiary education can serve the community to meet the challenges of the future in a proactive way.
T Level Provider
We are one of a group of government-selected providers to offer brand new T Level qualifications for 2020 delivery, marking a revolution in technical education in the UK. Courses will initially be available in Construction, Digital and Childcare and Education, with courses mixing class-based learning with industry placements during studies.
Institute of Technology Digital and Data Centre at Exeter College
We have been announced as a host site for a new South West Institute of Technology Digital and Data Centre as part of a wider plan to revolutionise digital, engineering and manufacturing technology education in the country.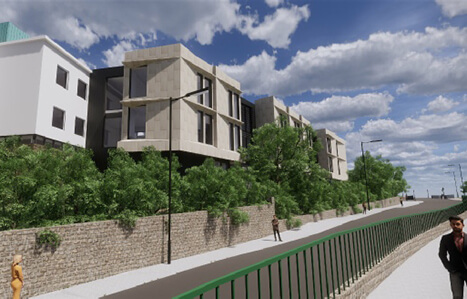 Campus Masterplan
Plans that will shape the redevelopment of our Hele Road site over the next 15 years were recently granted unanimous approval by the Exeter City Council Planning Committee.
The planned developments will realise the full potential of the College's Hele Road site with five key phases planned to improve pedestrian access, provide updated teaching spaces, rejuvenated social areas and an open plan site map.