Safeguarding at Exeter College
Exeter College holds the protection, safety, health, well-being and welfare of all of its students as paramount. We believe that all children, young people and vulnerable adults have a right to protection from abuse and to the support they need to reach their full potential.
We follow the statutory guidance in 'Keeping Children Safe in Education' and 'Working Together to Safeguard Children' and recognise our responsibility under the Children's Act 1989 and section 175 of the Education Act 2002, to have due regard to our responsibility to safeguard and promote the welfare and wellbeing of children and young people.
In line with 'Keeping Children Safe in Education', we believe that everyone has a responsibility to actively safeguard children, young people and vulnerable adults, whatever their role; and we are committed to a 'whole college approach' to safeguarding. To this end we will ensure that all staff are trained in Safeguarding and Child Protection and also in preventing radicalisation, in line with the statutory guidance in the Prevent Duty 2015.
We will take all child protection and safeguarding concerns seriously and will respond to them promptly, keeping the child/young person/vulnerable adult at the centre of all we do.
We will make information available on Safeguarding and Child Protection to students and parents and guardians and make sure that we keep up to date with changes in legislation.
The college provides a comprehensive wellbeing and welfare service to students. This includes support for: housing; financial support needs; medical and physical health needs and mental health and emotional wellbeing; all of which can impact on a student's health, well-being and safety.
If you are concerned about the safety of any child, young person or vulnerable adult, then please contact the Designated Safeguarding Lead or the Deputy Designated Safeguarding Lead on 01392 400449 or contact the MASH, Multi Agency Safeguarding Hub on 0345 155 1071 or email mashsecure@devon.gov.uk
What to do if you are worried a student is at risk of harm
If you feel a student is at immediate risk of harm to themselves or others, please contact the emergency services on 999.
During college hours please contact a member of the college's safeguarding team on 01392 400449 to speak with a member of staff and pass on your concerns.
If you have concerns about a student when the college is not open, please contact one of the relevant numbers below:
MASH – Multi-Agency Safeguarding Hub – For concerns relating to young people aged 18 and below 0345 155 1071
Students travel from all over the South West to attend Exeter College so if you have a concern about a student from a Local Authority other than Devon, please click here for safeguarding contact details.
Social Care – Emergency Duty Service – For concerns relating to children and adults
0345 600 0388
NSPCC Helpline
0808 800 5000
Care Direct – For vulnerable adults aged over 18
0345 155 1007
CEOP – Reporting online safety concerns
Safeguarding is everyone's responsibility
Anonymous Reporting – we are listening
At Exeter College we expect a high standard of conduct at all times. We want to be sure that everyone feels safe, enjoys their time with us and is successful.
Exeter College has a zero-tolerance approach to bullying and harassment, including sexual harassment and sexual violence. Any student behaving in this manner will be subject to support and conduct procedures.
If you are worried about yourself or someone else, please report your concerns using the link below.
The college will always offer support to any student that may have been affected by these concerns.
Operation Encompass Statement
Operation Encompass is the reporting to schools and colleges, prior to the start of the next college day, when a child or young person has been exposed to, or involved in, any domestic incident.
Operation Encompass will ensure that a member or the college staff, known as a Key Adult, is trained to allow them to liaise with the police and to use the information that has been shared, in confidence, while ensuring that the college is able to make provisions for possible difficulties experienced by young people, or their families, who have been involved in, or exposed to, a domestic abuse incident.
Safeguarding Team
Kristyn Woodward
Designated Safeguarding Lead for Exeter College
Designated Safeguarding Lead for Exeter College
Level 3 trained in safeguarding and child protection
Single Point of Contact for Prevent referrals
Kristyn coordinates the safeguarding team and can be contacted on 01392 400448 / kristynwoodward@exe-coll.ac.uk
Cheryl Skeggs
Deputy Designated Safeguarding Lead for Exeter College
Level 3 trained in safeguarding and child protection
Responsible for safeguarding vulnerable adults

Cheryl can be contacted on 01392 400446 / cherylskeggs@exe-coll.ac.uk
Hannah Robson
Student Welfare Manager
Level 3 trained in safeguarding and child protection
Works with students who are in care or care leavers

Hannah can be contacted on 01392 400447 / hannahrobson@exe-coll.ac.uk
As well as our DSL and DDSL we have a dedicated team of staff that work with students across the faculties, ensuring all students can access help and support throughout their time at Exeter College.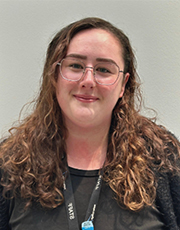 Milly Lavery
Safeguarding Officer
Level 3 trained in safeguarding and child protection
Works under DSL and DDSL to Safeguard all students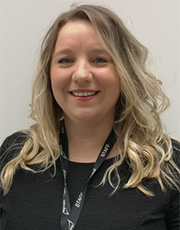 Kelly Garnsworthy
College Nurse
Level 3 trained in safeguarding and child protection
Works with Safeguarding team to support medical needs of all students