Advice and Guidance for School Leavers
Making decisions about your future can be daunting. Our College Advice Team are trained in information, advice and guidance and work in schools across the South West giving face to face advice and guidance about all courses and opportunities for school leavers at Exeter College!
The College Advice Team regularly visit a number of different schools, so if you would like to meet with the team to discuss your options at Exeter College then please speak to your school Careers Coordinator to find out if they will be able to arrange an appointment. If we aren't available in your school then don't worry, you can still contact us by phone on 01392 400600 or email us at cat@exe-coll.ac.uk.
How to make a decision about your next steps
We understand that choosing your options for college can feel a little overwhelming. Here are some hints and tips that we hope will make the process a little easier for you:
Think about what you enjoy: Consider your hobbies, favourite subjects at school, work experience or part time job.
Talk to family, friends and your teachers: Though this is your decision, it's a good idea to talk things through with the people who know you best.
What are your strengths? Think about your predicted grades and the subjects you doing well in at school. Have your teachers recommended that you study any subjects further?
Future plans: Are you considering university? Have you got a future career in mind? If so, it's important to select a course which will ensure these options remain available to you. If you're still not sure about your future plans it's a good idea to pick something that really interests you and that keeps your options open.
Useful Resources
Below are some resources that we find useful.
For further advice and guidance, contact the College Advice Team on 01392 400600 or cat@exe-coll.ac.uk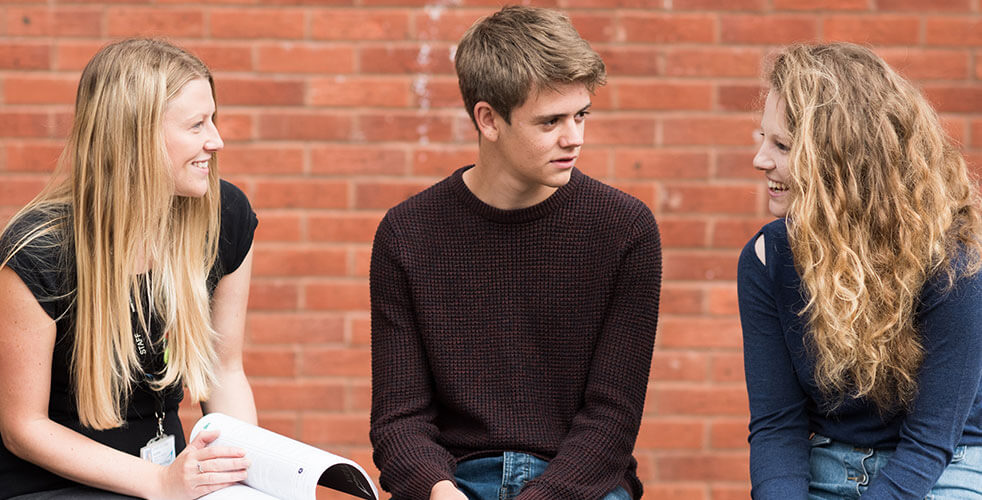 Frequently asked questions
For answers to some frequently answered questions please see below. Please be aware that due to the current situation regarding coronavirus (Covid-19) some of our processes are changing. For our latest guidance about these changes for applying students please see here: https://exe-coll.ac.uk/information-on-how-coronavirus-covid-19-will-affect-all-applying-students-at-exeter-college
What level should I study at?


For school leavers we offer courses from Entry Level to Level 3, and the level you will study at college will be determined by your GCSE results. We will ask you to include your predicted or target grades on your application form, and we will use these as a guide to make sure you are offered the right level of course for you. Your college offer is conditional upon your GCSE results, so the level of course you study at will be finalised when you enrol at college after you have received your results. When researching courses in the college course guide or on the college website you will see the entry requirements listed clearly on each course. Be sure to check these and make sure you are on track to achieve the grades required for your chosen course.

How do I find out more about courses?

We recommend that you begin researching our courses using the college website, or college course guide. Another great way of finding out more about your course options is to attend a college open event. We run open events in October, November and January, and also hold our Showcase event (subject fair) in the spring term. Our whole campus is open for our open events, allowing you to familiarize yourself with the college sites, and all of our teaching staff will be on hand to speak to you about their subjects.
What courses can I study together?

We offer a wide range of courses from Entry Level to Level 3, including A Levels and vocational and technical qualifications. Students who choose to study an A Level programme will ordinarily study 3 different subjects, with their programme of study being made up of either 3 A Levels, or 2 A Levels and a BTEC certificate. Level 3 BTEC Certificates are each equivalent to one A Level choice, so can be studied as part of an A Level programme. We are flexible about the A Levels and BTEC Certificates you can combine together, meaning you have the freedom to put together a programme of qualifications which really suits your strengths, interests and aspirations for the future. All of our other vocational and professional qualifications, including BTECs, UAL Diplomas and other vocational courses, are full-time study options which cannot be combined with other courses.
How do I apply?

You can apply to us during the academic year prior to the September you wish to join, which for most students will be during year 11. We accept applications all the way through the year, however we recommend that students apply by the end of January if possible, in order to secure an early interview and college offer. You can easily apply online through the college website. In order to apply online you will need to create an account, which will allow you to manage your application and keep your information up to date. When registering online, we recommend that you use a personal email address rather than a school address, as we will use this address to contact you during the summer holidays and right up to the start of your course.
Will I need to come to an interview?

We require all students to attend a college interview in order to secure an offer of a place on a course. This is a really important part of our process as it helps to ensure you are supported to find the right course for you. We interview regularly from November to June, and we will be in touch shortly after we receive your application to confirm the date and time of your interview.
Can I look around the college?

Our college open events are an excellent opportunity to explore the college campus. All of our college sites are open for our open events, allowing you to familiarize yourself with the college, and all of our teaching staff will be on hand to speak to you about their subjects. We also run guided tours of our college sites at our Showcase event in April. If you are unable to attend our college open events then our College Advice Team are also able to offer individual tours of our college campus, subject to availability.
What can my courses lead to?

When researching our courses on the college website or in the college course guide you will find that each course listing features a section about what the course can lead on to. On completion of an Entry Level, Level 1 or Level 2 course then you may be able to progress to the next level of course at college. Level 3 qualifications, including A Levels and full-time vocational and technical qualifications, allow students to progress to university, an apprenticeship or employment. We also offer our own higher education courses through the Centre for University Level Studies, which is a great progression option from a number of our courses.
I know what job I would like to do in the future. How do I find out which course I should take?

There are lots of useful websites which you can use to research your future career plans, and which can help you to ensure that you choose the right course or courses at college. The National Careers Service and Career Pilot are two good examples. You can use their job search tools to research different careers, and check the entry requirements section of the job profiles to make sure you are choosing the right courses at college. If you're planning to go to university then we recommend that you use the UCAS website to research university degrees and their entry requirements. For some degrees it will be essential that you have studied certain subjects at college, so it's important that you do your research now to make sure you are choosing the right courses for your future.
What if I've still got questions?

Don't worry, the College Advice Team are here to help! We are available all year round to support you to make the right choices. Contact us on 01392 400600 or cat@exe-coll.ac.uk.