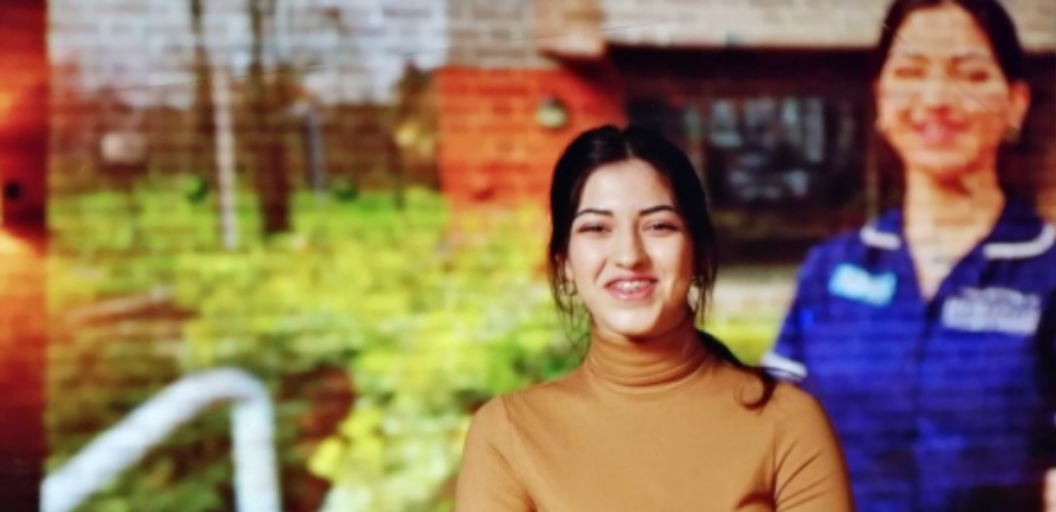 From High Flying Cabin Crew to Talented Care Worker
Exeter College prides itself on teaching students' valuable transferable skills, equipping them with the knowledge needed to succeed in the world of work. Ceren Duman is a prime example of this. When Travel and Tourism was hit hard by the pandemic, she picked herself up and decided that she could help people in a different way and went into Health and Social Care. It wasn't long before she got noticed and Proud to Care Devon picked her for their current recruitment campaign.
While at Exeter College Ceren studied Level 2 Travel and Tourism and took a Diploma in Airline Cabin Crew. "Cabin Crew was my dream job. It was amazing going out to the Flybe Training Academy, then lockdown came, and it all changed. I would 100% do the course again if I could, I loved it. College was just amazing."
Ceren has now been working in domiciliary care for Proud to Care Devon, looking after people in their homes, for about two months and says the more she does it, the more confident she's getting. "I was quite frightened at first. As Cabin Crew you see your customer maybe once in your lifetime, but with caring you see them every day. It was daunting at first but the customer service skills I learnt on my course at college taught me how to deal with different people in different situations, so I work well under pressure."
"I would 100% do the course again if I could, I loved it. College was just amazing."

Ceren Duman, former Exeter College student
Proud to Care Devon is the single brand for health and care throughout Devon, managed by Devon County Council. Kelly Heale is a Recruitment Officer and Proud to Care Ambassador. Speaking about Ceren, she said: "Ceren was just a yes straight away. She had that experience of looking after others within her own family. I know from my own experience the training that Cabin Crew go through. Looking after people at 20,000 feet isn't easy, I knew she could apply those transferable skills."
Now Ceren has been chosen to support Proud to Care Devon in recruiting for a vital sector and it's easy to understand why. "She's just a great role model for people in her age group and for our sector. I hope that students will be able to identify with her and consider applying their skills to our sector. She has taken to the role so naturally, I'm not going to let her go, she's grounded forever!"
One of Ceren's tutors at college, Kelly Dighton isn't surprised by Cerens success. "Ceren always loved to help people which is why she wanted to be cabin crew – when I heard she had applied for a role in the care sector, I was delighted for her as the role would allow her to use her skills and show others her kind and compassionate nature."
"She's just a great role model for people in her age group and for our sector."

Kelly Heale – Proud to Care Devon
The skills learnt on the Travel and Tourism courses at Exeter College are invaluable and transferable. Kelly goes on to explain: "All students leave us having gained practical work experience and preparation for the world of work. They cover units in customer service and elements of business which link well with jobs in retail and hospitality as well as tourism, leisure, and the care sector. Our cabin crew students cover first aid, dealing with emergencies, and working with diverse customers from differing backgrounds."
We wish Ceren every success in her current career and hope she gets to fly again soon!
Travel and Tourism at Exeter College
Our travel and tourism courses offer amazing opportunities for students with a passion for travel and tourism but also those who enjoy working with people. They provide a solid foundation in numerous transferable skills including customer service, business basics, geography, employment, transport, and types of tourism which students can use locally, nationally, and globally. Alongside this, our specialist options include cabin crew courses, resort representative and event planning modules. They provide a springboard for higher education as well as a route into the travel and tourism industry and other similar sectors.
Find out more
You can find out more about all the courses on offer at Exeter College by contacting our College Advice Team.
Ready to apply?
Applications are now open. They are easy to do and can be done online.