Professional Cookery – Michael Caines Academy
The Michael Caines Academy combines practical, professional catering and hospitality qualifications, with a range of visits, experiences, work placements and demonstrations involving the region's most renowned food experts.
Course Type School Leaver
Subject Area Hospitality and Catering
Qualification VRQ1 Diploma
Study Mode:

Full Time Only

Course Level Level 1
Location Hele Road Centre
Course Length 1 year
Overview

Inspired by our illustrious alumnus Michael Caines MBE, Exeter College has launched the Michael Caines Academy with the aim of nurturing the region's future generation of talented restaurateurs, chefs, restaurant managers, waiters and front of house staff. This is a fantastic opportunity for young people seeking a career in hospitality at whatever level. It is more than just a course – with Michael directly involved, there will be high profile experiences, challenging practical and theoretical workshops and master classes from the very best in industry.

This course teaches you a variety of catering craft skills to a high standard. Practical work features strongly, supported by cookery theory, hospitality based assignments and question papers. You will work towards a VRQ1 Certificate in Food and Beverage Service and a Diploma in Professional Cookery within the realistic working environments of the @thirty-four restaurant and kitchens. Your learning will be supplemented by an array of Farm to Fork / Vine to Glass Experiences, guest chef appearances, workshops, visits, placements and much more!

This course is ideal if you are looking to undertake high quality, industry standard training and have a real passion for cooking and the industry. It is ideal if you have the goal of becoming a professional chef and perhaps owning your own restaurant in the future.

The programme consists of a variety of experiences ranging from placements, visits, guest speakers, guest chefs and industry professionals. The qualification will challenge you practically and theoretically – regularly assessed with graded outcomes (pass, credit, distinction) The VRQ diplomas will aid your progression on to higher level programmes, Apprenticeships or into employment.

What topics will I study? 

Introduction to the catering and hospitality industry
Food Safety in Catering
Health and Safety awareness for catering and hospitality
Introduction to healthier foods and special diets
Introduction to kitchen equipment
Introduction to personal workplace skills
Prepare and cook food by boiling, poaching and steaming
Prepare and cook food by stewing and braising
Prepare and cook food by baking, roasting and grilling
Prepare and cook food by deep frying and shallow frying
Regeneration of pre-prepared foods
Cold food preparation
Legislation in food and beverage service
Understanding menus
Introduction to personal workplace skills
Dealing with payments and bookings
Food and beverage service skills
Bar Skills
Hot beverage skills

You may do Functional Skills in IT, Communication and Application of Number.

You will:

Develop your catering craft skills to an exceptional standard
Experience visits, placements, 'farm to fork' and 'vine to glass' sessions
Enjoy challenging practical and theoretical workshops
Attend masterclasses from industry leaders such as Michael Caines
Study for a Certificate in Food and Beverage Service and a Diploma in Professional Cookery
Work within the superbly equipped @thirty-four restaurant and kitchens
Attend a period of work placement

What can I study alongside this course?

This course is studied on its own and cannot be combined with other courses. You may study Functional Skills in IT, Communication and Application of Numbers if required.

Next steps: 

You could progress to the Level 2 Diploma in Professional Cookery to further your career opportunities.

Entry Requirements

Standard entry requirements: Grade 4 in English Language and Maths. Plus, you will need one GCSE at grade 4 or above, or equivalent.

Subject specific entry requirements or recommendations: You must be keen and interested in hospitality and catering and have an aptitude for hospitality skills. A two day selection process will also form part of the entry requirements.

Facilities

The Laurence Building boasts new facilities throughout including an IT suite, modern kitchens and a stunning commercialrestaurant within the faculty. New additional training facilities are currently being developed in the Laurence Building.

Additional Costs

Uniform, knives and equipment will cost approximately £350.00. This equipment will last you for your entire programme and will positively help start your career in the catering and hospitality sector.

This further education course is free for all 16-18 year olds who are resident in the UK and the European Economic Area for the last 3 years. (You must be under 19 on 31st August in the calendar year that you start your course). For any fee-related queries or further information, please contact the Advice and Recruitment Team on 01392 400444.
Have a question?

If you have questions or would like to speak to someone, our team of Customer Service Advisers can help answer your questions or direct your enquiry to the correct team.
Speak to us today on 01392 400500 or send us a message using our contact form: www.exe-coll.ac.uk/contact.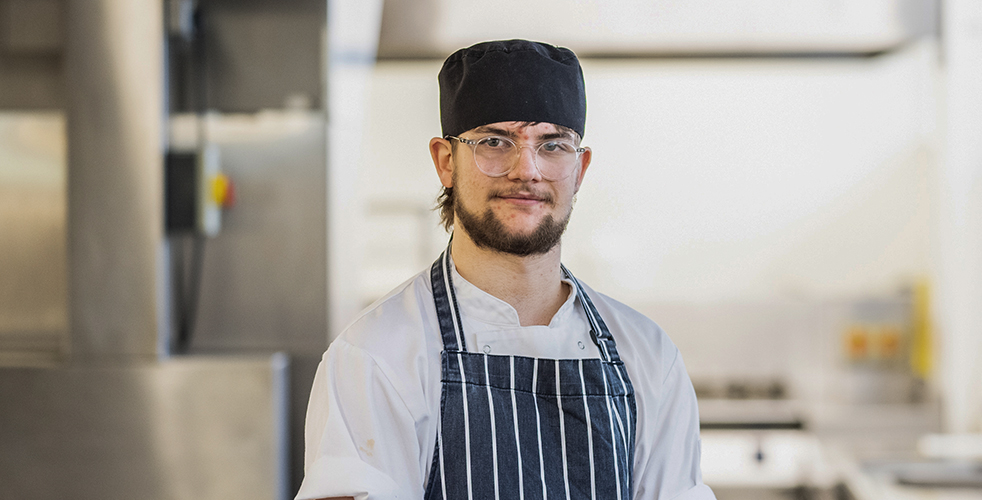 What our students think?
"There is a lot of support, the lecturers and tutors are always there for you. I chose to study at Exeter College because of the Michael Caines Academy and now I work for him at Lympstone Manor. In the future, my goal is to get a Michelin Star. I really want my own restaurant, that's... Read more >
Level: Level 2
Duration: 1 year

Level: Level 2
Duration: 1 year

Level: Level 2
Duration: 1 year