Two Years On: Alex Dixon, Green Gown Award Winner 2018
As part of Exeter College celebrating 50 years as the UK's first ever tertiary college, we're talking to some of the inspirational students, staff and alumni who have helped make us the Ofsted Outstanding education provider we are today.
Exeter College student Alex Dixon made headlines in 2018 when he was announced as the Green Gown Award winner for Student Research with Impact, celebrating his achievements around sustainability as part of his electrical engineering course at college and in the workplace.
"I'm so proud to have won the award, not just for me personally but also for the college and the lecturers who helped me get there,"

Alex Dixon, Green Gown Award Winner, 2018
Two years on from his inspirational achievement, we caught up with Alex to talk through what he's up to now and how winning the sustainability award has helped him develop his career, as well as play a small part in helping the environment.  
The Green Gown Awards were created in 2004 to recognise the exceptional sustainability initiatives being undertaken by universities and colleges. Alex's name joined the list of award winners in 2018 thanks to his sustainable, and money saving, circuit board redesign at his place of work during his studies, Fraser Anti Static.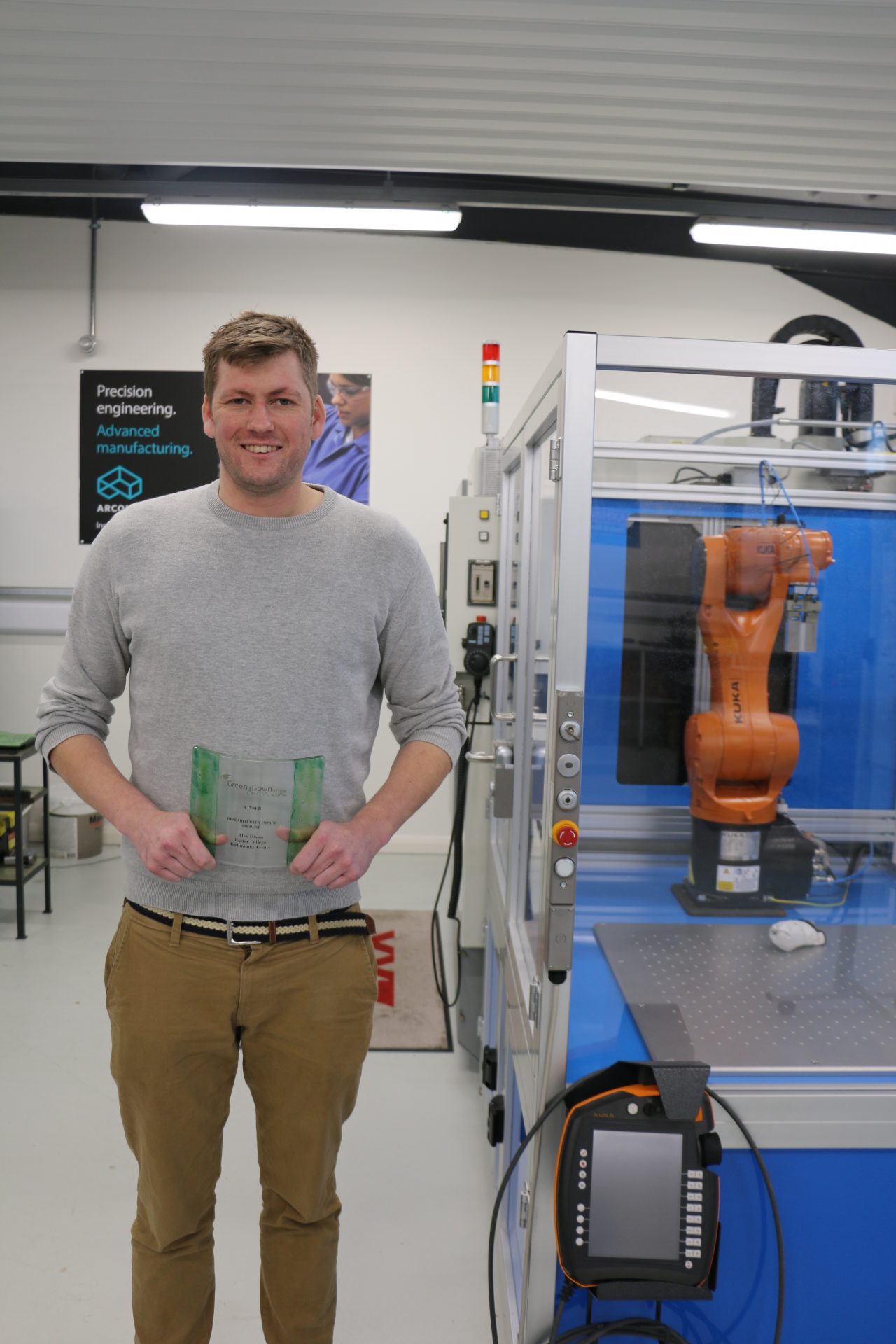 Alex, now 27, was studying for his Higher National Certificate in Electrical Engineering with Exeter College when he found out that his work at Fraser Anti Static had been recognised with a coveted Green Gown Award.  
"I was really pleased when I found out I was going to be getting the award," said Alex, who is now studying for his Higher National Diploma in Electrical Engineering with Exeter College.  
"I'm so proud to have won the award, not just for me personally but also for the college and the lecturers who helped me get there."
"Since winning, I have definitely been given a boost in my career and it's great to have made a positive and lasting impact on the way Fraser Anti Static was working."
Alex's innovation that won him the Green Gown Award was to redesign the Fraser Anti Static printed circuit board manufacturing methods, enabling the elimination of many environmentally damaging processes, including the lengthy transportation of materials. This redesign not only helped revolutionise the environmental footprint of the circuit board creation, but also saved the company in the region of £20,000 in 2018 alone thanks to the refined process.
Alex continued: "It was great to have a real, genuine impact on the running of that business but also to know that what I had done had been another small step on the way to a more sustainable world.
"By managing to dramatically reduce several environmentally damaging processes, including the transport of materials, we took a small step in the right direction to helping to protect the environment."
Today, Alex has moved to work with leading electrical manufacturer MK Test Systems near Taunton while he continues his studies with college. He believes the opportunities in his career has improved thanks to his Green Gown Award. 
"When I came to meet the team here they really wanted to talk about what I had done with Fraser Anti Static and how I achieved the Green Gown Award win," said Alex.  
"I plan to finish my qualification with Exeter College in August 2021 and go on to complete a degree in electrical engineering."
A change of heart at 20…
It could have been a very different tale for Alex as he reached a crossroad in his life when he turned 20.
After completing his formal education from school and college, Alex found himself having to make a poignant decision in his life, as he was about to start a degree in business management.
Alex said, "I think I was going through the motions a little bit and I knew deep down that I really didn't want to be doing that degree.
"I knew I had always been interested in engineering, but at that point in my life, moving into a career in it would have involved complete retraining from the ground up. Fortunately, I decided to go for it and started by getting a BTEC and worked up from there."
Alex took some time to reflect on the impact his lecturers at Exeter College have had on his rise in the electrical engineering industry. He said, "It has been a great experience learning with the college."
"The lecturers are really accommodating of all learners and understand the pressures that some adult learners have to deal with outside of the classroom. They're incredibly supportive and Richard Masters [Programme Lead, Aerospace and Sustainability] was instrumental in me getting the Green Gown Award."
Find out more about university level study with Exeter College. 
Register now for the Exeter College Showcase – an event with everything Exeter College has to offer under one roof.