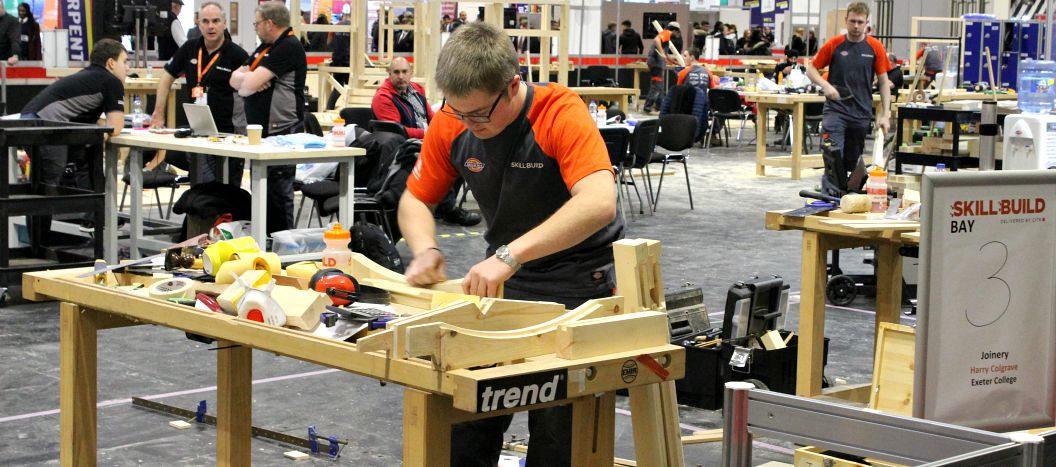 Success for Exeter College Apprenticeships after WorldSkills UK Finals
Harry Colgrave, an advanced bench joinery Apprentice, impressed the judges with his woodwork abilities at this year's WorldSkills UK in Birmingham. Competing against the best young joiners across the country, Harry managed to achieve a Bronze Award in the prestigious competition.
Our college was honoured not only to have Harry in the finals of this national skills contest, but also Reece Foster, who created outstanding work in the cabinet making category.
Exeter College's Work-based Construction Tutor, Benjamin Stone, commented on the standard of the Apprentices, "Harry and Reece have continued their road to success from an early stage in their Apprenticeship.
"Both learners have produced amazingly high-quality joinery work for their employers on numerous occasions. They have also happily impressed the experienced joinery Lecturer Gil Taylor, who is very fond of them both," said Benjamin.
The most exceptional Apprentices and young artisans from across the UK take part in the annual WorldSkills UK competition, all attempting to be the best in their chosen vocation. This competition accelerates young people's careers; as they gain and improve on world-class skills that equip them for the workplace.
To compete in the WorldSkills UK finals, students must be nominated by the assessors or lecturers and then attend a regional competition.   
Last June our Apprentices entered competitors for the painting and decorating, carpentry, joinery and cabinet making regional contests.
The remarkable skill our Apprentices demonstrated earnt them well deserved distinctions in the cabinet making and joinery classes. This meant that Harry and Reece achieved their places in the national skill build final at the Birmingham NEC.   
Benjamin Stone concluded, "It was an honour for me to support and mentor these highly experienced tradesmen in action against the other seven competing regional finalists."
"I'm very proud to be a part of their success, and humble that they have acknowledged and thanked all of the Exeter construction staff for their accolades to date."
If you would like to share in the experiences Exeter College has to offer, applications are now open.