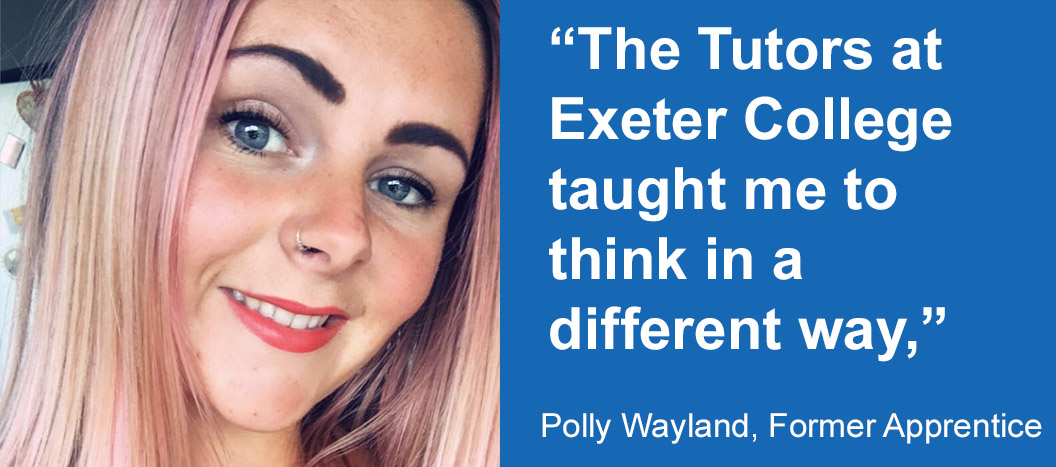 Polly's Apprenticeship Story
Empowering adults, children and young people with disabilities to make choices and take control of their own lives is what drives 22-year-old Apprentice Polly Wayland.
As an Exeter College student, Polly studied hard to develop the knowledge and skills to enable her to pursue a career caring for others as a Support Worker at Community Equality Disability Action (CEDA), based in Exeter. At the same time Polly stood square to face her own battle in completing the Maths qualification required to enable her to complete her Apprenticeship.
"We take a holistic approach, breaking down the barriers to learning that have existed for many years and for many different reasons,"

Helen Barker, Polly's Tutor at Exeter College
Polly was taking on the exam for the ninth time in March this year and, this time, to the delight of Polly and her tutors, she passed. Polly was then able to complete her Apprenticeship enabling her to provide valuable assistance to the Exeter community who so rely on her support.
What was the turning point that drove Polly's success? "It was because the tutors at Exeter College taught me to think in a different way," said Polly.
Helen Barker, Polly's tutor, said, "Polly has shown exceptional competency in the workplace, however she had a mental block around Maths. Together we worked on developing the new skills which have led to her success. Her determination and commitment, even when she found the going hard, is commendable."
Polly is enormously thankful to the Apprentice Learning Support Team. Mike Blakeley, Director of Apprenticeships, praised the team, he said: "They are highly dedicated advocates of all who come into their care, ensuring that all Apprentices, and those on our traineeship programmes, have the opportunity to succeed. Our success rates are 14% above national average and it's in no small part due to the dedication and support of tutors like Helen, that more people succeed with Exeter College than elsewhere."
Helen said, "We take a holistic approach, breaking down the barriers to learning that have existed for many years and for many different reasons."
Helen speaks from experience – she knows what it means to have a fractured school experience; a house-move at sixteen put paid to Helen's own exam hopes as a teenager. However, never daunted, Helen rediscovered her confidence and hunger to learn in her mid-twenties, ultimately going on to achieve her Master's.
"At college we will often come across Apprentices who have had their schooling disrupted through no fault of their own," said Helen.
"We work with these people – of all ages, to develop their confidence and build the skills they need in order that they can achieve. The college also provides a wide range of pastoral care around student wellbeing and mental health, which we can draw upon to ensure that each of our Apprentices has the chance to achieve."
As a beneficiary of Exeter College's support, Polly is now going on to enable others to live as independently as possible, to live the lives they have chosen for themselves – a difficult job during these challenging times of COVID-19 lockdown but one for which the evidence clearly shows Polly is ready to take on.
Find out more
Interested in an Apprenticeship? Find more useful tips, advice and guidance on the Apprenticeship experience.
Register now for our Virtual Apprenticeships Open Evening on Thursday, 14th May, 4-6pm.