International Baccalaureate Students Achieve World-Class Results 
Exeter College students studying on the International Baccalaureate have achieved an incredible set of results with five students achieving 42 or more, with 45 being the maximum you can score. 39 points is the equivalent of three A Levels with the grades of A* A* A*.
This year 31 candidates took the International Baccalaureate (IB), achieving once again a 100% pass rate, with 26% of candidates achieving 40+ points. This is especially impressive when you consider the lack of experience these students have had in sitting exams and yet despite this, they have achieved an impressive set of results.
"It has been rewarding to see all the elements of my work come together to produce a result I am proud of."

Florence Witham, IB student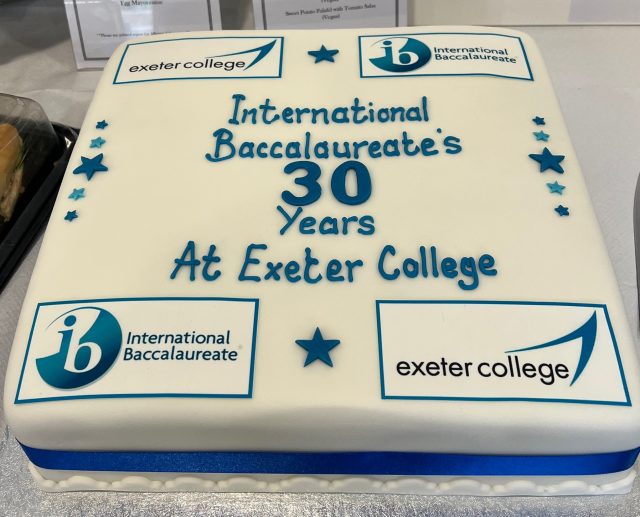 Exeter College has a successful history of delivering the IB and this year celebrated its 30th year.
John Laramy CBE, Principal and Chief Executive said;
"One of the inspirational elements of the International Baccalaureate is being able to celebrate when our students excel against a truly international world average. In the first set of exam-based results for three years, this year's IB cohort have continued the College's legacy of excellent results. All students achieved the full IB diploma, thus giving the programme a 100% achievement rate. 
"The cohort achieved an average point score of 36, against a world average of 31.98. However, it was at the top end of performance where students truly excelled, with over a quarter of the students achieving 40 points or more, with one student scoring 44 points, just one off full marks!
"I would like to congratulate our International Baccalaureate students on another set of excellent results. For over a quarter of the cohort to achieve 40 points or more is a remarkable outcome, especially when this is the first externally assessed and marked exams that these students would have experienced. The IB is a unique qualification, and it has been a privilege to see these students' grow and develop over their two years at the College.
"I would also like to thank the staff who lead, coordinate and teach on the IB programmes, as alongside these excellent results the team also managed a full IB five-year review – the Ofsted equivalent for the IB and it went brilliantly!"
Florence Witham, who scored 44 points, is progressing to Bath University to study Biology. She said; "It has been rewarding to see all the elements of my work come together to produce a result I am proud of; I think the high academic standard of the IB has made me particularly well equipped to succeed at university, where I will be studying a BSc in Biology."
Ruby Cutler has been accepted to study Medicine at Liverpool University. She said: "I was so shocked when I opened my results because I had prepared myself for the worst! I am now going to Liverpool University to study Medicine in September."
She added that she feels she owes a lot to the amazing teachers who supported and helped the students through COVID.
Exeter College wishes the IB students all the best for their bright future.
Find out more about the International Baccalaureate at Exeter College.