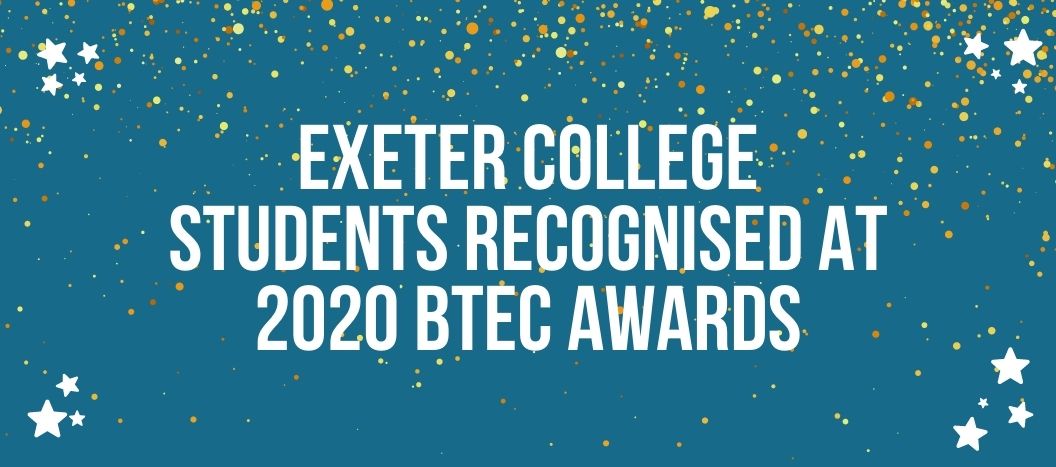 Exeter College Students Recognised at 2020 BTEC Awards
Five inspirational Exeter College BTEC students have been recognised at the prestigious Pearson BTEC Awards.
Cain Spiller, from Honiton, received a Silver Award, while Alex Dixon, Rachel Hamilton, Cleopatra Gatting, and Tinka Dos Santos all received bronze awards in their respective categories, recognising their exceptional work during their programme of study.
Their hard work was celebrated at the tenth anniversary of Pearson's annual BTEC Awards hosted online in the last few weeks.   
The 2020 BTEC Awards comprised of 17 categories and was hosted by the presenter of the United Stand, YouTube influencer and BTEC Ambassador, Flex, with awards presented by Double Olympic Gold medallist Max Whitlock as well as actress and former BTEC Drama student at The BRIT School, Kellie Shirley. The expert panel of judges made up of Pearson's senior leadership team, journalists and external experts, carefully considered the nominees before deciding on the winners.   
19-year-old Cain Spiller, who won a Silver Award for Public Services Student of the Year, said, "When I was awarded the BTEC Award, I was filled with excitement and pride. It stood as a reminder to me that all the hard work I had put into my course had paid off and was recognised."
Cain also thanked his teachers for their support during his studies saying, "All my tutors went above and beyond to help me gain the skills I needed to become a police officer. They would keep me up to date on all training days and recruitment and have given me the best possible chance of getting into the police service."
Rachel Hamilton, 17, from Holsworthy, achieved the Bronze Award in BTEC Child & Social Care Learner of the Year. She said, "I was honestly surprised that I was nominated, let alone won Bronze, so I was incredibly shocked. I would like to thank Kelvin Edwards for nominating me, and all of the teachers who have helped me over the past two years."
Exeter College's Head of Healthcare and Public Services Heidi Amor said, "We're incredibly proud of Cain and Rachel's achievements. They've both shown a remarkable commitment to their studies throughout their time with us.
"Cain has been a true champion of his course and is always looking at how his studies can push him further in his career aspirations.
"Rachel has been an amazing learner during her studies, constantly pushing herself to be the best she can be and learning new skills all the time. She thoroughly deserves this award and is sure to be a success in her future career."
Alex Dixon, 28, from Tiverton, was awarded a Bronze Award for BTEC Engineering Learner of the Year. Alex said, "I was thrilled, and if I'm honest, surprised to see that I had received a Bronze Award for Engineering Student of the Year. However, I can't take all the credit; this is an amalgamation of effort not just by me but from my lecturers at Exeter College as well who have helped me reach my potential and deserve half of this award."
Andy Wells, Head of Engineering, Aerospace and Automotive at Exeter College, said, "We're incredibly proud of Alex's achievements. He's a fantastic role model for what can be achieved with hard work, endeavour and a selfless attitude. He's a truly exceptional ambassador for engineering Apprenticeships and has already achieved so much throughout his studies. Alex is already excelling in his chosen career; he is an innovator, and I can't wait to see where his efforts take him next."
Alex's latest accolade follows on from him being named as a Green Gown Award winner in 2018, recognising his work around sustainability.
Two of Exeter College's Construction students won Bronze Awards, as Cleopatra Gatting and Tinka Dos Santos were recognised in the BTEC Construction Student of the Year category.
Chulmleigh-based Cleopatra, who studied her Level 3 Diploma in Construction and the Built Environment with Exeter College, said, "It felt amazing to win the award and to be recognised for my hard work.
"The College has been great in supporting me throughout my course, and I was honoured that they nominated me for this award."
Tinka Dos Santos, 41, said, "It felt great to be acknowledged for the hard work I had put in; it can be tough working, studying and maintaining a balanced family life.
"I really enjoyed studying at Exeter College, I was sorry to leave, all the tutors and assessors were so supportive, and I wouldn't have done so well if it wasn't for their help."
Exeter College Head of Construction Dave O'Connor said, "As a department, we're thrilled to have two students recognised at the BTEC Awards. It's a huge testament to the character and commitment both students have shown during their studies, and I'm sure they'll both go on to achieve incredible things."
Reflecting on the online event as a whole, Cindy Rampersaud, Senior Vice President BTEC and Apprenticeship, said: "This year I've been overwhelmed by the quality of BTEC Award nominations we received, and I am delighted to celebrate this year's winners and the achievements of all learners who will be awarded a BTEC this year.  Over the past few weeks and months, we've seen how the current pandemic has highlighted the critical role of key workers and individuals who are likely to have followed a vocational educational pathway such as BTEC."
Find out about courses offered at Exeter College for school leavers.
We're ready for enrolment for a September 2020 start. Find out what to expect at enrolment 2020.
There's still time to apply online to join Exeter College for the next academic year.