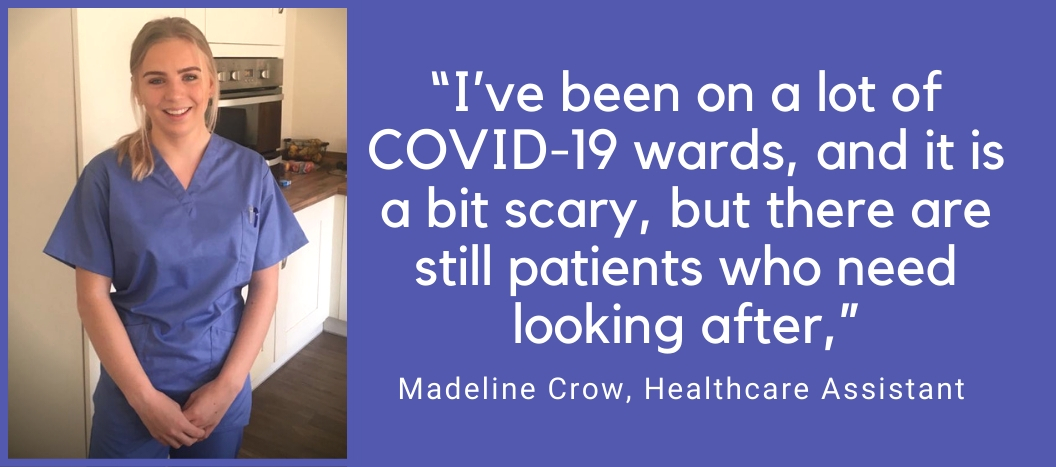 Exeter College student joins NHS front line
Exeter College student Madeleine Crow has concluded her College studies early to take up a position on the NHS front line. 
Madeleine, 17, from Topsham, was in her final year at Exeter College studying A Levels in Biology and PE, alongside a BTEC in Health and Social Care, when the Government announced the closure of all schools and colleges to prevent the spread of the Coronavirus.  
"It's a steep learning curve, but everyone's helpful, and everyone's working together."

Madeleine Crow, Health Care Assistant.
Madeleine had already secured a job offer from Royal Devon and Exeter Hospital but decided to join them on the front line as a Healthcare Assistant before she was due to start in order to help in the fight against Coronavirus.
Commenting on her new role, Madeleine said, "The atmosphere at the hospital is a bit different from how it usually is as everybody slightly on edge.
"I've been on a lot of COVID-19 wards, and it is a bit scary, but there are still patients who need looking after.  
"It is a different type of nursing, as there is less patient contact. The personal protective equipment makes it feel like there is a wall between you and the patient; but we have to be careful to protect ourselves and protect the patients.
"It's a steep learning curve, but everyone's helpful, and everyone's working together."
Madeleine is following in the footsteps of her parents, both of whom also work for the NHS.
Her father is currently helping with the hospital's planning for the COVID-19 pandemic as a Director at the hospital, while her mother works as an Assistant at a local GP surgery.
Madeleine said, "My mum has always done things to help and support people. She used to be a family support worker and we had a foster child for a while. She has always helped to look after people, and it's made me want to do it too."
Madeleine also wanted to pay tribute to the College for helping to prepare her for her new NHS role.
She said, "My Health and Social Care BTEC gave me a good understanding of how patient care is delivered, and my Biology A Level has been beneficial too.
"There is no way to know what it's like until you're actually working, but Exeter College gave me a good insight."
Madeleine appreciates the insights her Healthcare Assistant role is currently giving her in working with the NHS and would like to continue her nursing career in the future.
She said, "There are so many ways to go into nursing, from Apprenticeship schemes to getting a degree and working your way up; it'll be a matter of what will be available at the time and when I can start."
Find out what Exeter College has been doing to help support the community during these unprecedented times.
Are you interested in a career in healthcare? Apply now for the September 2020 start.