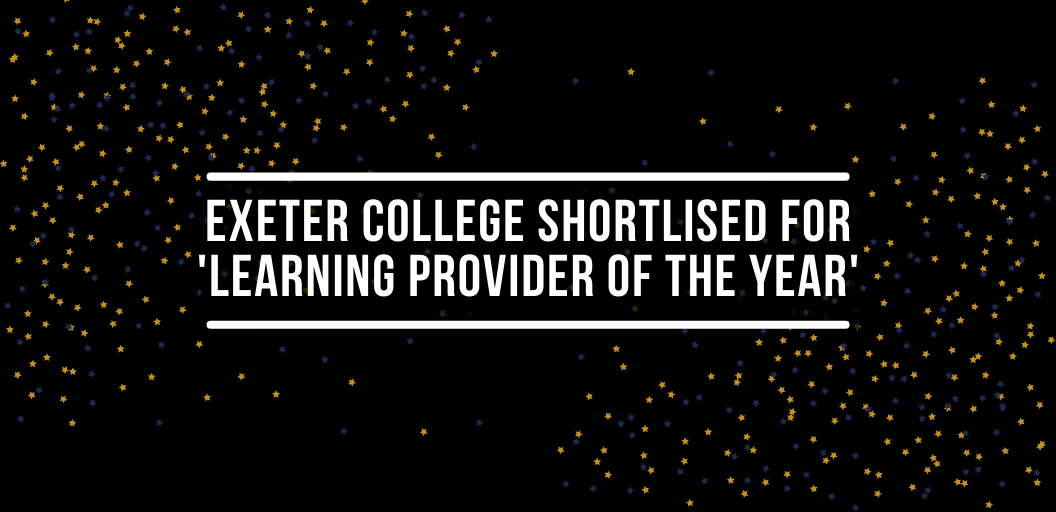 Exeter College shortlisted for "Learning Provider Partner of the Year" award by Chartered Management Institute
Exeter College is proud to have been shortlisted by the Chartered Management Institute (CMI) for the "Learning Provider Partner of the Year" award for a second successive year.
The prestigious award recognises a non-higher education partner for their incredible contribution and exceptional positive impact on learner experience, professional development and personal performance as a result of their partnership with CMI.
"We believe that our industry-leading trainers, bespoke learning content and positive impact of learning on learners and organisations makes us one of the best learning providers in the UK. We are incredibly proud that CMI agrees with this too!"

Dee Ceponis, Professional Learning Manager
Speaking on the news that the college had been shortlisted for the award, Professional Learning Manager, Dee Ceponis, said: "Our records show high learner and employer satisfaction levels. We've benefited enormously from CMI's reputation, policy voice and stakeholder reach."
The partnership with CMI has been instrumental in shaping the relationships that the college has with major employers in the region, including the NHS Foundation Trust, University of Exeter, Devon County Council and Great Western Railway. The college works with over 80 partners, including the college itself, to develop their first line and senior managers through management apprenticeships and embedded CMI Diplomas. Over 350 commercial learners have enrolled on the college's CMI programmes.
A highlight of the exceptional work that the college does alongside CMI to professionalise existing leaders and develop new talent in leadership and management profession has been an opportunity for one of our Operations/Departmental Manager apprentices, Sue Sanders, to speak at the CMI National Apprenticeship week online round table event. Sue was selected to speak alongside Ann Francke OBE, Gillian Keegan MP, Robert Nitsch CBE, Michael Green on the topic of "The Impact of My Management Apprenticeship".
Sue was representing the entire management profession and all apprentices and qualification learners across the nation and beyond. Working at a local NHS trust, Sue was able to share how CMI and Exeter College have been instrumental in supporting the NHS throughout the pandemic and how leadership and management development has paved a path to a successful recovery.
Dee hopes that the award will allow the college to take its world-class leadership training to even more employers and learners.
"We want to work with even more employers and more learners so that we can provide more transformational professional learning that demonstrably makes people better at their jobs and ultimately contributes to the success of organisations and entire UK economy."

Dee
This isn't the first time that the college has been honoured by CMI. Back in December, Exeter College Apprentice Joanna Sanders was chosen as the South West Region CMI Apprentice of the Year 2020, following the completion of her Team Leader / Supervisor Apprenticeship. She has also been shortlisted for "CMI Apprentice of the Year".
The winners will be announced in November 2021.