Exeter College Opens a New Hub for Independent Living and Learning 
Exeter College is proud to open The Hill, a new Hub for Independent Living and Learning. On 1 March, students were joined by college staff and professionals working in the Special Educational Needs (SEN) sector to celebrate the opening of this new facility.
Donna Manson, the new Chief Executive for Devon County Council, officially opened the building, unveiling the plaque to great applause. She spent time speaking with students about their experience at the College and finding out about their future aspirations.
The Hill is a dedicated space for young people studying on Exeter College's Gateway to Independence course. This area has been created with the needs of these students in mind; with a purpose-built kitchen, bright, airy classrooms and green outdoor space. It is a great location for students to build their confidence and thrive.
John Laramy CBE, Principal and CEO said;
"We were delighted to welcome colleagues to The Hill today. One of the magic ingredients of the College is the wide mix of students, including some who are working towards living, operating and travelling more independently. I am therefore delighted to be part of opening this specialist facility today and look forward to the difference it will make to lots of students and, over time, the Community of Exeter and Devon.
"I would like to thank Donna Manson, Chief Executive of Devon Country Council for joining us today as our Guest of Honour. I would also like to thank Devon County Council for their partnership, support and challenge. We recognise that the support of both the County Council and City Council are critical if we are going to realise our vision to become exceptional in every facet of the operation of the College"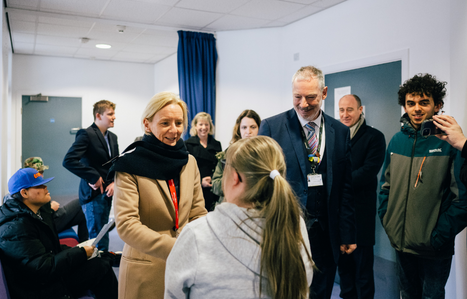 Chris Petheram, Head of Foundation Learning and Support, added;
"I am very excited for our learners to have such a fantastic special needs centre in the heart of the college. It will enable our learners to be an integral part of the college community.
"The Hill is an outstanding facility that has been equipped with our learners needs in mind to ensure they are learning in an environment that is fit for purpose and supportive of study.
"This new site enables our Independent Gateway students to be closer to the wider resources and opportunities available at Exeter College and will give the students a whole new range of exciting opportunities."
With the aim of building skills in small, supportive groups, students will learn through classroom, community and work-based activities, giving them the opportunity to develop both life and work skills. The space will ensure that all aspects of the College's independent living curriculum are delivered in a safe and accessible location.
James Crompton, Preparing for Adulthood Lead at Southbrook School in Exeter was one of the guests at the event, he said;
"I think it's a great stepping stone into a college, after coming from a school where it's a very enclosed environment, college can be quite daunting. Having a safe space and consistent staff can help prepare students for the next steps and hopefully help them move on to another course at college.
"Meeting the students has been lovely – they're very proud, showing me some of the work they have done. Just being in the city centre with all those great links is an important step towards independent living."
Find out more about our specialist programmes and learning support by contacting our Learning Support Team on learningsupport@exe-coll.ac.uk or visit us at our next Open Event on 26 April.