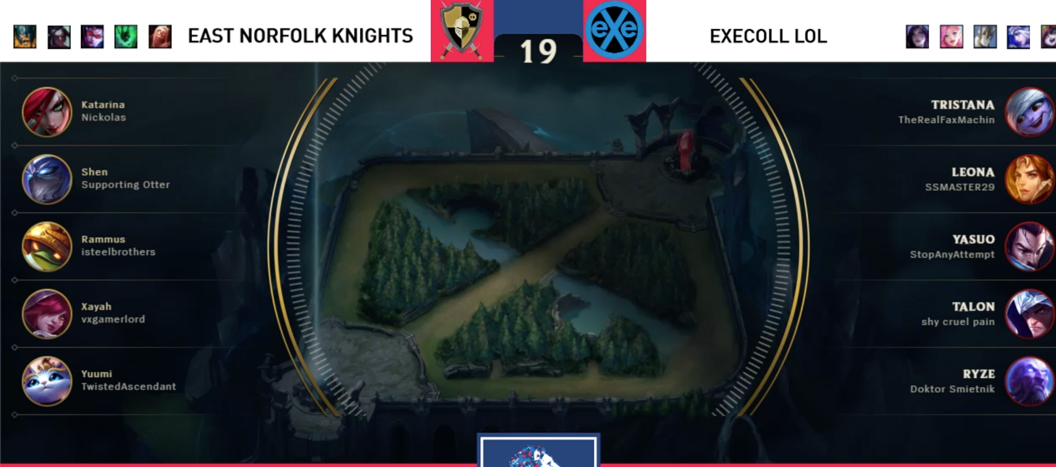 Exeter College Esports Side Triumph in Showdown Tournament
Exeter College's Esports team have been crowned champions in the British Esports Showdown tournament after dominating their opponents in the invitational eight team knockout competition.
The League of Legends Showdown, organised by the British Esports Association (BEA), gave the country's top performing school and college sides the chance to renew rivalries from winter's competitions. Exeter College's side won the tournament without losing a single game.
"Esports is showing phenomenal growth and we're excited to be able to offer training and professional qualifications to these learners."

Mark L'Estrange, Exeter College Esports Program Manager
Exeter College's team, named Team.eXe for competition, is made up with some students on the College's Esports course, which provides learners with practical skills and knowledge, not just for online gaming, but also for events management, marketing techniques, video production and viral social media strategies.
Team.eXe emerged champions in the League of Legends tournament, beating Heckmondwike Hotshots in the first round, before overcoming Hills Road in the semi-final. The final clash pitted Exeter College against East Norfolk Knights, and the Devon-based side ran out 3-0 winners in a one-sided affair.
The tournament win is particularly impressive as Team.eXe only formed in September 2020 and will now find themselves as hot favourites when the main Championships resume in the Spring with all other schools and colleges competing.
Exeter College Esports student Van Toan Do, who managed the team to success in the tournament, said, "We had done a lot of training before the tournament and we felt like we had a good chance to winning with what we had been doing.
"With Covid we obviously haven't been able to get together as a team but we've been training online on the game, trying out different strategies in the game."
Toan is studying the one-year Esports course with Exeter College and is hoping to move in to a career in the gaming industry, whether that's in game design or more generally directly in Esports.
"I've got a few options right now in terms of what I could do, but I want to do something in this industry and I've got offers from a few universities to studying gaming technology.
"I'm really enjoying the course with Exeter College, I think one of the best things about it is the extra things that are available with the College, whether that's the IT facilities or the time we get to add to our knowledge outside of class, as well as meeting actual people in the industry."
The UK Esports sector was estimated to be worth £111.5million in Gross Value Added to the UK Economy in 2019, and the sector grew at a rate of on average 8.5% between 2016 and 2019. 
Exeter College Esports Program Manager Mark L'Estrange said, "It's a huge accomplishment for our learners to be victorious in this tournament only halfway through our first year.
"Esports is showing phenomenal growth and we're excited to be able to offer training and professional qualifications to these learners, enabling them to enter this dynamic new industry, whether that's as players or running marketing, events, production or social media."
The BEA invitational tournament was hosted live on Twitch with the help of Exeter College alumnus Peter Hartnell, who works freelance as a 'shoutcaster' for Esports events. He was impressed how his former College had developed so quickly in a short space of time.

He said, "Exeter College going 3-0 in the finals is extremely impressive given the field of competition. I really hope for all the competitors this is just the first of many triumphs and they'll take this experience a lot further."
When Peter was a student with Exeter College, professional courses in Esports weren't available, and he's pleased to see it be added to the range of options available for young people.
"I'm so grateful to live in a world where it's possible for people to study Esports courses that coach practical broadcast learning in a context that speaks to the students. Ideally it will give them the beginnings they need to get a jumpstart into the industry while also teaching them generally applicable skills they can take into any number of careers even outside of Esports."
An active freelance 'shoutcaster' in Esports, Peter has forged a career for himself within the gaming industry, and is pleased to see how it's progressing. 
 
Peter said, "It's been incredibly rewarding to see in such a short time the increase of opportunities for people wanting to pursue careers that directly feed into their passions. I really look forward to where we'll be in 10 years' time.
 
"It's a field where you can go from knowing nothing at all to taking part in events as a player, caster or even creating your own events very quickly, and I think it's a fantastic space to explore what you're capable of as a person."
Find out more about Esports with Exeter College.