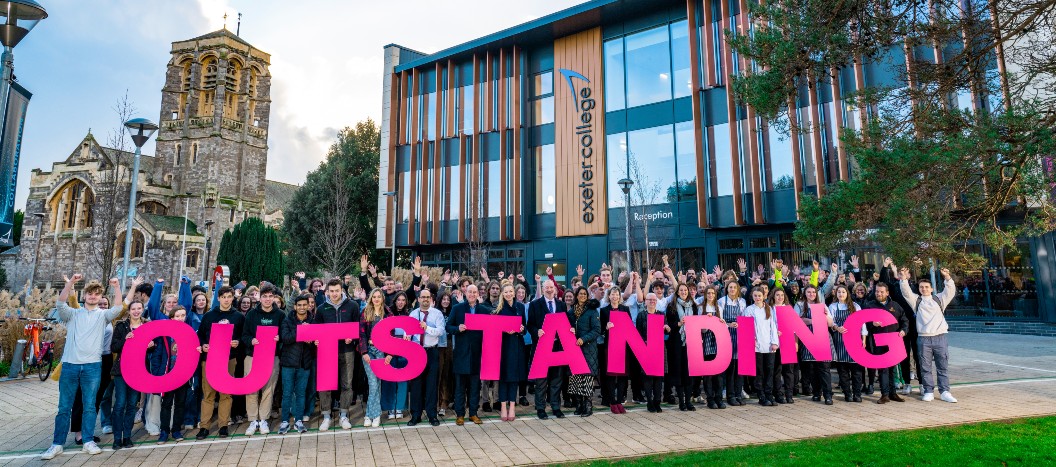 Exceptional Exeter College once again awarded "Outstanding" by Ofsted 
Exeter College is celebrating after a full Ofsted Inspection, which has resulted in the College retaining the impressive accolade of Outstanding.
Eight years since its last inspection Ofsted again confirmed that Exeter College is an Outstanding College. The College also scored the top assessment of 'strong' for its approach to meeting the skills needs of the area. This makes Exeter College the first college in the country to achieve the highest judgement in both elements of Ofsted's new enhanced inspections.
The 21-strong Ofsted inspection team visited every College site and reviewed every facet of the College offer from 29 November to 2 December 2022.
Exeter College Principal and CEO, John Laramy CBE said:
"At a time when the national press is talking about Ofsted raising the bar for their top grade the team at Exeter College has demonstrated that we have sustained Outstanding, even in the new rigorous enhanced framework.
"I would like to wholeheartedly thank everyone who contributed to this exceptional sector-leading outcome, especially our amazing learners, apprentices, staff and governors. Ofsted has recognised what I see from our students, apprentices and staff every single day."
Bindu Arjoon, Chair of the Board of Governors, added: 
"We are delighted that the hard work of everyone at the College has been recognised in this way. On behalf of the Board, I would like to thank all the students, staff and stakeholders for their personal contribution to our Outstanding College."
The College achieved the top Ofsted rating of Outstanding in all four cross-college judgements; Quality of Education, Behaviour and Attitudes, Personal Development and Leadership and Management. The College's Sixth Form provision, adult learning and apprenticeships were also rated as Outstanding. The Outstanding grade for apprenticeships is extremely hard to achieve, with very few colleges nationally having achieved this.
The report praises the standard of teaching and learning across the College as well as the standards of behaviour and culture, citing that teachers and other staff are excellent role models who work tirelessly to meet the needs of learners.
Zakia Volschenk, from Exmouth, is studying A Levels at Exeter College and is part of the Learner Leadership Team. Speaking about the Outstanding grade, she said:
"I believe it's well-deserved and feel extremely proud to be a part of a constantly developing institution that really takes into consideration the student's opinions. I know that the opportunities at Exeter College will give me an advantage when it comes to applying to university or finding future jobs."
As national exams returned last year, Ofsted's inspection included scrutinising learner results and outcomes in exams. This meant that the summer's record-breaking A Level results and top 10% value added performance were assessed as part of the inspection process.
Jade Otty, Vice Principal and Ofsted Quality Nominee, said:
"I am so pleased that the exceptional work of our teachers and support staff has been recognised by Ofsted. The College is Outstanding thanks to their expertise, care and commitment. I am proud too that this report reflects how amazing our learners and apprentices are in working with us to create a college community in which everyone can thrive and develop. We were also delighted that the report credited the support and work of our community and industry partners"
You can read the College's full Ofsted report here.
Ofsted Inspections
The new Education Inspection Framework (EIF) came into force in September 2019. This rigorous inspection framework means fewer schools and colleges have been awarded outstanding nationally.
Ofsted's new enhanced inspections of Further Education providers and Sixth Form colleges came into force in September 2022. It means that in addition to the EIF focus on Quality of Education, colleges are also judged on how well they link with community, civic, industry and education partners to meet their region's skills needs.
Exeter College is the first college in the country to receive the top grade of Outstanding and the top grade of 'strong contribution' to skills needs.