Exeter College A Levels Top 10 Percent Nationally for Outstanding Progress 
Exeter College is celebrating being in the top 10% nationally for the outstanding progress of its A Level learners.
The College has recently been awarded a 2022 Alps Certificate of Outstanding Progress, achieving a top 10% national position. This is compared to the A Level outcomes of 2,809 schools and colleges in the UK, including independent schools.
Alps is the leading post-16 data analysis provider in the country, used by almost 3,000 school sixth forms, sixth form colleges and tertiary colleges. The Alps analysis framework aligns with the vision of Exeter College, as it is designed to help students aim for higher grades. It is used to measure the progress of students from their GCSE grades to their A Level results.
This news may not come as a surprise for anyone who shared in the many congratulations for our A Level learners in summer 2022 when the College achieved the best A Level results in its history, and this in a year when students had no previous experience of externally set and marked exams. An incredible 69% of Exeter College learners achieved high grades at A Level (A*-B), way ahead of the national average which this year fell to 62%. In 2022 the College's overall A Level pass rate of 99.3% was significantly ahead of the national average (98.4%), continuing the legacy of outstanding results at Exeter College.
John Laramy CBE, Exeter College's Principal and CEO praised students and staff for A Level outcomes, he said;
"I would like to congratulate all our students, who have shown why we are an outstanding college. I would also like to thank all College staff, these results demonstrate that we have exceptional staff, who dealt with the challenges of the last few years with care, talent, and tenacity."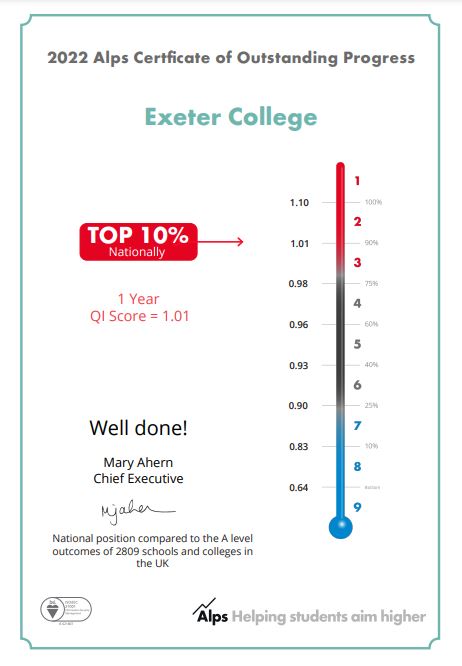 The College's 2022 Alps outstanding progress rating is further testament to the quality of the learning experience and ethos of supporting students to achieve their best.
Noteworthy subjects included both Law and Environmental Science A Levels showing progress at Alps grade 2.
Business Studies, which achieved excellent A Level results (with 78% of learners achieving high grades), returned an Alps rating at grade 3.
Our two largest A Level cohorts which saw over 75% (Psychology) and 69% (Biology) of students achieve high grades in their A Levels (with 44% of students in both subjects gaining A or A* grades), also attained an Alps rating at grade 3. 
Exeter College and its Governors would once again like to reiterate their thanks and congratulations to the class of 2022 and thank staff, parents, and partners for making 2022 a year to celebrate.