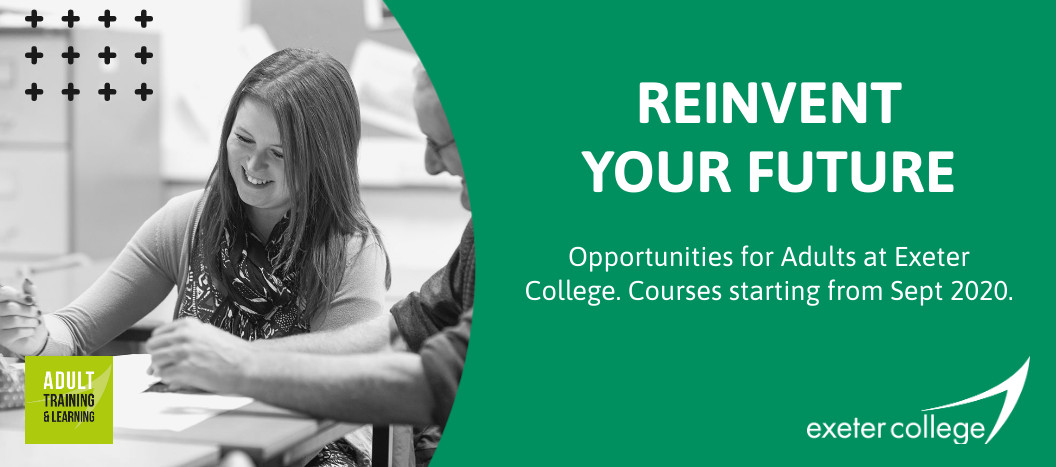 Discover your future with our Adult Course Guide
If you're an adult looking at your future career options then the Exeter College Adult Course Guide will give you the information and clarity you need to take your next steps in your chosen career.
Whether you want to change jobs entirely or want to progress in your current sector, one of our part time adult courses could be the key you need to unlock your future.
Adult courses with us are designed for direct application to the workplace and aim to give learners the confidence and qualifications to improve their prospects and achieve their professional goals.
Inside the Adult Course Guide, you will find full information on the wide variety of courses available for adult learners, including entry requirements and eligibility for free GCSE courses in English and Maths if you haven't achieved these qualifications before.
Guidance is also available on funding and finance options – including information on Advanced Learner Loans that are only paid back when earning over a certain threshold (currently £26,575 per year). And Low-income concessions (anyone earning under £17,000 a year). Many adults are also eligible for Government-funded grants and bursaries to help with the costs of childcare or associated study costs; full eligibility information can be found inside the guide or on our finance page.
What's on offer for adults at Exeter College?
Request the Adult Course Guide today.
Contact our specialist Adult Advisers on adultadvice@exe-coll.ac.uk or 01392 400170 for a chat about your options. They can also guide you through the application process for joining a course or getting your funding sorted.