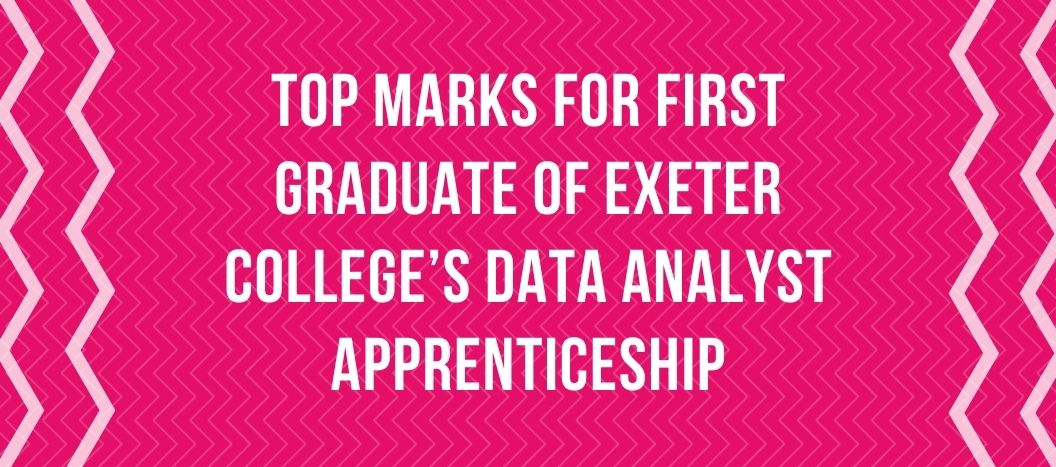 Top Marks for First Graduate of Exeter College's Data Analyst Apprenticeship
Exeter College's cutting-edge Data Analyst Apprenticeship department is celebrating as the first student to have completed the course has achieved a Distinction grade for her efforts.
Liz Houihane, 24, has been part of the first cohort of Exeter College learners studying on a Level 4 Data Analyst Apprenticeship and has been the first student to complete her end-point assessment; achieving the highest possible grade classification.
"After completing university, I felt like I was done with that kind of learning. I wanted to get out there and achieve things in the workplace,"

Liz Hourihane, Former Data Analyst Apprentice
The two year course teaches learners how to become assets in any industry, with data analytics skills fit for the workplace of the future. Students are taught how to collect and interpret data to provide businesses with meaningful takeaways to improve performance.
Liz is the first of a number of students who will be completing the course in the coming months and completed her Apprenticeship with the Met Office while studying at the College one day a week.
Having already completed a degree in Psychology with the University of York, Liz decided she wanted to use some of the analytics skills from her degree in a different way, and that led her to Exeter College.
"When I finished my degree, I knew I wanted to work in a slightly different field. I still loved psychology, but I wanted to use some of those skills in a different way," said Liz.
"I knew I was interested in science and statistics, and that's where I wanted my career to be. I thought this course would be a good option for that. It has actually turned out to be a lot more suited to my interests than I first realised."
The Data Analyst Apprenticeship, which is proving to be popular with learners of all ages, sees students earn while they learn, with valuable work-based learning topping up the skills learnt in the classroom. Liz thinks the mix of learning styles helped her develop her skills.
Liz continued: "I learnt a lot of things in College that has been incredibly valuable about how I have gone about doing the job with the Met Office. The statistics side of things has especially helped me, and I've gained a lot more knowledge out of that area than I thought I would. That knowledge has all helped me in the workplace on several different projects.
"I also found it beneficial to have classmates at College who were doing the same job in different organisations. That gave me different perspectives and a more rounded view of how other places were using data analytics in their business."
While working with the Met Office, Liz got the chance to be a part of various teams within the nationally leading organisation. Her analytics skills were put to task on different projects, including the science behind a meteorological observation, the technical side of the business and with marketing projects.
"I learnt a lot of new skills at the Met Office, backing up what I was doing in College," said Liz, who now secured full time employment as a Data Analyst with an economics consultancy business in London.
"I was supported in the role by the College. We had monthly reviews, where my Skills Officer at College would visit me at work and check on my wellbeing and progression since the last meeting. My line manager at the Met Office would come along too, so that we all knew what I was doing and how I was getting on."
Liz believes that more businesses are switching on to the power of data, with improved technology leading the charge for even small companies to make the most out of the data at their fingertips.
"Personally, I think previously a lot of businesses weren't sure how to use someone who called themselves a data analyst," said Liz.
"But with advancements in technology helping people make sense of it, most organisations now have data available to them; they're just not always sure how to use it. The fact that businesses can have that capability to access data, in all its forms, means that people recognise the value of data analytics to improve business performance. There's still a long way to go in terms of places understanding what this discipline is and how it can be fully utilised, but it's definitely improving."
Liz also reflected on her Apprenticeship route into the industry, having previously completed a degree.
She said, "After completing university, I felt like I was done with that kind of learning. I wanted to get out there and achieve things in the workplace. I also wanted to earn money and support myself, and this course was a great way of doing that."
Liz's Skills Officer Darren Stevens paid tribute to the work ethic of Liz on the course. He said, "Liz has been fully engaged with the Apprenticeship from the beginning and has never been afraid to ask the difficult questions.
"She has taken the lead on projects within the Met Office and presented data and recommendations at senior level and to clients. It is a pleasure to see her achieve the award she clearly deserved."
Find out more about the Level 4 Data Analyst Apprenticeship with Exeter College.
Find out more about the new Digital and Data Centre which is being built at Exeter College as part of the South West Institute of Technology.