Sport and Outdoor Activities
This Level 3 course will take your knowledge, skills and experience of the outdoor adventurous activities industry to an advanced level.
Overview

This course combines the practical and theoretical elements of the Outdoor Activities Industry and is equivalent to three A Levels. It will prepare you for employment within the Outdoor Adventure industry or to progress on to University to study the subject at a higher level.

This course is ideal if you enjoy and want to develop your skills and leadership in outdoor and adventurous activities. The course is suitable for those that are enthusiastic, hard working and willing to push their comfort zone.

You will be taught at Haven Banks Outdoor Education Centre. Lectures will be both theoretical and practical. Assessment is all through coursework which will be set by your lecturers. Assessments consists of reports, presentations, practical observations etc.

Additional qualifications:
You will be offered the opportunity to achieve the National Governing Body qualifications in a number of Outdoor Activities. An additional cost will be charged for these, the cost of which is dependent upon the National Governing Body. Those students who have not achieved grade 4 in Maths will be expected to continue towards achieving this whilst on the course.

What topics will I study? 

The course consists of 12 units of study which is made up of the following units:

Personal Skills Development in Outdoor Activities
Applied Leadership and Instructing in Outdoor Activity
Outdoor Activity Provision
Impact and Sustainability of Outdoor Activities
Health and Safety Factors in Outdoor Learning
Expedition Experience
Health, Wellbeing and Sport
Research Project in Sport
Careers in the Sport and Active Leisure Industry
Nutrition for Physical Performance
Fitness Training
Anatomy and Physiology in Sport

You will:

Continue the development of your outdoor activity skills within kayaking, canoeing, climbing, sailing, caving and hill walking and navigation skills
Develop your leadership skills, practice and experience
Become competent in assessing and managing equipment, facilities and risk
Gain advanced skills in a range of water based and land based adventurous activities
Participate in work experience, study trips and expeditions
Study topics such as nutrition and sustainable outdoor adventure

What can I study alongside this course?

This course is studied on its own and cannot be combined with other courses, although you will be expected to work towards an appropriate level 2 qualification in Maths if you do not have grade 4 at GCSE in this subject.

Next steps: 

On completion of this course you may wish to progress to a Higher Education Degree or enter the outdoor activities industry directly, either as an Apprentice or through employment.

Entry Requirements

Standard entry requirements: Grade 4 in English Language. If you do not have a grade 4 in Maths, you will be required to work towards an appropriate Level 2 qualification in this subject. Plus, you will need five GCSEs at grade 4 or above, or equivalent.

Subject specific entry requirements or recommendations: A desire to participate and engage with a range of outdoor activities in a variety of environments and weather conditions. The personal qualities required to work in the outdoor and adventurous activities industry are essential.

Facilities

You will have access to all of the facilities at Haven Banks Outdoor Education Centre as well as the Exeter College facilities which include; the learning resource centres refectories, Gym and many others.

Additional Costs

You will need to supply your own stationery
Course fees (£170) to cover instructors NGB training, some residentials, minibus use – see resource leaflet
Have a question?

If you have questions or would like to speak to someone, our team of Customer Service Advisers can help answer your questions or direct your enquiry to the correct team.
Speak to us today on 01392 400500 or send us a message using our contact form: www.exe-coll.ac.uk/contact.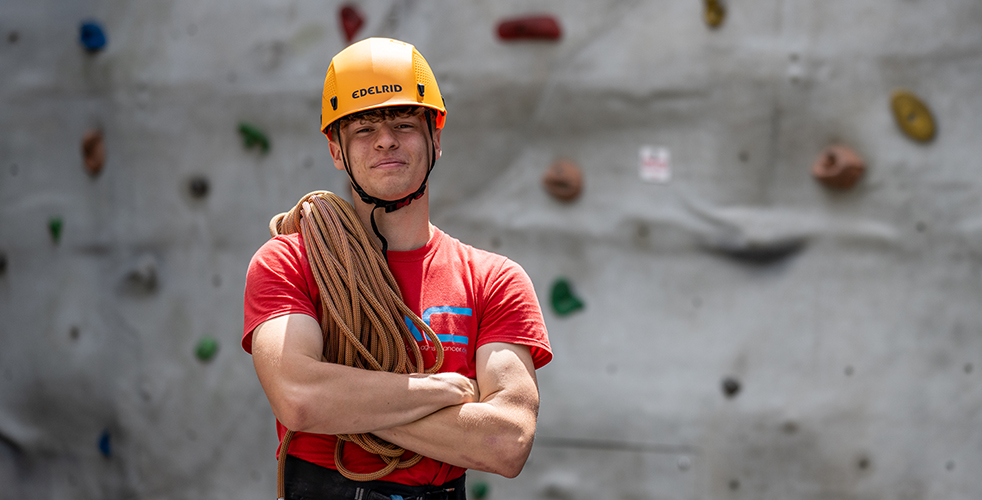 What our students think?
"My course is really hands-on and practical, teaching us skills that you don't get in the classroom. I really enjoy the theory too, we look at things like sports nutrition, health and safety and the history of the industry. The facilities at Haven Banks are fantastic." Read more >
Level: Level 2
Duration: 1 year