Engineering: Machining and Toolmaking Technologies – HepcoMotion T Level Academy
Working in partnership with HepcoMotion in Tiverton accessing two years of specific advanced Manufacturing processes and developing skills that potentially leads to an Apprenticeship with the company. 
Course Information
Course Type School Leaver
Subject Area Engineering and Aerospace
Qualification T Level
Study Mode:

Full Time Only

Course Level Level 3
Location Technology Centre
Course Length 2 years
Overview

This course is aimed at those academic learners who wish to develop their knowledge and understanding of engineering. The T Level has an emphasis on 'real' industry experience and is equivalent to three A Levels.

On this course you will:

Study a core content that will develop your knowledge of concepts, theories and core skills relevant to engineering design and manufacturing
Learn about design, health and safety, sustainability, interpreting engineering drawings, developing, modelling and revising concepts
Study specialist occupationally specific content relating to

manufacturing, such as CNC programming 

 

Develop your English, Maths and digital skills as appropriate for the occupation
Undertake an industry placement with HepcoMotion to develop skills and behaviours (your placement will last for a minimum of 315 hours)

You will be assessed through external assessments, practical assignments and an employer set project.

This course is ideal if you have a good understanding of maths and science and a keen interest in the engineering sectors, especially around manufacturing. It is also a good opportunity to gain valuable industry experience.

Future steps: You can progress directly into skilled employment, university, an Apprenticeship or a higher national qualification HNC/HND at Exeter College. Potential careers include design engineer, manufacturing operative which map directly into the new Apprenticeship Standards.

Entry Requirements

You will need six GCSEs at grade 4 or above (including English Language and Maths). Learners progressing from a Level 2 course will need a BTEC Level 2 Certificate or equivalent with a good Merit profile, along with English and Maths GCSE at grade 4 or above. As part of the application process students will be invited to visit HepcoMotion where they have a discussion around their career plans.

Facilities

Large fully equipped workshops
A dedicated IT laboratory with internet access

The Technology Centre combines the training and teaching of aerospace, engineering and automotive students with access to state of the art equipment within world class facilities. You will have access to a Learning Resource Centre.
Have a question?

If you have questions or would like to speak to someone, our team of Customer Service Advisers can help answer your questions or direct your enquiry to the correct team.
Speak to us today on 01392 400500 or send us a message using our contact form: www.exe-coll.ac.uk/contact.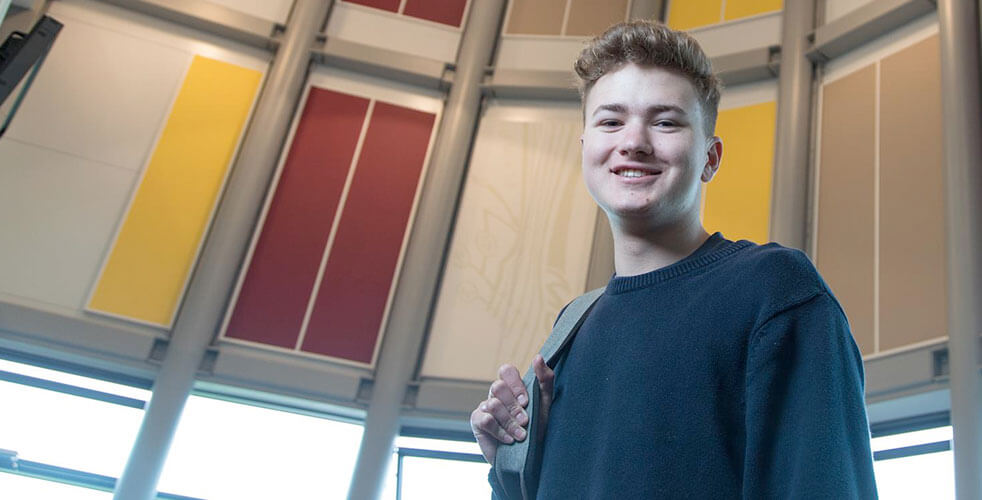 What our students think?
"There are a lot of possibilities for progression within the college, which can be enjoyed. I like the fact that there is a lot of independent study and during the second year of this course a massive part of it is your project. At college you meet people from all walks of life and different... Read more >
Level: Level 3
Duration: 2 years

Level: Level 3
Duration: 1 year (2 years in total - progressing to the Extended Diploma in the second year)

Level: Level 2
Duration: 1 year