Aeronautical Engineering
With shared resource links to the Future Skills Centre, this full time course is for students with a passion for Aeronautical Engineering.  
Course Information
Course Type School Leaver
Subject Area Engineering and Aerospace
Qualification Level 3 Foundation Diploma in Aircraft Engineering
Study Mode:

Full Time Only

Course Level Level 3
Location Future Skills Centre
Course Length 1-2 years
Overview

With shared resource links to the Future Skills Centre, this full time course is for students with a passion for Aeronautical Engineering.  

On this course you will:  

> Gain theoretical competencies in general engineering principles which underpin the Aeronautical maintenance industry. These units include: Engineering Principles, Engineering Product Design and Manufacture, Manufacturing Secondary Machine Processes > Experience practical hand skills in aviation  

> Complete a Level 3 Extended Certificate in Engineering > Study at the Technology Centre and the Future Skills Centre  

> Attain the skills and knowledge to prepare you for a career that has great potential to earn a very competitive salary  

The course contains two units which are externally assessed and count as double weight units. The remaining two units are assessed through written assignment completion.  

This course is ideal if you have a passion for aeronautical engineering and are looking to progress on to an Apprenticeship or on to a Diploma in Engineering.  

Next Steps: You could progress on to the Extended Diploma in Aeronautical Engineering at Exeter College or Extended Diploma in Engineering.  

Entry Requirements

You will need a grade 4 in English Language and grade 5 in Maths. You will also need grade 4 or above in Science, Double Science or Physics, plus three other GCSEs at grade 4 or above, or equivalent. You need a passion for learning and a keen interest in a hands on engineering career. 

Facilities

Our Future Skills Centre opened in 2021 near Exeter Airport. 

The Centre include

s

 provision for

 s

chool

 

leavers and adult learners and focus

es

 on courses

 

for high-tech jobs in aeronautical,

 

engineering,

 

digital, construction and clean growth.

Additional Costs

This course has a resource fee cost of £75, this cost covers:

Induction team building activities

One field trip to an aviation based centre

Enhanced teaching resources

Fabrication resources (aluminium and steel)

Course starter pack (memory stick, course folder and paper)

This further education course is free for all 16-18 year olds who are resident in the UK and the European Economic Area for the last 3 years. (You must be under 19 on 31st August in the calendar year that you start your course). For any fee-related queries or further information, please contact the Advice and Recruitment Team on 01392 400444.
Have a question?

If you have questions or would like to speak to someone, our team of Customer Service Advisers can help answer your questions or direct your enquiry to the correct team.
Speak to us today on 01392 400500 or email info@exe-coll.ac.uk.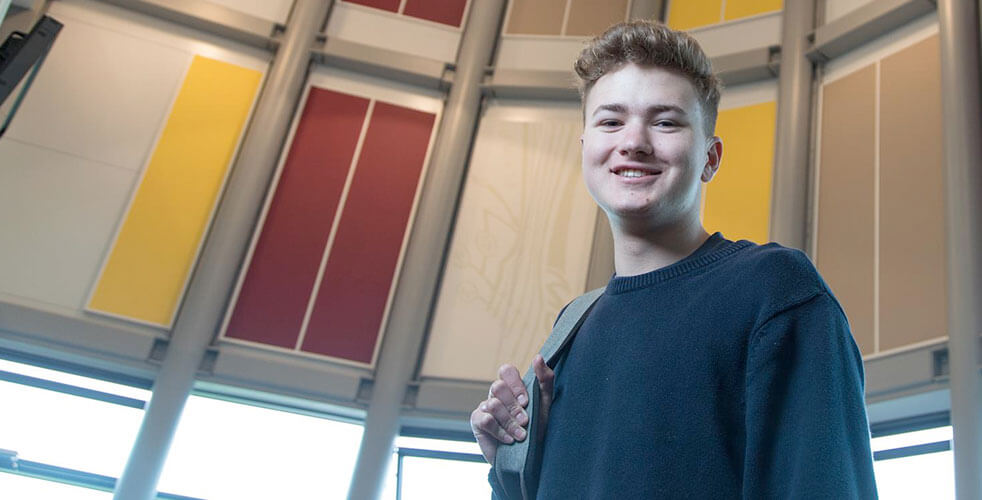 What our students think?
"There are a lot of possibilities for progression within the college, which can be enjoyed. I like the fact that there is a lot of independent study and during the second year of this course a massive part of it is your project. At college you meet people from all walks of life and different... Read more >
Level: Level 3
Duration: 2 years

Level: Level 3
Duration: 1-2 years

Level: Level 2
Duration: 1 year