Construction Skills
This Level 1 Construction course gives you the opportunity to experience a variety of construction trades and learn a broad range of skills to find out which trade you would like to specialise in for your future career. 
Course Information
Course Type School Leaver
Subject Area Construction and the Built Environment
Qualification Diploma
Study Mode:

Full Time Only

Course Level Level 1
Location Construction Centre
Course Length 1 year
Overview

Please note – It is essential that you complete this one-year course in order to progress onto a specific trade area.

This Level 1 Construction course gives you the opportunity to try out a variety of construction trades and learn transferable skills to find out which trade you most excel at and enjoy. It will also give you an excellent foundation knowledge of the construction industry that will enhance your chances of employment. You will spend six weeks in each area developing essential skills in: 

Brick

work

Carpentry

 

Electric

al

 

Painting and decorating

 

Plumbing

 

Tiling and plastering

 

This course is supplemented with tutorial support, employability development and study skills. We will also work with you to develop your English and Maths skills to the level that employers in the construction industry look for.

This course will provide you with the necessary theory and practical skills to achieve a City & Guilds recognised qualification. You will carry out a series of practical training exercises until you have a level where the tutor considers you are ready to carry out assessed pieces of work. If necessary, you will complete your GCSE in English and Maths.

Work will be carried out in the workshops, with some formal classroom sessions and by working in the resource centre. In the workshops you will build up competence in carrying out practical tests. You will have to complete written tasks and produce a portfolio of evidence and practical competence tests in order to pass the course units.

What will be covered:

Learn about safe working practices, building methods and construction technology

Improve knowledge and hand skills in multiple construction trades

Know how to use and maintain specific construction tools and equipment

Carry out a series of practical training exercises

Focus on transferable skills such as English and Maths

This course is ideal if you want to learn new skills and gain an understanding of the wider construction industry. It will also build key transferable skills such as teamworking, effective communication and problem solving.

You will benefit from strong industry links, guest speakers and site visits. Although work experience is not a requirement of the course students attending this programme would benefit from work experience in order to aid progression and potentially improve employment opportunities.

This course is studied on its own and cannot be combined with other courses.

Next steps: The aim of this course is to help you to find the trade that best suits your interests and skills. In your second year, if you wish to strengthen your skills in a specific area before going in to employment then you can progress to the relevant Level 1 Diploma. Alternatively, you can progress to a Level 2 Apprenticeship in your chosen specific trade area in order to increase your skills and unlock higher-paying jobs in the industry. You could also move in to a job in the construction industry in a junior role.

Entry Requirements

Four grade 2's to include both English and Maths at a 2, you will be required to study English or Maths alongside your course if you don't have a 4.

Facilities

Practical workshops across a variety of trades (including brand new workshops)
Fully equipped wood machine shop
Learning resource centre
Refectory
IT suite
Student social space

Additional Costs

You will need to be equipped with basic stationery for all your sessions. You will need to have your own overalls and safety boots – advice will be given at interview. There is a non-refundable workshop fee of £49 per full time student per year. This will contribute towards the cost of tools for use in the workshop so that you do not need to provide your own. 
Have a question?

If you have questions or would like to speak to someone, our team of Customer Service Advisers can help answer your questions or direct your enquiry to the correct team.
Speak to us today on 01392 400500 or email info@exe-coll.ac.uk.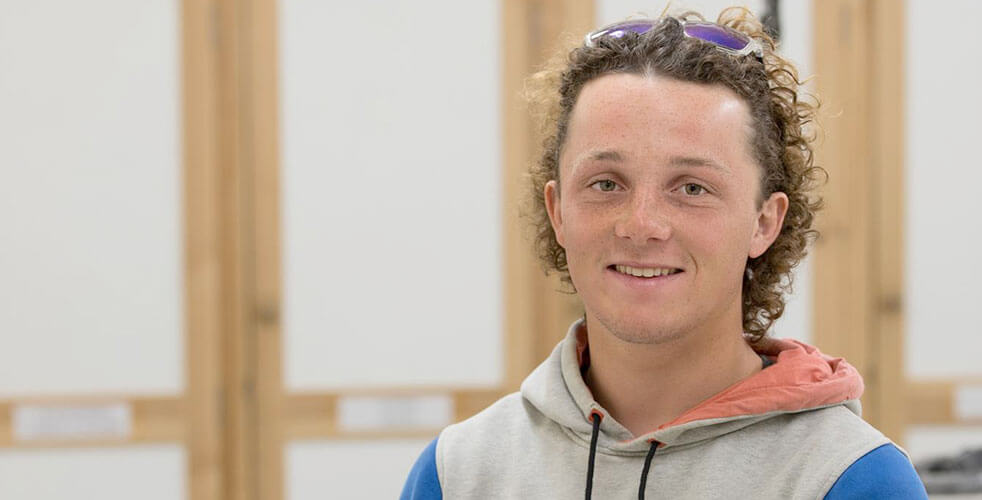 What our students think?
"The atmosphere has been really good, I have learned a lot whilst I've been here. I have really enjoyed it because I've learnt a lot of practical skills. The staff have been really supportive in everything I've done. My tutor has been really supportive when I'm trying to complete assignments and get things done on... Read more >
Level: Level 2
Duration: 1 year

Level: Level 3
Duration: 2 years

Level: Level 3
Duration: 2 years