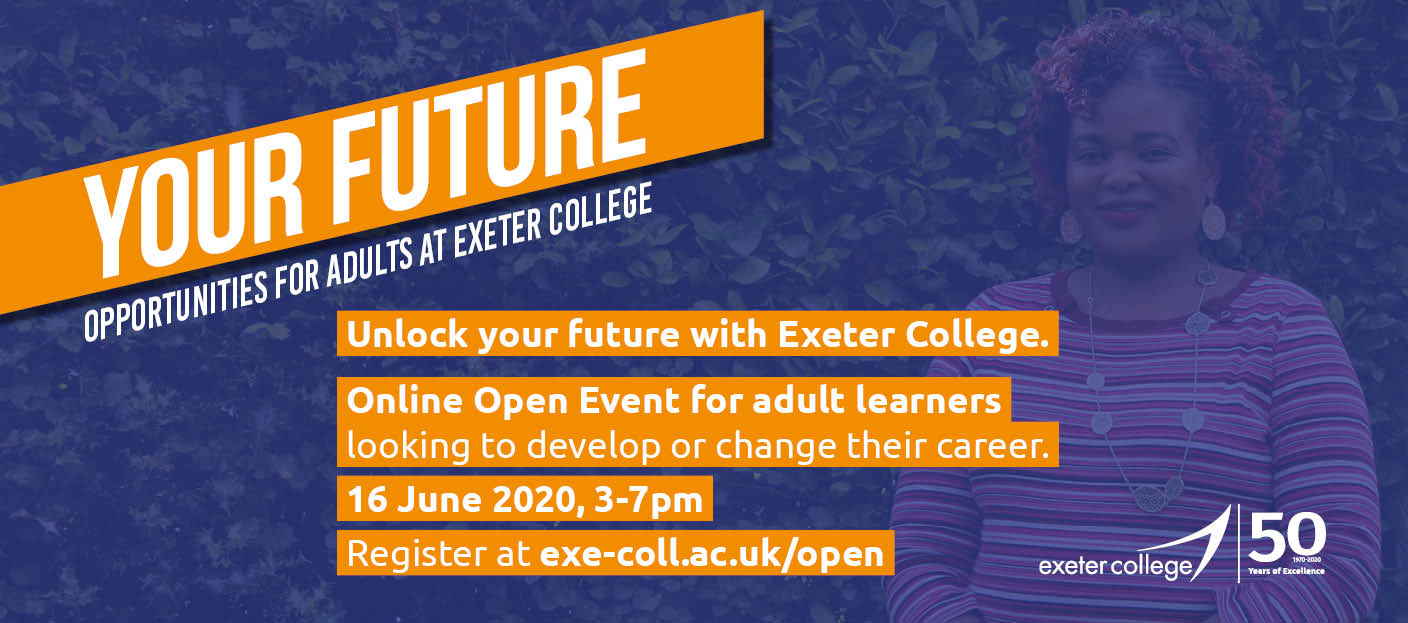 5 REASONS TO ATTEND EXETER COLLEGE'S ADULT ONLINE OPEN EVENT
Are you an adult looking to further your education or learn a new skill? Exeter College is here for you. We're inviting you to our Adult Online Open Event, Tuesday 16th June 2020, 3pm-7pm, where we'll help you to find your future.
This event is directed towards any adult (19+) who is interested in studying a course with Exeter College. Perhaps you're hoping to move forward with your career aspirations, retrain in a new profession or just improve your skills. We have something for everyone.
Our Adult Online Open Event is the best and easiest way to find out what Exeter College can offer you…
FIND OUT ABOUT COURSES
Exeter College is bursting with opportunities for adult learners.
We offer a range of course types and subjects, from GCSE English and Maths, professional and leisure courses, university level study and Apprenticeships. We know all learners are different, and that's why we cater for all levels of learning.
Our Adult Online Open Event is the perfect place to find out which course could help you to unlock your future, and you can do this all from the comfort of your own home, via your phone or laptop.
HEAR FROM SUBJECT LECTURERS
We want you to get the best start to your time at Exeter College, and that's why we've arranged for you to be able to hear from subject lecturers during an interactive seminar.
Each lecturer will break down their courses for you, so you know what to expect when you start. From course content, timetabling and typical exam results, our lecturers are here to guide you.
ASK LIVE QUESTIONS
Each session will give you the opportunity to ask any questions you might have.
After each interactive seminar, subject leaders will respond to your queries. Simply type them in using the question box and get your reply.
We recommend having a pen and paper handy during the seminar, so you can note down your questions as you think of them.
HEAR FROM ADULT ADVISERS
We know that for a lot of our adult learners, the thought of going back into education can be daunting. To help you achieve your full potential, Exeter College's adult advisers are here to support you.
Hear about the outstanding adult learning environment at Exeter College and our personalised approach to teaching and learning.
We make sure you'll gain the skills to take you to the next level in a supportive and engaging environment.
LEARN ABOUT FINANCIAL SUPPORT
Often, adult learners feel there are barriers to returning to education, but we want you to know that we're here to support you.
Our Adult Online Open Event will allow you to learn more about the financial support available to students.
Our advisors will guide you through how to finance courses through funding or other means, and the bursaries the college offers and how to access them.

If you would like to join us at our Adult Online Open Event, you can register your interest here.
You can view our range of adult courses on our website, or you can request a course guide to be sent to your home. For any additional information, please email our adult advisers on adultadvice@exe-coll.ac.uk.
To apply for an adult course, please visit our application page. For help with your application, please email info@exe-coll.ac.uk. For adults interested in studying a university level course at Exeter College, you can apply via the online UCAS application system.