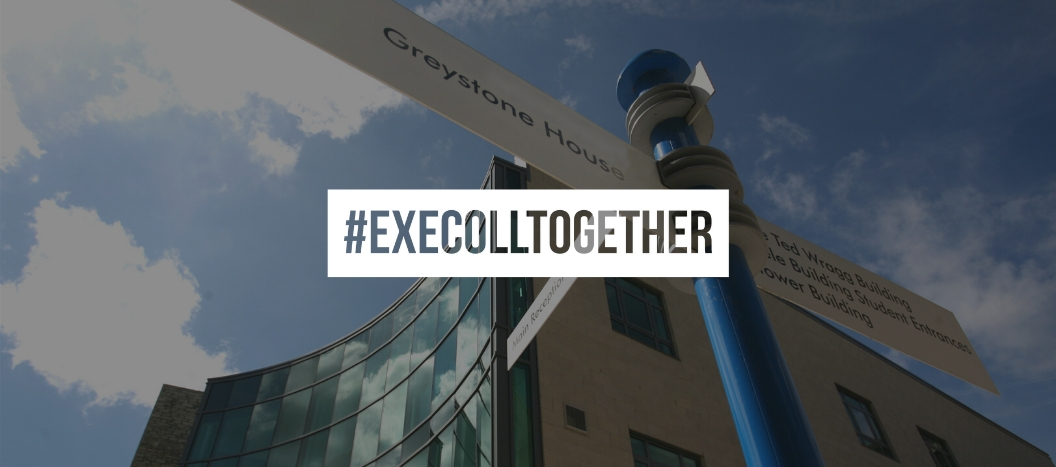 Looking after your health and wellbeing at home
Exeter College is closed due to the Coronavirus outbreak, but the exceptional learning continues for our students.
In this blog, Jake Cole, our Emotional Health and Wellbeing Advisor, has sourced some top tips on how to look after yourself during a challenging period. Please also see advice from Young Minds, the NHS, and Mind.
Connect
This is a huge one – everyone needs to socialise! Even if it's not possible to pop to your friend's house, make sure you continue to connect with them online.
Make plans to video chat with people or groups you'd typically see in person. You can also arrange phone calls, texts or online messages.
If you're worried that you might run out of stuff to talk about, make a plan with someone to watch a show or read a book separately so that you can discuss it when you contact each other.
You can also get yourself a study buddy. Team up with a friend from College to discuss your work and swap revision notes. Not only will this help you connect with others, but it will also make learning from home a lot more enjoyable.  
Routine
With so much uncertainty, sticking to your routine can really help you to maintain a sense of normality. It can also help to reduce anxiety and troubling thoughts.
You might want to add extra activities into your day that make you feel calm but try to keep to your daily schedule as much as possible.
Figure out what you need to be working on. Write it down with timings on to paper or into an app like Outlook Calendar.
Choose how long your work segments are. I like to work in 90-minute segments but do what works for you.
Keep Active
Almost any form of exercise will stimulate the release of feel-good chemicals in the brain and will help you to focus your mind. For this reason, try and build physical activity into your daily routine.
Most of us don't have exercise equipment like treadmills where we live, but there are still activities you can do. Try cleaning your home, dancing to music, or following along to an online exercise class.
Regular physical activity can also improve symptoms of anxiety, depression and help you sleep better.
Be aware of your health
Eating regular meals and staying hydrated will help. You should also take breaks throughout the day to talk to someone or do something you enjoy.
Be aware of your screen time too. It's good to have a few hours a day where you are not looking at a screen – perhaps try calling a friend, reading a book or doing some housework.
Find things that help you feel calm
Like at any other time, it's important that you are not only looking after your physical health but your mental health too.
Acknowledge how you're feeling. We know that things might continue to feel overwhelming or scary, so it's good for you to talk about this where possible.
Think about some activities that can help when you are feeling overwhelmed like breathing techniques, writing down how you feel, playing music, or talking to a friend. Try not to overexpose yourself to the news.
To draw away from any stress you're experiencing, write down three positive things at the end of each day. You can also look for opportunities to help others – doing good feels good.
Extra Resources
There is lots of additional advice on the NHS website.
Check out our WHAM page on the portal for further health and wellbeing information.
Headspace (the mindfulness app) is offering free resources to help people during this time.
The charity YoungMinds offers mental health help and support.
Remember that these new approaches can be difficult at first. Keep going, you will find a way to make them work if you stick with them.
Ultimately, it's down to finding out what works best for you. If you have any additional tips that you think could help others during their studies, share them using the hashtag #ExeCollTogether.   
Find out how exceptional learning is continuing at Exeter College during the Coronavirus outbreak.