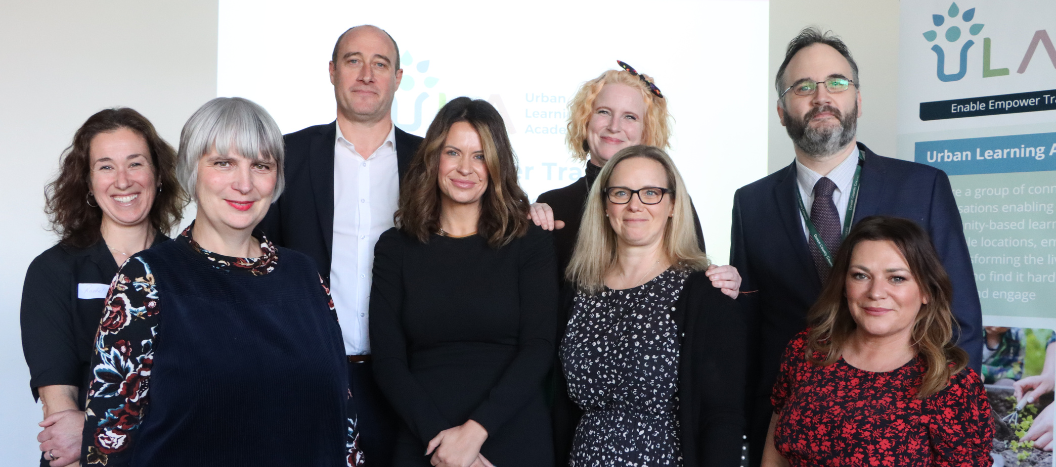 Urban Learning Academy Supports Learning in the Community
The Urban Learning Academy (ULA) held an engagement event today at Exeter Library. The community learning project is a partnership between local providers in Exeter and has formed an Alliance that includes; Exeter College, CoLab, Exeter City Council and Devon County Council.  
The ULA is a venture exploring innovative approaches toward city-wide inclusive adult learning opportunities. It offers a range of sessions taking place in community hubs across the city.
Partners are collaborating to provide opportunities for adults to participate in free and low-cost learning across the city.
Rob Bosworth, Vice Principal and Deputy CEO at Exeter College, said;
"There is a burgeoning need in the city for a type of learning offer, that is different to the traditional offer, for people that do not have the confidence or have found past learning experiences difficult.
"By collaborating with several different organisations in the city, that share our passion and values for outreach, the ULA will be in the community in venues like libraries to offer the type of learning that is going to reengage members of the public that haven't stepped into a classroom in years.
"The city is growing, there are more people, which is great, but it does bring its own challenges, further compounded now by the cost-of-living crisis, Brexit and unemployment.
"Exeter College has fantastic partnerships in the city and by joining together we have an opportunity to do this for the people in the community."
Jo Cuthbertson, Learning Matters Lead at CoLab Exeter, said: 
"The ULA really is committed to offering a wide range of community learning opportunities, doing things differently and connecting communities through learning and meaningful activity. Our learners are at the centre of all we do.
"We will work from the grassroots level to bring organisations, communities and individuals together to connect and break down barriers, offering free and very low cost opportunities to learn in our city.
"The ULA will enable people to learn, empower individuals to make choices about their learning journey and hopefully use learning as a tool for change to help transform lives.
"In just 5 months we have doubled our learning offer in our ULA programme and increased the number of learning providers being part of the ULA Partnership. It's a very exciting time to be involved and we are still building on this and has scope for so much more"
Jola Pawlikowska, Community Ambassador at CoLab, will be reaching out to people in the community. She said; 
"My job is to ensure that people with complex needs have access to education and training. That's through informal training, through drop-ins, that then can be a seed that can move forward and progress people through to more formal training and progression opportunities.
The ULA aims to empower and transform the lives of people who find it hardest to connect and engage. Working in partnership with learning providers in Exeter, a varied and inclusive learning programme has been designed. Workshops include; Be Kind to Your Mind, Woodwork for Wellbeing, Walking Football, Writing Flash Fiction, Emotional First Aid and much more.
Phill Adams is Economic Inclusion Lead at Devon County Council and Lead Officer for Learn Devon. He said;
"Learn Devon is one of the direct delivery partners in this initiative. It's really important for us to move the residents of Devon forward and give them those life chances, pathways into work or learning and wider life opportunities that we all strive for.
"The big thing for us, particularly with cost of living, is finding jobs and pathways which allow people to move into careers and find income at a time when it is hard going out there.
"At a time when the economy is turbulent, we need to be creating those moments when people shift onto a new career or a new option."
Councillor Duncan Wood, Lead Councillor for Skills at Exeter City Council added;
"The reason that we are involved in the Urban Learning Academy is because we have a clear strategic priority around supporting people to engage in learning, help to move people towards employment and the workplace.
"We see this as being key in terms of doing that, engaging with some of those people that aren't involved in any kind of learning or education at the moment and helping them on that journey back towards being fully engaged in life in the city."

Rachel Payne, Business Development and Fundraising Manager at Libraries Unlimited said;
"The initial conversations started with Exeter College around how we could do some more community-led learning. Starting off with pop-up maths events at Exeter Library, St Thomas and Pinhoe – we began to discuss how community learning could go wider afield.
"We were talking about the ULA and how libraries have evolved. The notion that libraries are just about books is behind us, they are community hubs. They are an intrinsic part of the local community; offering a range of activities from Bounce and Rhyme, to Knit and Natter groups, dementia awareness, and mindfulness cafes, not to mention co working spaces and IT sessions.
"We are really excited to be part of the ULA, particularly as we aim to reach new communities across the city and showing them that this is a warm, safe, free space to be used. Especially with the cost-of-living crisis, just opening our doors and making people aware that libraries are there and that they're freely available across the county is essential."
To find out more about the Urban Learning Academy and how you can get involved visit Urban Learning Academy