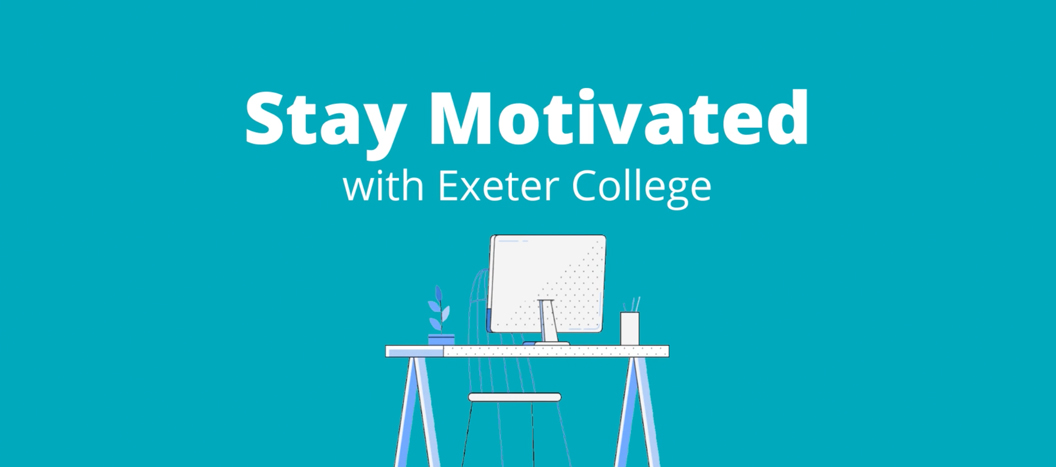 Tips to stay motivated with online learning
Staying motivated during the lockdown can be tough, but we're here to help.
Please see the below hints and tips on keeping yourself motivated so you can make the most out of online learning with Exeter College. More information, hints, tips and advice are available on the Student Hub. If you require further support, you can email studentexperience@exe-coll.ac.uk and they'll be happy to help.
Look after your wellbeing
Taking care of your needs is the most important first step in feeling happy and motivated. Check out all the wellbeing advice on the Student Hub.

Structure your day
With normal routines and activities on hold, some of us will go through periods of time feeling a bit lost or aimless. The day won't look the same for everyone but try to give yours some structure. Stick to a routine that works for you to give you purpose and focus as you go through the day.
Reward Yourself
Reward yourself for accomplishing your goals, whatever they may be. It could be writing one page of your assignment or clearing out some old clothes. Try to vary your rewards and aim for those with added benefits, like getting outdoors or taking some form of exercise.
Break It Down
Try to set yourself realistic targets by breaking down tasks into smaller, achievable chunks. Instead of aiming to read a whole book, for example, reflect on what is realistic for you in a given timeframe and go from there.
Focus on Future Goals
Focusing on longer term goals is a great way to boost your motivation. Where do you want to be in a month, a year or even five years from now? Can you start doing something right now that will help you achieve your future goals?