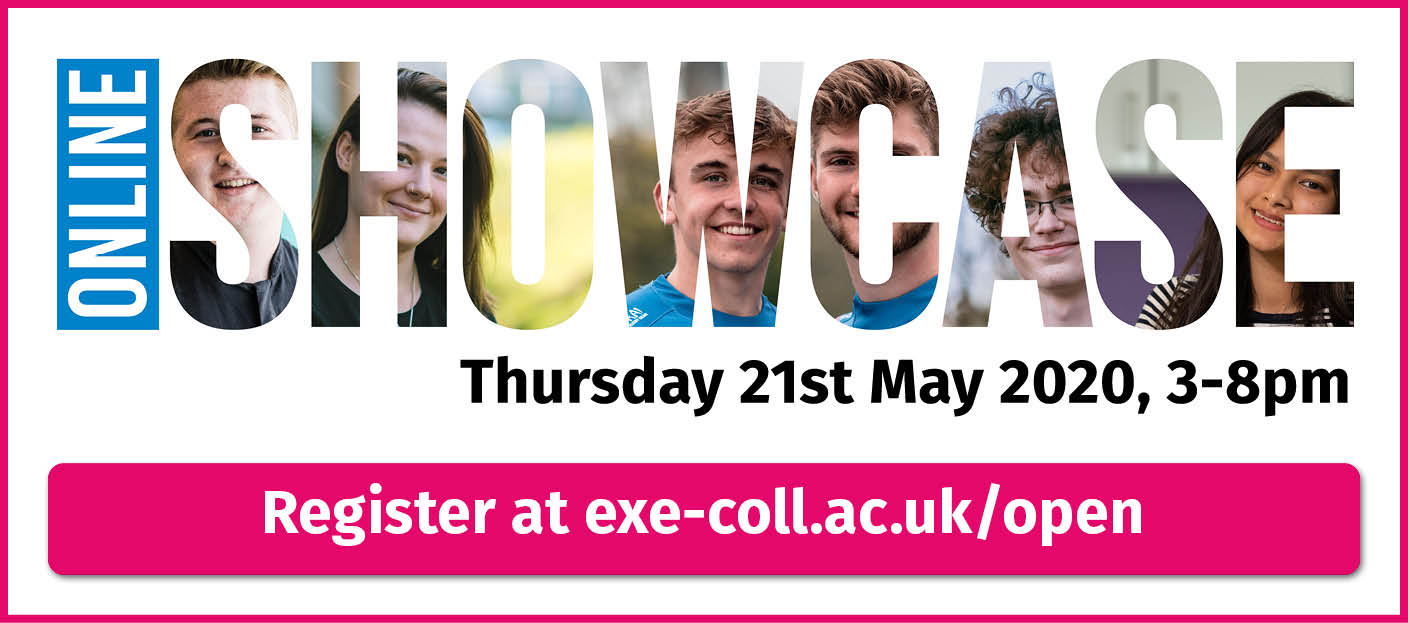 You're Invited to Exeter College's Online Showcase
Exeter College is launching its first ever Online Showcase, offering school leavers the chance to discover everything the Ofsted Outstanding further education provider has to offer from the comfort of their own home.
The Online Showcase will take place on Thursday 21st May 2020, 3pm-8pm and gives potential applicants the opportunity to discover more about courses, teaching and support available on travel and in the classroom.
As part of the Online Showcase, students in year 9, 10 or 11 will get the chance to watch interactive seminars with subject leaders and opportunities will be available for questions to be answered via live web chat.
Register your interest today and we'll send you a personalised timetable for the subjects you are interested in. Simple instructions will be sent in the run up to the event on how to access the live sessions through Microsoft Teams (no installation required).
Advice and guidance will also be available on anything from which types of courses you should consider to which clubs and societies you can get involved with if you join us.
Any current school student interested in joining Exeter College is welcome to register to attend the Online Showcase, whether you've already applied or you're just looking at your options for when you finish school.
This is a great chance to find out everything you need to know about joining Ofsted Outstanding Exeter College.
Can't virtually attend on the day? We'll post recordings from the sessions on our website so you can catch up on what you've missed!
Register now for the Online Showcase.
If you're an adult learner (18+), we will soon be announcing our Online Adult Open Event, which will provide specialist information and advice.
Considering an Apprenticeship? You can attend the Virtual Apprenticeship Open Evening on 14th May to find out everything you need to know. If not, you can register for an Apprenticeship seminar in session seven of the Online Showcase.