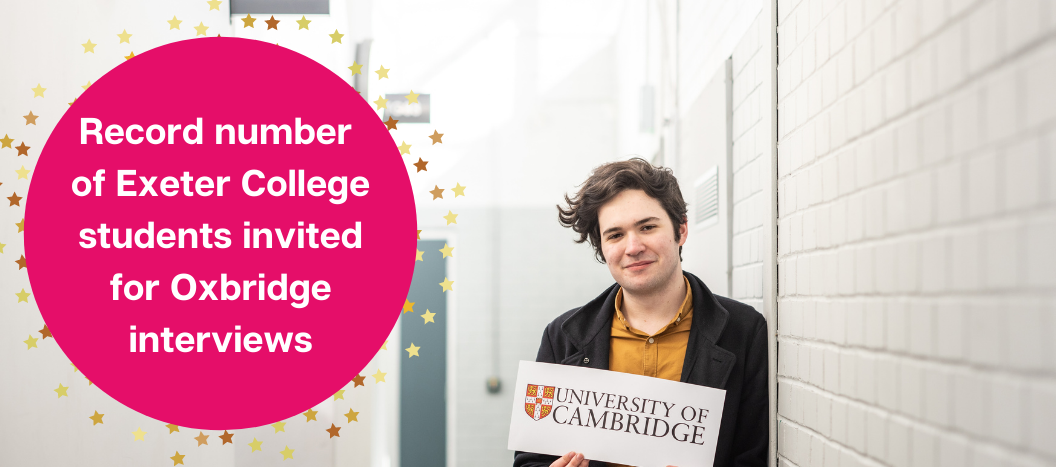 Record numbers of Exeter College students invited for Oxbridge interviews
An all-time record number of Exeter College students have been invited for admissions interviews with the University of Oxford and the University of Cambridge.
A grand total of 42 students have been invited to interview at the world renowned universities, eclipsing the College's previous record number of 34 invited to interview in 2017.
Students have been undertaking their virtual interviews in the past few weeks and will learn about final offers made by the universities in January 2021.
Many students have been supported to make their applications by the College's Reach Academy for academically gifted students. The Reach Academy encourages learners to aim high and provides group and one-to-one support for students hoping to join some of the most sought-after programmes of study in the country for higher education.
Exeter College Lecturer Martin Gilbert, who leads the Reach Academy, said, "I'm really proud of all the students. To make an application to Oxbridge is a great challenge and one that our students have embraced fully.
"Although the students won't currently get the chance to travel to Oxford and Cambridge for interviews in the way they normally would, making it to this stage is a great step on the journey to hopefully securing an offer to study with two of the world's leading universities."
The Exeter College Reach Academy helps students achieve their aspirations with workshops and application-boosting activities to support applications to leading universities and medical-based degree programmes. Students regularly hear advice directly from admissions teams and have the chance to develop and adapt their applications in line with the very latest advice and guidance.
For the previous academic year, a massive 70% of the College's applicants to medical-based courses across the country secured offers of study, while 14 students received offers to study with the University of Oxford or the University of Cambridge.
Applications are open to join Exeter College in 2021.  
Explore the Virtual Exeter College Experience now to get a flavour of what it's like to study with us.