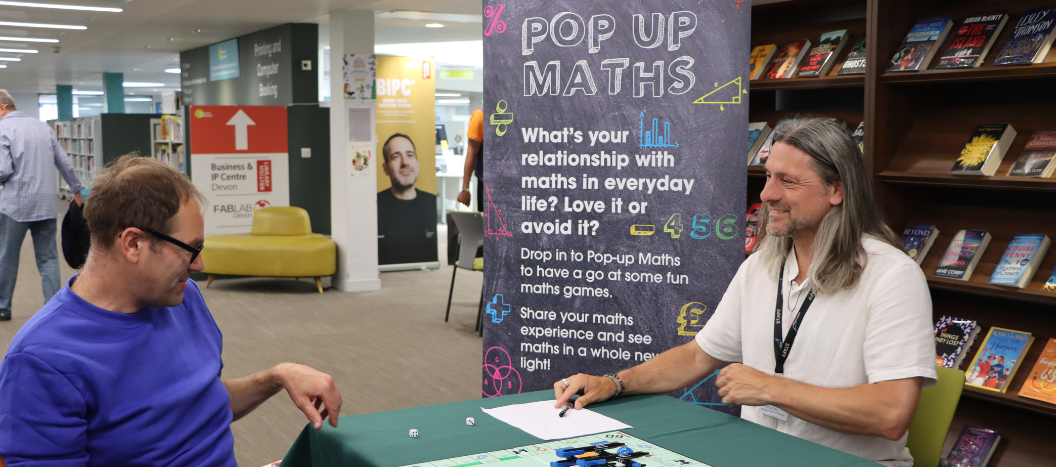 Multiply your Maths knowledge with a Free Course or Workshop 
Are you an adult that struggles with Maths? Are you looking to improve your Maths skills to help you with budgeting, progress in your job, or to support your child in their Maths studies?
Whether you are new to Maths or simply want to brush up on existing skills, Exeter College, in partnership with the Urban Learning Academy, is offering a whole host of free courses, workshops and events.
Multiply is a government initiative aimed at increasing the levels of functional numeracy in the adult population across the UK. If you are aged 19+ and do not already have a GCSE at grade C (or equivalent) in Maths, Multiply is available to you.
It includes:
Pop Up Maths events
Maths for life (budgeting, managing bills etc)
Pre-GCSE Maths (6 x weeks)
Come and say hi
Maths is out in the community soon with Pop Up Maths beginning in February in various Devon Libraries. You could be in with a chance of winning a Lenovo Chromebook through a fun and simple Maths challenge. Visit our Facebook page to find out which library we are visiting next.
Book your place today
There are a series of workshops and courses running throughout February and March. These are free and available to book through Eventbrite. Find out more and book your place.

More about Multiply
Multiply offers easy access to free numeracy courses and initiatives that can help you brush up on your Maths skills and help you become more confident with numbers.
Multiply offers easy access to free numeracy courses and initiatives where you can gain a qualification and build your confidence in using numbers at work or in everyday life.
You will be able to learn at a pace that suits you.