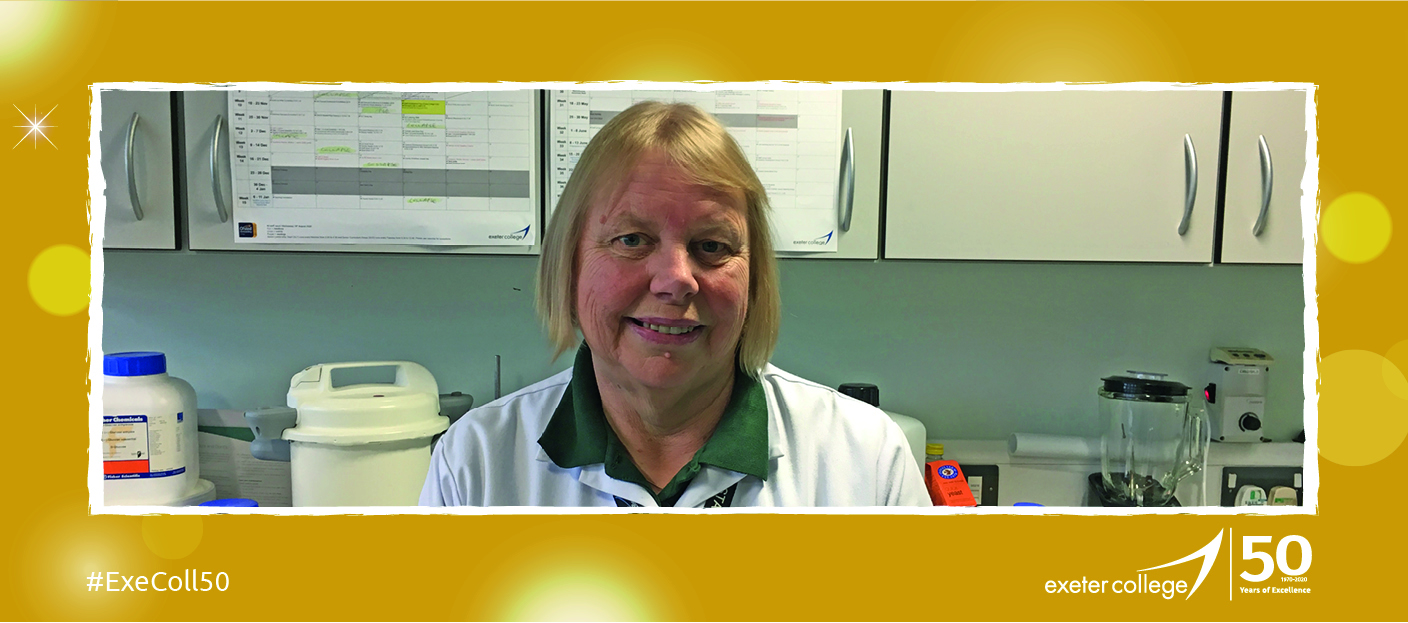 "I count it as a privilege to be a part of Exeter College for so many years," – longest serving staff member on her time with the college
As part of Exeter College celebrating 50 years as the UK's first ever tertiary college, we're talking to some of the inspirational students, staff and alumni who have helped make us the Ofsted Outstanding education provider we are today.
1977 is a year when Abba's Knowing Me, Knowing You, topped the singles chart, the original Star Wars hit the cinemas and Melinda Northcott first set foot in Exeter College as a member of staff. Now, almost 43 years later, Melinda is the longest serving member of staff at the college, having initially joined as a Biology Technician over four decades ago.
Reflecting on her time so far with Exeter College, Melinda – a former student at the college – revealed how she feels about her time with the institution. She said, "There are definitely things about the college that have changed dramatically over the years. But, for me, the core values have been completely consistent, and that's down to the professionalism, care and skill of the people that I work with throughout the college." 
Move to the Maths and Science Centre
Melinda, 62, has certainly witnessed incredible change at Exeter College, with new buildings, revitalised workspaces and countless students coming and going through the years.
One of the biggest changes Melinda had to deal with was the move of her department from the college's Tower building in to a new purpose-built Maths and Science Centre on Queen Street in 2015. It's a move Melinda admitted she was wasn't looking forward to.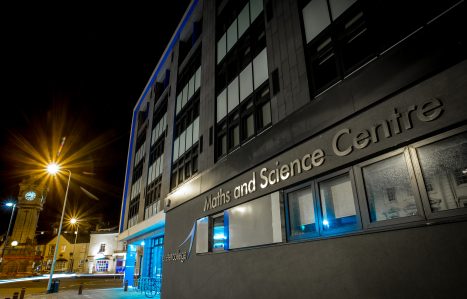 "I genuinely thought it would be awful moving to the Maths and Science Centre. I had spent so long in the Tower I just couldn't imagine us ever leaving and I have to say I was really dreading moving my equipment over.
"However, we came over, set ourselves up and I have to say, it's absolutely fantastic! It's a million times better than the Tower was for us. It's the simple things that have made my job better, not just the state-of-the-art facilities. For example, having connecting doors from the labs to my prep room means I'm on hand and available to anyone who needs my help. I used to spend half my time running up and down the corridors in the Tower to get to the laboratories! The Tower was good for us for a time, but as a department we had simply outgrown it.
"It's not just better for me though, the students get more of an idea of a modern facility and it has all worked out for the benefit of the students."
Some things never change…
While change appears to be a constant in Melinda's time with Exeter College, she maintains that elements of her job, now titled as a Biological Sciences Technical Support Facilitator, are exactly the same as when she first started. Melinda's role in the biology department is largely to organise and support lab-based practicals for students in aid of their studies, in addition to other duties in supporting teachers and students in the labs.
"Some aspects of the job have not changed one bit. The core work, in supporting students in their practical work is the same as it ever was," said Melinda.
"Courses have changed, we have gone in different directions, and we will continue to do so as a progressive college. The college moves on but the core of what we do is the same, but better every time. Over the years, a lot has been learnt and I think we support students much more now than we did when I first joined.
"It's a busy place to work and that's what makes it great for me. Without being too cheesy, it's very satisfying to feel that you're a very small part in the process of students achieving and becoming mature, well-rounded people and moving on in the world."
The 'R' Word…
At 62 years old, you could forgive Melinda for having half an eye on retirement, but she has no plans to hang up the lab coat just yet.
Melinda said, "I never would have thought when I first walked in as a member of staff that I'd still be here 43 years later but I just love it and I still get that same buzz when I find out about students' results.
"I would like to keep going in the role as long as I feel I'm able to do it to the highest standard. No one has told me there's a problem yet; so I think I'm doing alright! I haven't got any plans on retiring – I'd simply miss it too much!"
Exeter College is celebrating 50 years since being named as the UK's first tertiary college. Although our roots date back to the 1800s, our status as a tertiary college marked a revolution in further education and 2020 marks our 50 years of excellence since that landmark. If you have a memory or story of Exeter College through the years that you'd like to share then contact marketing@exe-coll.ac.uk.
Search #ExeColl50 on social media or visit our 50th anniversary page to view the latest stories.