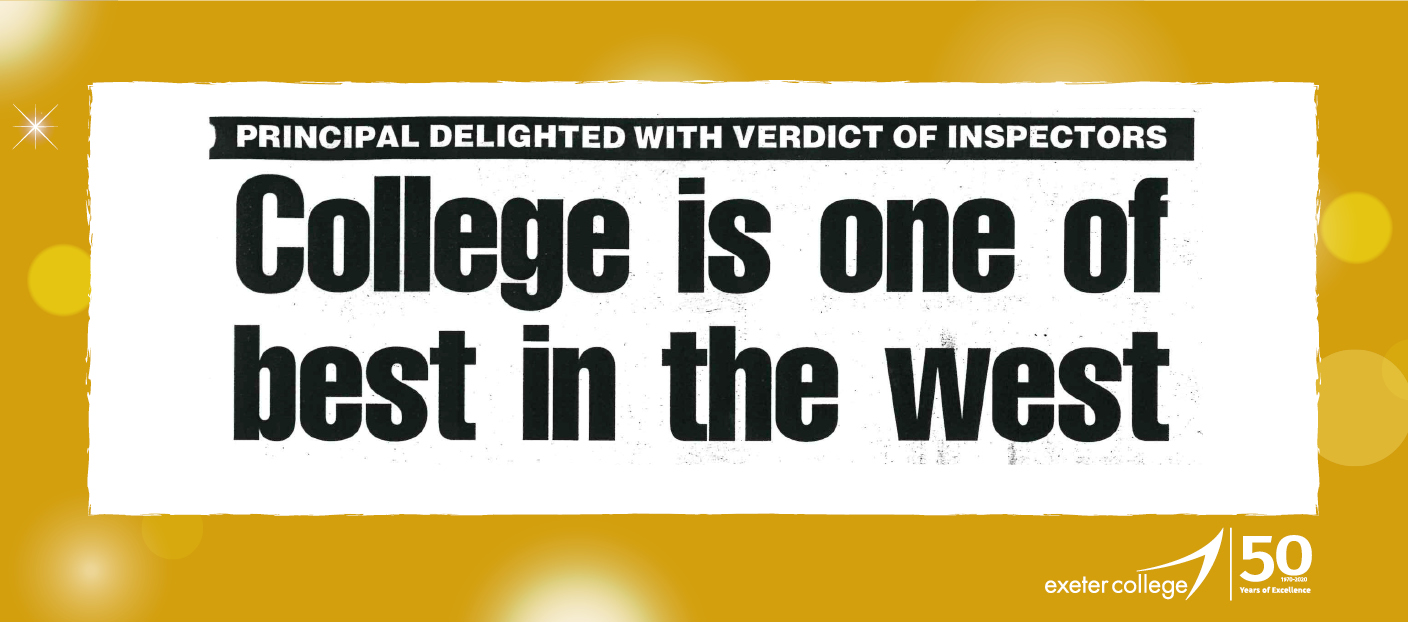 March 2000: Exeter College ranked as 'best in the west'
As part of Exeter College celebrating 50 years as the UK's first ever tertiary college, we're talking to some of the inspirational students, staff and alumni who have helped make us the Ofsted Outstanding education provider we are today.
Then:
In March 2000, we welcomed Further Education Funding Council bosses into our College, who completed a breakdown inspection over a week-long period.
Ranked against seven other local education centres, Exeter College came out on top. We obtained the best score for two performance levels and came second for a third.
The inspectors commented on the outstanding student support and the impressive increase in our overall A Level pass rate, with a 13% increase since 1998.
Tim Smith, Principal at the time, said, "At a time when education is coming under such intense scrutiny, it is good to achieve a grade profile that is probably the best in the west in the current academic year."
Now:
Two decades later and we continue to uphold these incredible results, currently standing as Devon's only Ofsted Outstanding further education College.
We have also been named as the best in the South West for employer satisfaction in Apprenticeships and we're on the Sunday Times Top 100 Not for Profit Employer list. On top of this, we've been selected as one of the first colleges in the country (the only one in Devon) to offer the T Level qualification, rolling out this September.
Additionally, we've maintained our amazing results, setting new records for the latest academic year. Our A Level students achieved an overall pass rate of 99.7%, well above the national average. Our International Baccalaureate results were the best in the College's history, with 100% of students passing and nearly a third of students achieving more than 40 points out of a possible 45.
We couldn't be prouder of all our students, staff and partners who have helped to shape and uphold the success of our college.

Interested in joining Exeter College? Apply now online.
Exeter College is celebrating 50 years since being named as the UK's first tertiary college. Although our roots date back to the 1800s, our status as a tertiary college marked a revolution in further education and 2020 marks our 50 years of excellence since that landmark. If you have a memory of Exeter College through the years that you'd like to share then contact marketing@exe-coll.ac.uk or get involved on social media using #ExeColl50