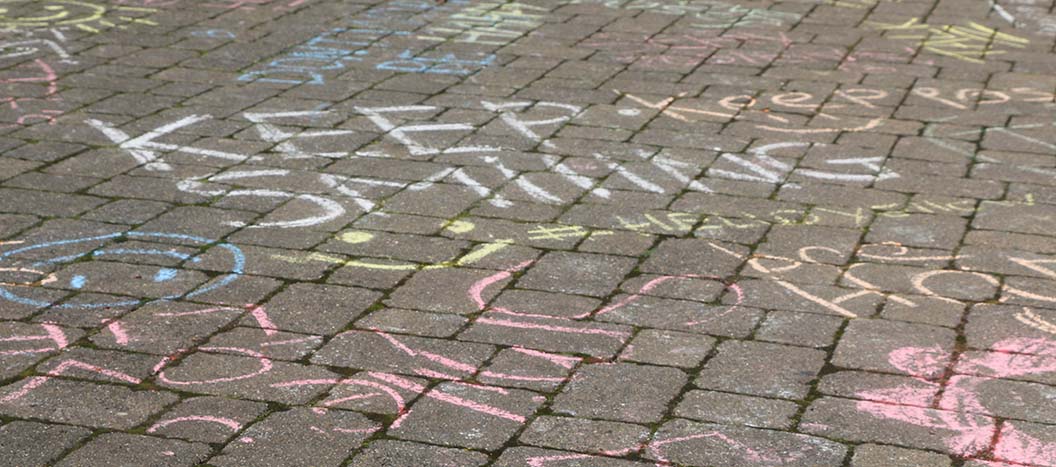 Let's Chalk About Mental Health
On Thursday 10th October 2019, the city of Exeter took part in World Mental Health Day. As a college, we took the opportunity to raise awareness of mental health by taking part in the 'Let's Chalk About Mental Health' campaign. The campaign aims to tackle stigma, supporting sufferers of mental illness and raising awareness around mental health and suicide.
On Thursday there was a city-wide event taking place where everyone was invited to chalk their messages at events across Exeter city centre. Our students chalked their own messages of support on the pavements of our Hele Road campus. Take a look at their messages on our social pages.
Rosa Brown, College Nurse said:  "Suicide remains the biggest killer of young people in the UK, particularly young males. We're keen to reduce the devastating statistics and ensure our learners can have an open conversation around mental health. Talking really does save lives but it can be daunting to know how to respond. We hope to equip our learners and staff with confidence to tackle suicide head on." 
Jake Cole, Emotional Health & Wellbeing Advisor at the college added: "It's great to show support to those that may be struggling and it's not always obvious who those people are."
Students also had the opportunity to attend workshops with Action to Prevent Suicide. They provide training, advice and guidance to help people recognise and support those at risk, whilst also raising awareness and breaking the stigma around mental health. The Samaritans were also on site on the day to offer support.
Lucy Chard-Maple, Health and Wellbeing Officer for the Exeter College Student Union said: "There are so many stigmas around mental health and I think as a student union we need to encourage students to talk about it more. It's one thing to say 'let's talk' but it's another thing to actually talk about mental health. I think the Let's Chalk idea helps students see the support available, without necessarily having to input if they are uncomfortable with it. It makes them aware that there are things being spoken about and that there is a presence and support available."
Students and staff from various faculties also supported the charity, Young Minds, by wearing yellow. Young Minds asked people to wear yellow and share their photos using the hashtag #HelloYellow.