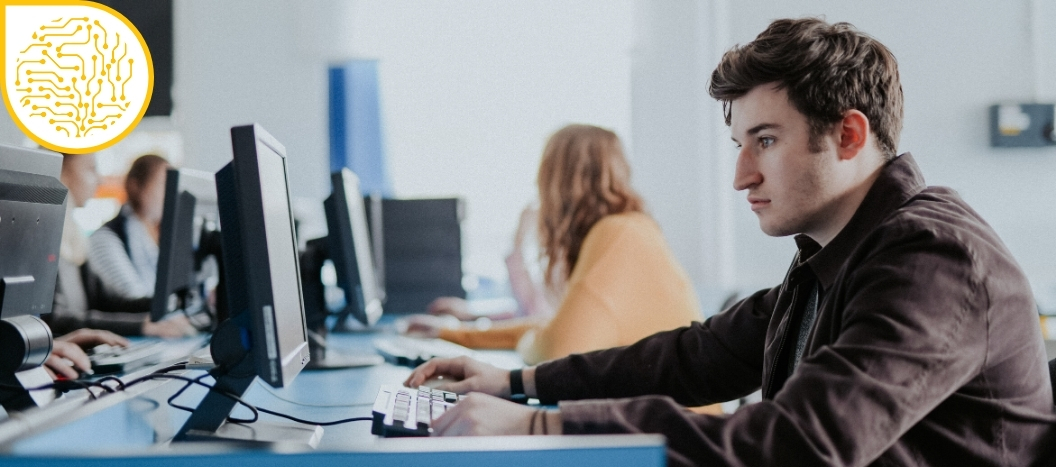 How Being a Centre of Online Excellence Has Helped Our Students Achieve Their Goals
Following the Government's lockdown of all schools and colleges from mid-March, education faced a huge, unprecedented shift to online teaching and learning.
For many, this leap to digital education was an immense learning curve. However, thanks to our longstanding commitment to digital transformation, we at Exeter College were remarkably well-placed for the transition.
From the very beginning, we made it our priority that all our students and Apprentices continued to receive the outstanding education they joined us for. Our online learning portals became a key tool in providing students with expert online tuition through recorded lectures, live interactive seminars, and independent study sessions.
Our readiness for using digital learning to its full potential was aided through our long-term digital strategy. Due to this, our students and staff were able to quickly become fully-fledged digital citizens and were able to utilise online learning and unlock its full potential. Although the shift to digital learning came much quicker than anyone could have expected, our digital strategy meant that we already had the building blocks in place to ensure the process would be a success.
Microsoft Showcase College
We're proud to be one of only a handful of further education providers in the country to be named as a 'Microsoft Showcase College,'reflecting our commitment to providing outstanding online learning opportunities. During the lockdown, our Microsoft Showcase status helped to enable both our staff and students to confidently move to online learning, with great results.
Students studying subjects from Barbering to Maths, and everything in between, were able to receive tuition purely online. Sam Pestridge, A Level student studying Spanish, Politics and History has been very impressed with the transition to digital learning during the lockdown.
"Teachers have been calling us online, this is especially useful for a subject like Spanish where it's important that we keep practising our speaking," said Sam.
"Teachers have been doing PowerPoints and recording sessions for us. I feel I'm supported in my learning and the teachers are always available for us if we need them."
As a College, we've received an exceptional amount of positive student feedback, proving the success of our digital strategy. We aim to continue using our digital prowess in future by helping other schools and colleges make the most of remote learning opportunities, throughout the current pandemic and beyond.
EdTech Demonstrator College
We were recently announced as an EdTech Demonstrator College by the Department for Education. This means that we will be using our digital expertise to help other education providers deliver exceptional teaching and learning online.
The EdTech Demonstrator Programme, which is backed by the Department for Education, The National Grid for Learning, The Education Foundation and Sheffield Hallam University, provides a platform for peer-to-peer support in education. We are very excited to now be tasked with providing tailored support to other schools and colleges to upskill their staff, technology and, ultimately, their online teaching.
Exeter College Assistant Principal Jenny Leach, who led our offer of help on the Programme, said, "We wanted to get involved in this scheme to help other schools and colleges in any way we can. We aim to deliver the best possible online learning experience for their students.
"The EdTech Programme is in response to some of the challenges schools have faced during the Coronavirus lockdown, but this will also be an opportunity to make a lasting impact on how education works for a lot of schools.
"The aim is obviously to help schools through the current uncertain period, but online learning can be used to enhance teaching, learning and assessment beyond this, and that's one of the secondary aims of the programme. We want this to have a lasting impact on schools and help enhance the learning environment of their learners for many years to come."
Exeter College – The College of the Future
Here at Exeter College, we have a reputation as an education innovator, continually developing in line with the needs of our learners and the local area. In addition to outstanding online learning resources ready for the future, we are also evolving our education offer, helping individuals and businesses to thrive for the economy of the future.
The construction of our new Digital and Data Centre is currently underway, which is due to be completed by early 2021. The new Centre forms part of a South West Institute of Technology plan to revolutionise digital, engineering and manufacturing technology education across the region. The bespoke digital facilities will provide skills training to create the digital and data professionals needed for the economy of tomorrow.
Next Steps
We are currently preparing for enrolment for a September 2020 start.
There is also still time to apply online to study with us. Once all completed documents have been sent in and reviewed, students will be given a conditional offer.