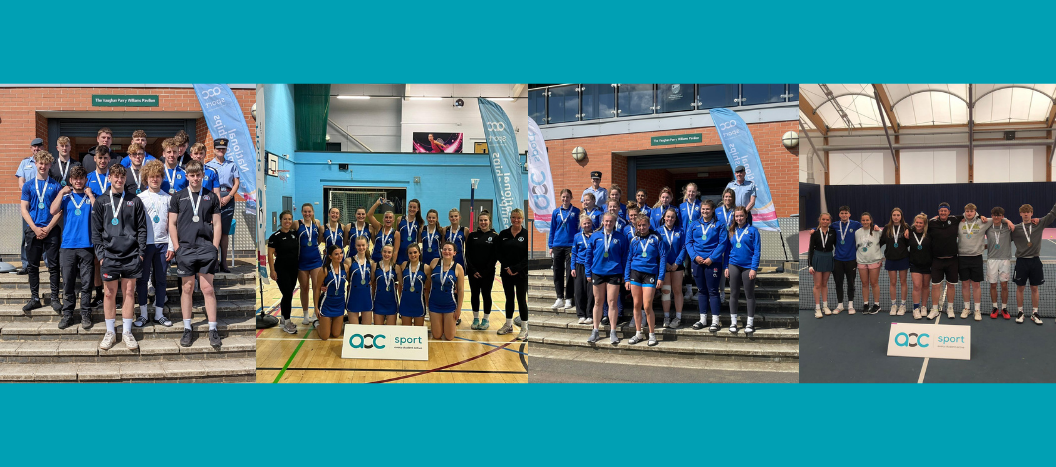 Exeter College students help the South West to glory at the AoC Sport National Championships  
Students from Exeter College competed at the AoC Sport National Championships in Nottingham last weekend, coming home with three gold and three silver medals as they helped the South West region to finish in 1st place.
Over 60 students and staff travelled to the University of Nottingham where they battled it out against athletes from colleges across England and Wales during the three-day event. They competed in a wide range of sports including Women's Rugby 7's, Netball, Basketball, Men's Rugby 7's, Tennis, and Cross Country.
AoC Sport Director of Sport and Student Experience Dean Hardman said:
"It goes without saying that the past two years have been extremely difficult for everyone and especially young people. We were therefore delighted to see the return of the AoC Sport National Championships for the first time since 2019 and the much-needed opportunity for our talented athletes from across the country to compete against each other at this fantastic event.
"Given all the challenges colleges have faced throughout the pandemic, it is outstanding to see so many join us in Nottingham and to see so many students enjoying their sport and its many benefits. It has been a privilege to host them."
Silver medals were earned in Men's Rugby 7's, only missing out on Gold on a head-to-head rule, Cross Country, and Tennis. Amazing resilience and teamwork were shown by Netball, Women's Rugby 7's and the Barbarians South West Women's Basketball team, to bring home gold medals.
As well as individual glory, the teams were aiming to accumulate points for their region and win the prestigious Wilkinson Sword trophy. After an intense competition, the South West region were presented winners of the Wilkinson Sword with a total of 140 points, the first time the region has won the coveted title since 2016. Yorkshire and Humber claimed the runners-up spot with 127 points and the South East came in at third place.
Sports Academy Manager at Exeter College, Chris Wall said:
"It's outstanding to have the National Championships back after a period of 2 years without them. All our students have enjoyed the regional qualifying competitions and those that were rewarded by winning had an amazing experience in Nottingham. Even more pleasing was how they conducted themselves and performed. Let us hope this remains an annual event for the foreseeable future."
More than 1500 students took part in 12 different sports at the University of Nottingham and surrounding areas. The event was brilliantly supported by 282 staff, 91 colleges, 45 student volunteers, countless officials, not to mention the AoC Sport team.
League Table: Wilkinson Sword competition
| | | |
| --- | --- | --- |
| Region | Total Points | Final Position |
| South West | 140 | 1st |
| Yorkshire & Humberside | 127 | 2nd |
| South East | 121 | 3rd |
| East | 107 | 4th |
| West Midlands | 101.5 | 5th |
| East Midlands | 85.5 | 6th |
| North West | 81.5 | 7th |
| North East | 59.5 | 8th |
| London | 52 | 9th |
| Wales | 27 | 10th |
Exeter College help South West top AoC Sport National Championships table