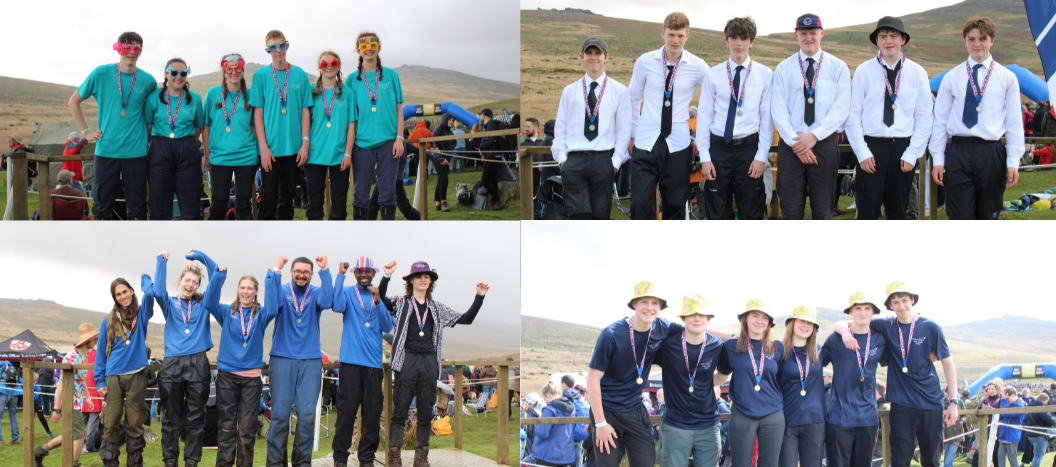 Exeter College Students Complete Epic Trek Across Dartmoor in Ten Tors Challenge 
Exeter College had four teams successfully complete the Ten Tors Challenge last weekend, with two teams walking 45 miles and two teams walking 55 miles.
The event, organised by the Army and assisted by the Royal Navy, the Royal Air Force and the Dartmoor Search and Rescue Teams, is a challenge of team work, endurance, navigation and camp craft and sees teenagers survive for two days completely unaided. Schools from all over the South West and beyond train hard for months before the final event in May.
Exeter College Principal and CEO, John Laramy CBE said:
"We are incredibly proud to have had four teams take part in this momentous challenge. We believe we were the only college or provider to have two teams complete the amazing 55 mile challenge too!
"I am always impressed by the resilience and determination these students show when preparing and undertaking this challenge. It is such a commitment, alongside all their studies.
"We know from experience that events like Ten Tors have a real impact in preparing them for their futures. The students have trained in all weathers but have come through the other side and absolutely excelled in working as a team and getting each other across the finish line.
"A big thank you to all the staff who have given up so much of their time to support the students in this endeavour as it couldn't happen without their knowledge and expertise."
Training started in November with several day walks before overnight training started in January. The teams experienced wind, rain and even snow on the training weekends. Early in the training the students had shown they were up for the challenge by completing a gruelling 75km coastal walk from Bridport to Budleigh Salterton.
The College's team at Haven Banks worked hard with students to train and prepare them for the challenge. Harry Newman, Ten Tors Manager, said;
"I have had the pleasure of getting to know these students throughout training. They are a credit to the College. Completing the Ten Tors challenge is no easy feat. The teamwork, leadership, and resilience shown by each and every one of these students has been incredible. I am very proud of their achievement, undoubtedly, they will remember this for the rest of their lives. Well done and congratulations."
This year's event started with heavy hill fog on Saturday morning. Teams were awoken at 5am to the sound of chariots of fire playing throughout the campsite. After a hearty breakfast, they made final preparations and then made their way to the start. The anticipation built as the teams were briefed by special guest Jonathan Van-Tam who gave a very inspiring speech, then the countdown began before the event was started by the sound of canon fire.
The teams then have 10 Tors/checkpoints to navigate to during the weekend. Teams are not allowed past their 8th checkpoint on the Saturday. All Exeter College teams made it to and beyond their 7th Tor and continued towards their 8th ready to check in at 6am on the Sunday. The 4 teams were across the finish line by 3pm on Sunday afternoon. An amazing achievement.
In addition to the support offered to Exeter College's successful Ten Tors Teams, Haven Banks Outdoor Education Centre were pleased once again to manage and support St James School (Exeter) Ten Tors training programme and this year the Centre also supported Southbrook School and Orchard Manor School with their Jubilee Challenge triumph.
Southbrook School and Orchard Manor teams each successfully completed the 8.7 mile Jubilee Challenge route early on Saturday afternoon. Whilst 18 students (3 teams) from St James successfully crossed the finish line early on Sunday afternoon to complete their 35 mile Ten Tors Challenge route.
An absolutely fantastic achievement for in excess of 60 students from across 4 educational establishments, made possible by the dedicated and supportive staff team from Haven Banks Outdoor Education Centre.
You can read more about the extra opportunities available to Exeter College students.
Our 2023 Ten Tors Teams were:
Exeter College 45 A – Route XF
Seren Vass – Team leader   
Astrid Lowe
David Madge
Malik Mursal
Oliver Foxford
Harrison Usher
Exeter College 45 B – Route QG
Ollie Whittingham – Team Leader  
Matt Silverlock
Zack Gambie
Finlay Smith
Barnaby Moore
Gabriel Nother
Exeter College 55 A – Route YF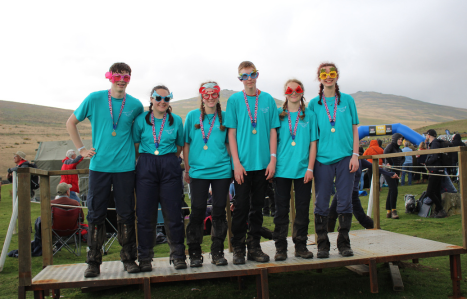 Toby Murphy – Team Leader   
Katie Harries
Pip Lawton
Neve Thompson
Corren White
Jakin Talbot
Exeter College 55 B – Route ZF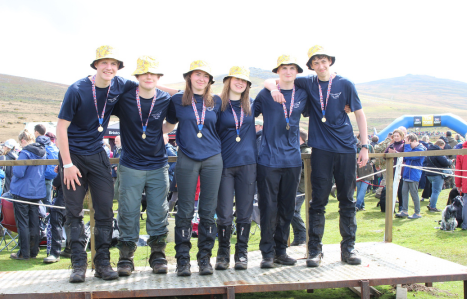 Abi Hyde – Team Leader   
Bryony Keane
Freddie Tancock
Hamish Hutchison
Matt Peters
Ed Bakewell