Exeter College Students Celebrate Achievements at Prestigious Graduation Ceremony 
On Friday 7 October, Exeter College graduates took to the stage in Exeter Cathedral to collect their degree certificates. Graduates from a wide range of programmes gathered with their friends and family to celebrate this special educational milestone.
Exeter College has a proud history of delivering Higher Education courses which range from Business to Engineering to Football Coaching and Early Childhood Studies. Many students have already secured employment or will now go on to their next steps in education.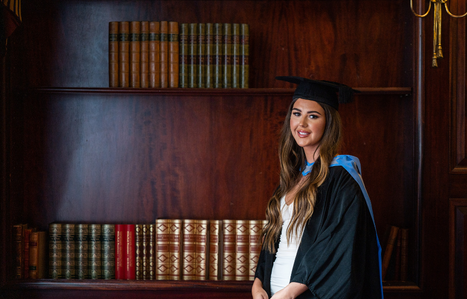 Louise Fisher progressed from a Level 3 course at the College and has now completed a BA in Business Management. She has secured a graduate job in Financial Services. She said: 
"I'm a Financial Executive and Insurance Broker which I started in July. My employer opened a new branch in October, so I have used my degree with that and I'm continuing my professional development by doing my CII (Chartered Insurance Institute). 
Speaking about her experience at College, Louise said:
"The lecturers and teachers were all supportive. It's been hard work but rewarding in the end. I'm really excited for graduation today but I also feel really proud because it's a great accomplishment."
Principal and Chief Executive, John Laramy CBE, said;

"The Exeter College graduation ceremony is one of the highlights of our College year. The iconic setting of Exeter Cathedral always adds some extra magic to the day and I am sure that the experience will stay with our graduates for many years to come.
"This year's event was given an international flavour, as our guest of honour joined us from Daytona Beach, Florida.  William J Muldoon is Vice Chancellor at Embry-Riddle Worldwide and Managing Director of Europe, part of the esteemed Embry-Riddle Aeronautical University. Our unique partnership has seen Engineering students visit the university in Florida, as part of the Government's Turing Scheme. We were delighted he could join us at the Graduation where he gave our graduates and guests an inspirational and fascinating address, outlining the dynamic world of work that our graduates will now join. 
"The last few years have not been straightforward, and all our graduates will have learnt new skills, beyond the content of their programmes. It has been a privilege to celebrate with all our graduating students today whether they had completed a degree, a professional course, or an apprenticeship. I would like to congratulate all our 2022 graduates and wish them well for their future endeavours."
Among this year's graduates were two award winners. The University of Plymouth Academic Partnerships Prize went to Adam Coombe, a FdA Graphic Design student. He is described as an exemplary design student by his tutor, Nigel Lowe, who said:  
"His endeavours to push boundaries and "go the extra mile", both conceptually and technically, have resulted in professional and innovative design solutions. He has developed not only as a talented designer, but also as a person who now has the confidence to progress to Level 6 at the University of Plymouth."
Lucy Chard-Maple was awarded the Exeter College Award. She has just completed a BSc (Hons) in Public Services. Talking about her achievements, her tutor, Rev Dr Edgar Mihas, said;
"Lucy has demonstrated exceptional aspiration, determination, effort, motivation, and a pro-active attitude, all of which paved the way for the exceptionally high First-Class Hons degree. Lucy has been a Special Constable throughout her three years as a Higher Education student and is now in the process of joining the Police as a full-time officer."
Speaking about her time at Exeter College, Lucy said:
"It's been fantastic, they have always been there for students. They have excellent tutors, and you always get opportunities to progress any skills, not necessarily related to your degree or your course but extra skills that help you every day. I've learnt a huge amount from that as well."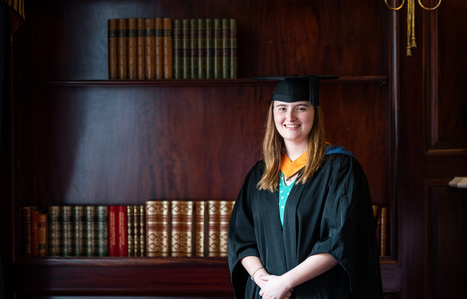 Speaking about graduation, she said: 
"I think it's amazing. The opportunities I've had, I've been so lucky and had such supportive friends and family, tutors and staff members encouraging me. So, it's a huge day and I think it's going to be really good to celebrate that with everyone I love."
Find out more about university level learning at Exeter College at the next Open Event on Thursday 13 October.