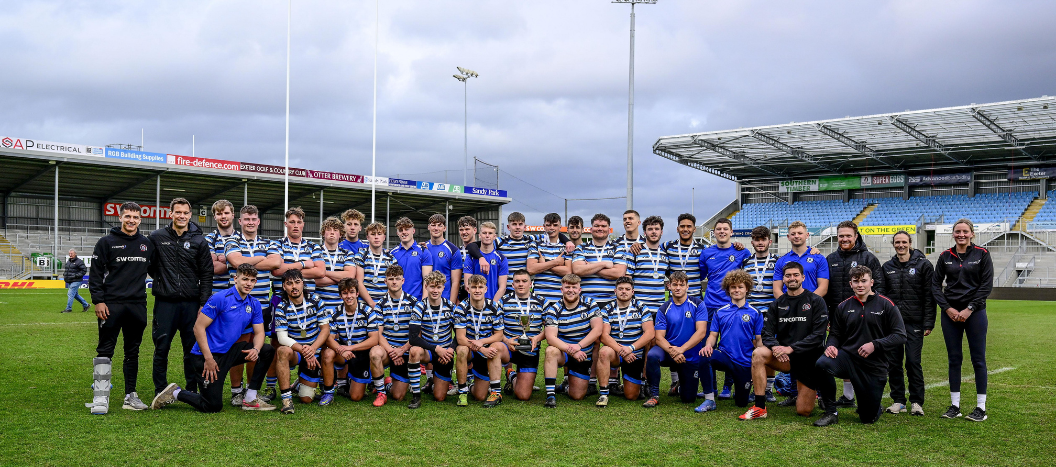 Exeter College Men's U18 Rugby Team become AOC Sport Champions of England and Wales 
Last night the Exeter College Men's U18 rugby squad headed to the home of Exeter Chiefs to play a spectacular final against Ivybridge Community College in the AoC Premier League National Finals, grounding out a victory to retain the AoC Premier League title.
Premiership rugby ground, Sandy Park, was the perfect venue for these two Devon colleges to go to head-to-head in what was an eventful final match and with over 1000 spectators, they did not disappoint.
Academy Coach, Keith Brooking said; "Last night showed how strong age group rugby in Devon is. For two local colleges to get to the final of a national competition is great to see. For the Exeter Chiefs and the AOC to allow the final to be played at Sandy Park was amazing and with a great crowd and atmosphere it highlighted the appetite for age group rugby in the area.
"The actual game was a great final with the result in the balance right until the final whistle and from a coaches point of view it was interesting to see what pressure does to a player. Both teams played their part in a great final with Ivybridge College having the majority of the territory and possession and playing some clever rugby while Exeter College showed their courage in defending their line time and time again.
"From an Exeter Chiefs Academy view point it was excellent to see players from all over the County giving their all on the Sandy Park pitch and you never know we might see some of them on there again at some point.'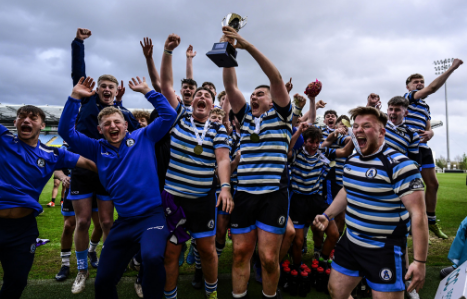 With a strong start from both teams, it was clear the teams were evenly matched with neither team giving each other an inch of ground in the first 20 minutes. That soon changed with Ivybridge scoring at 24 mins and by half time it was 5-10 to Ivybridge.
Exeter raced into the second half with renewed vigour and quickly scored again bringing it to 12-10 to Exeter. The next 15 minutes saw Ivybridge camped in the Exeter 22 with Exeter struggling to clear their lines and giving penalties away at the breakdown. However, some spirited defence kept Ivybridge out, and twice they were held up over the line to keep the score line at 12-10.
Ivybridge launched a number of attacks after further penalty infringements and a yellow card for Exeter. However, some more resolute defence and a turnover ball saw an end to the encounter with prop Tom Gulley able to show his footballing skills, kicking the ball into a packed main grandstand at a raucous Sandy Park. A fitting end for Gulley, one of nine second years in the 22-man Exeter squad who pulled on the Exeter College jersey for the last time last night.
Exeter College Coach, Jon Fabian, commented after the game:
"Before the game, we said that we wanted the players to enjoy themselves, be proud of the performance they've put in and come back into the changing room with a win. When we look back at the game, we controlled the early possession, but the Ivybridge defence held us out and we eventually found ourselves 10-0 down. It was vital to us to get on the scoreboard just before half-time and this was just what we did with a great move from the back line.
"In the second half, after we scored early on, the territory was controlled in a much better manner by the Ivybridge side, but the fight and character showed by our guys in defence was absolutely amazing. It was this aspect which ultimately decided the result of the game, after Ivybridge spent 20 minutes in our 22 without adding to their first half score line. Although we won the game, a huge amount of credit must go to the Ivybridge side, who played an unbelievable game and showed such huge character."
Exeter College Men's U18's Starting Line Up  
Callum Arnold
Jack Ballett (Co-Captain)
Tom Gulley
Jake Martin
Ed Spurway
Sam Putman
Ethan Millard
Charlie Parr
Morgan Stone
Bobby Wigginton
Freddie Bridger
Zack Wimbush
Jeremy Tuima
Jude Baker-Hands
Charlie Groves
Reps:
Louie Gulley (Co-Captain)
Joe Thomson
Harry Rodwell
Pip Burton-Race
James Dodge
Freddie Blackburn
Kofi Firth