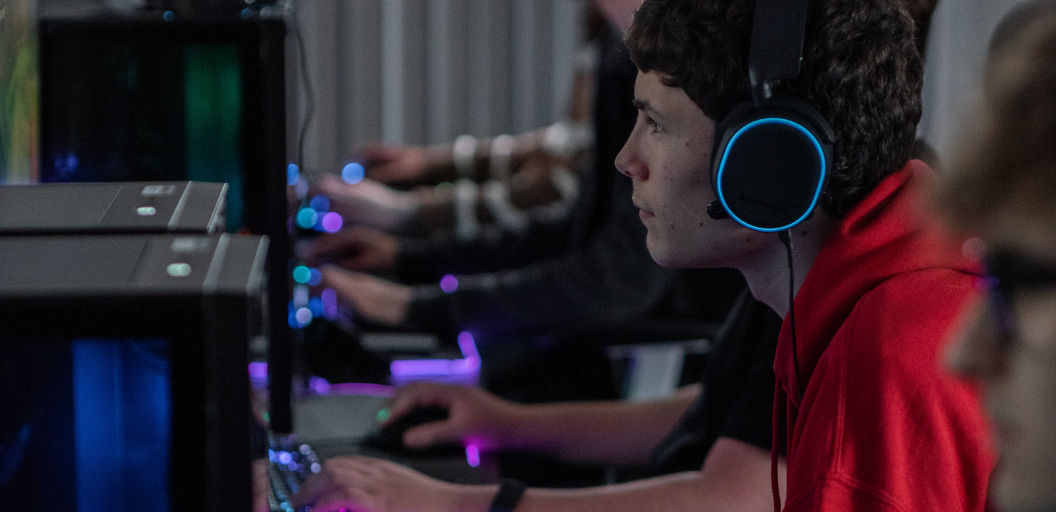 Exeter College launches Esports Academy
Following the amazing achievement of winning two national finals in the British Esports Association's League of Legends tournament, Exeter College is excited to launch their Esports Academy giving students who are interested in competitive gaming a chance to shine in the industry. 
The Esports sector has grown hugely in recent years and is an extremely popular choice of study for young people today. Exeter College offers an Esports course for students who wish to develop their skills in the business and management of Esports.
Participation and growth of the Esports course led to the college's decision to develop an Esports Academy – giving students the chance to become a professional player.
Students on the Esports course will ultimately manage the players on the academy and help promote and organise tournaments for the players with national gaming organisations such as the British Esports Association.
Students will need to have top scores in their game public ranking to be considered for a place on the academy and invited to trial.
Each academy team will have their own dedicated production and management team, made up from students on the Esports course, who will produce live streams, shout casts, performance reviews, arrange games and matches, handle social media management, event management, branding, marketing and will maximise the health and wellbeing of the players on the academy so they can perform at their best and build a professional profile in a supported environment.
Exeter College student, Daisy Batchelor, was involved in helping to shape the Esports Academy, she said:
"The academy is great as it focuses on the players, game play and competing against other colleges, whereas students on the Esports course learn how to look after the players. Last year I worked on the pre-Esports academy through my enrichment activities and it hugely improved my gaming skills. I'm so excited to trial for the Esports academy this September."
John Laramy CBE, Principal and Chief Executive at Exeter College said:
"Esports is one of the fastest growing industries in the country, worth over £7 billion a year to the UK. As an outstanding college we constantly review and refine our curriculum offer. As a result, we are delighted that we will be able to launch an Esports Academy from September, to enable young people to experience the world of Esports alongside their core academic or vocational programme. This new academy will be supported by dedicated staff and stunning resources in the new Digital and Data Centre. Our aim is to become a leading college for Esports and play our part in the success and growth of the industry."
Employer Adam Stone, Managing Director at Rokk Media provides insights into the Esports industry and explains that the gaming sector now eclipses all other forms of entertainment combined, he said:
"It's a phenomenon that has steadily grown beyond the stereotypes of the 80s to now be the default form of participation entertainment for the majority of 18-35 year olds with an almost equal gender split. Unlike TV, cinema or pop music however, video gaming offers an immediate opportunity for competition with friends or strangers, for fun or for profit. Where there is competition, there is sport and where there is sport there is an almost infinite array of commercial opportunities to support it. Big money comes to the super-elite eSport players but also to their agents, event organisers, promoters, marketers, social media managers, merchandise manufacturers, ticket sellers, event owners and on and on. This is not a fad, this is the future, this is a future that exists today."
The Exeter College Esports Academy, based in a state-of-the-art Esports room in the new Digital and Data Centre, will be open to applications from September. The Esports room is equipped with high specification gaming PCs, monitors and peripherals. Every aspect of the design of this room is geared towards the top level of gaming.
The Esports Academy is open to all students at Exeter College and is the perfect opportunity for learners to improve their competition skills and be part of an elite team. Find out more about Esports at Exeter College and current students' recent success at the British Esports Association Championship Finals in Nottingham.