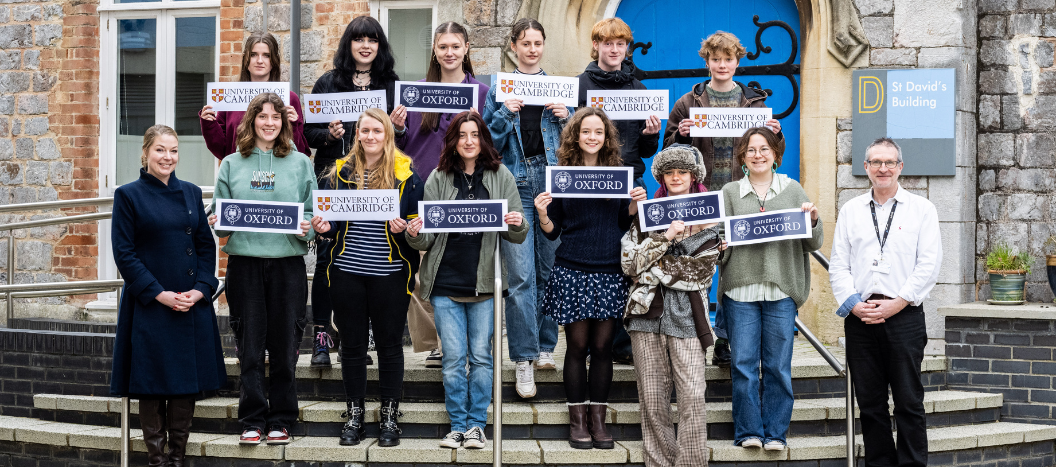 Exeter College Beats National Average with Oxbridge Applicant Success Rates 
Students at Exeter College are celebrating their offers from two of the UK's most prestigious universities, the University of Oxford and the University of Cambridge. Sixteen students hold offers for a wide range of subjects including; Veterinary Medicine, Biomedical Science, English Literature, Natural Sciences, Classical Civilisation, and History, reflecting the broad curriculum available at Exeter College.
In total, 66 students applied to these two top UK universities, commonly known as Oxbridge. Seven hold offers for the University of Oxford and nine for the University of Cambridge. To obtain an offer they have had to stand out through a rigorous application and interview process.
The national average success rate for independent schools applying to Oxbridge is approximately 20%. Exeter College applicants have exceeded this by a strong margin, with an overall success rate of 24%.
Exeter College Lecturer Martin Gilbert, who leads on the Reach Academy, said;
"I am so pleased for the students; they have worked so hard to gain the skills and academic evidence that these world-class universities are looking for. With the help and guidance from all the outstanding staff at Exeter College these learners have shown themselves to be independent, explorative, with the ability to think critically and analytically."
Abby Williams, previously from Chulmleigh School, is studying A Levels in Biology, Chemistry, and English Literature, and has been offered a place to study English Literature at the University of Cambridge. Reflecting on the application process, she said;
"The application process was quite rigorous, first I filled out my questionnaires from Cambridge, then I had to do my interview. I had a mock interview at college prior to this with a subject specialist, which was helpful to get feedback on, as I hadn't experienced that before.
"The College, and particularly Martin, were so helpful, I feel I wouldn't have got anywhere near to an offer without them."
Jade Otty, Vice Principal, said;
"We are so proud and delighted for these learners, and of everyone who made an application for Oxbridge this year. I would like to thank Martin and all our amazing teachers; a huge amount of extra support and wider curriculum experiences go into helping our young people to gain such a great number of Oxbridge offers."
Therese Walsh, previously from Torquay Girls Grammar School, is studying A Levels in Politics, English Literature and Film Studies. She said;
"I received an offer to study English Literature at the University of Cambridge and honestly, I am still shocked. I'm the first in my family to go to Oxbridge, so it's quite hard to wrap my head around it. I feel very grateful and honoured to have this opportunity. From my secondary school education to all the support at college, I'm in a really privileged position that this was a door open to me and to have a place I can go on and study.
"I've absolutely loved college. I have loved the freedom of it. I love the academic culture, all the opportunities and extra things you can do. It's a fantastic step between secondary school and university, it's a great place to be as a young adult and has been a great step into adult life."
Students with offers to study will find out if they are guaranteed a place after their 2023 exam results.
Want to join Ofsted Outstanding Exeter College? Apply online today.