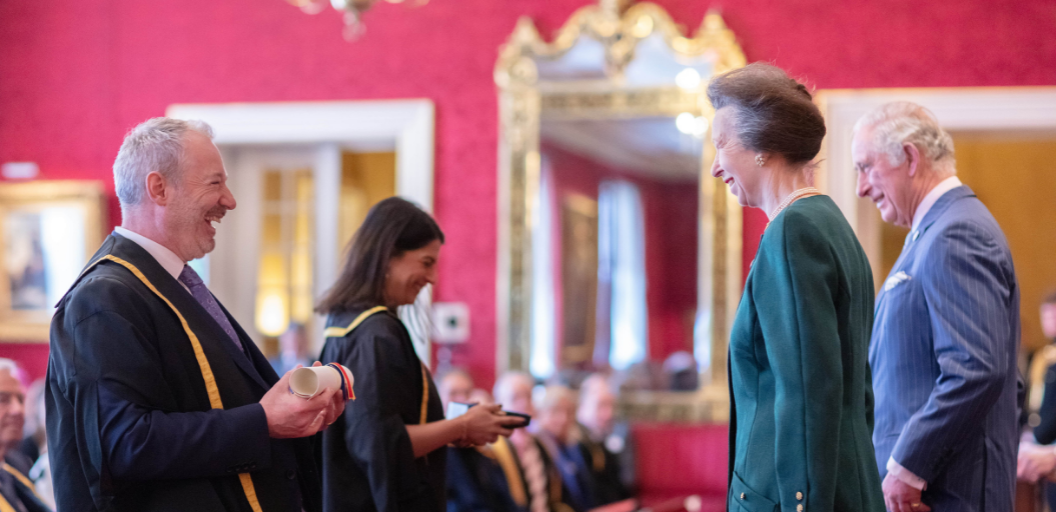 Exeter College Honoured to be Awarded Queen's Anniversary Prize
Exeter College was honoured to be awarded a Queen's Anniversary Prize for Higher and Further Education last year. By kind permission of HM The Queen, John Laramy, Exeter College's Principal and Chief Executive and other senior members of college staff were delighted to be officially awarded with the Prize Medal and Certificate on Thursday 17 February 2022 at St James's Palace in London.  
Exeter College earned the highest honour that can be bestowed upon a further education college for its strategic approach and work towards being a digital college and driving a skills revolution that has impacted on many areas of the college and region.
The award recognises the College's excellence in embedding digital technology through curriculum innovation, national work to help shape the digital agenda within colleges, working with employers to help others, staff digital training and throughout many areas of the College.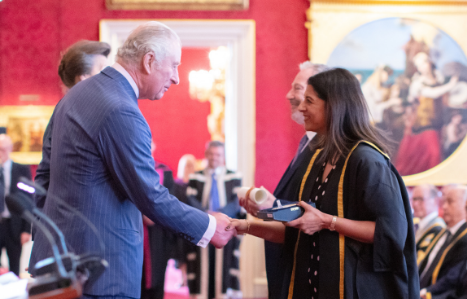 John Laramy CBE, Exeter College's Principal and Chief Executive said:

"The dinner, in the historic setting of the London Guildhall, was a really magical moment, as we were able to celebrate winning the award with amazing winners and key stakeholders from across Further and Higher Education.
"I was very pleased indeed that a number of staff from right across the College were able to attend the dinner, as our approach to 'digital' really is a whole team effort. We were awarded the Queen's Anniversary Prize by the Prince of Wales and the Princess Royal, at St. James's Palace. This event was made even more special, as three of our students from various 'digital' programmes were able to join us.
"I would like to thank everyone at Exeter College who contributed to this award, the Royal Anniversary Trust and all those involved with the Queen's Anniversary Prizes for Further and Higher Education. The recognition of a Queen's Award is a truly fantastic moment for all of us at Exeter College."
Exeter College has a proven track record of digital delivery and excellence, being graded Outstanding by Ofsted, achieving Gold (the top rating) for its Higher Education provision by the Teaching Excellence Framework and being selected by the Department for Education (DfE) to share digital skills with other colleges and schools by becoming an Education Technology (EdTech) Demonstrator College.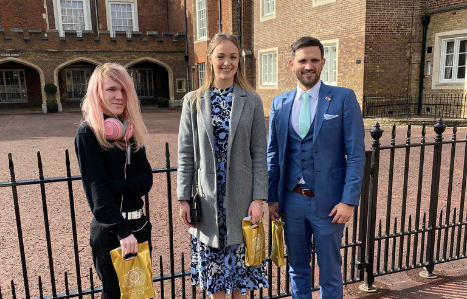 Empowering students to reach their digital optimum is something the College has been pioneering through their Personal Development Programmes. Working with the international award-winning programme, known as iDEA, Exeter College has helped students and staff develop and demonstrate their digital skills through a series of short, interactive online modules (iDEA badges), created by industry experts. In just two months the number of students gaining iDEA badges jumped from 10,926 to 22,194, demonstrating the College's and students' commitment to enhancing digital skills.
Investments continued this year by the opening of their £10.3m Digital and Data Centre as part of the South West Institute of Technology and supported by two local anchor employers, the Met Office, and Oxygen House – strengthening links with employers and developing a specialist building that is intended to be the regional centre of digital excellence.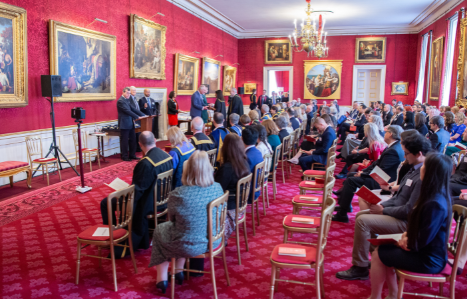 Working with the Local Enterprise Partnership allowed Exeter College to pilot the new Government 'Digital Bootcamps' initiative for adults. These short courses were hugely popular with 300 students applying for only 107 places. Due to popular demand the college is continuing these Bootcamps for adult students who wish to improve their digital skills.
The digital industry is one of growth, opportunity, and ambition. Exeter College is proud to be forward thinking and pushing the boundaries of what can be achieved within education – winning such a prestigious award not only cements the College's position as one of the leading colleges in the UK, but also shows that the College is ready to play its part in shaping the future.