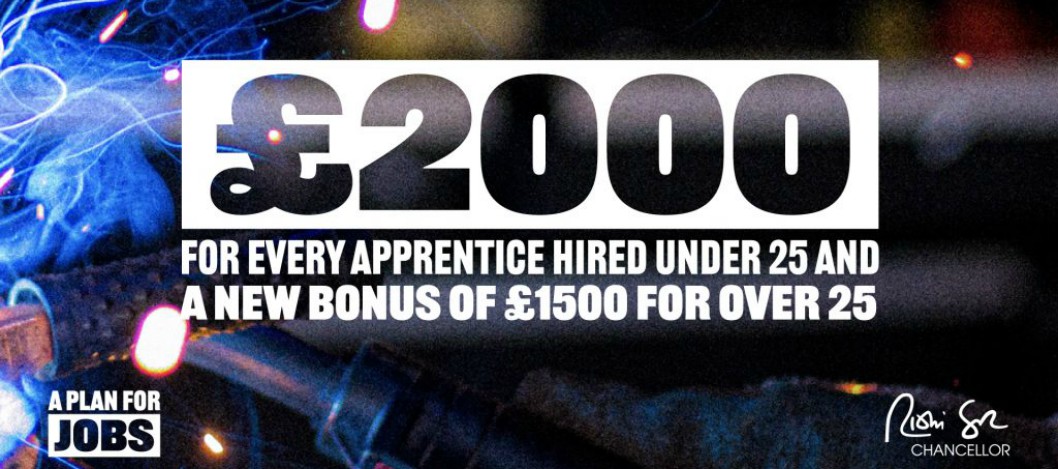 Exeter College Apprenticeships sets out plan to support employers through recovery period
Exeter College was extremely pleased to hear the Government's 'Plan for Jobs 2020', announced by the Chancellor at the recent mini-budget. This scheme allocates £1.6 billion towards Apprenticeships and Skills, to both support individuals into work and incentivise businesses. 
To summarise the Chancellor's support package for Apprenticeships and Skills:
£2,000 payment to an employer taking on an apprentice aged under 25yrs. This is additional to the £1,000 incentive already paid for an Apprentice aged under 19 or under 25yrs with an Education and Health Care Plan.
£1,500 payment to an employer taking on an apprentice aged over 25yrs.
£1,000 payment to an employer taking on a trainee or pre-Apprentice aged under 25yrs.
£1,000 for each furloughed employee who remains continuously employed through to the end of January 2021
As an Ofsted Outstanding Training Provider, consistently rated in the top three nationally for employer satisfaction, we recognise that these are exceptionally tricky times for employers, and we must ensure that we respond quickly and provide businesses with the support that is required.
As the Government itself states 'the COVID-19 pandemic is the biggest threat the UK has faced in decades. The virus has caused tens of thousands of deaths, has affected the lives of everyone in the country and has had a devastating effect on businesses.'
We welcome backing for businesses to take on Apprentices of all ages; our company has grown exponentially in this area over the last five years, and we are proud to work with over 950 employers and support Apprentices from Penzance to Paddington.
Our dedicated sector specialists continue to work hard with employers to identify, market and fill Apprenticeship jobs, and we are currently advertising over 125 live vacancies.
The Exeter College Pre-Apprenticeship programme has also had incredible success rates in recent years, enabling young people to gain access to Apprenticeships while building their confidence in Maths and English.
Exeter College Learning Support Specialist, Philippa Charlton, praised candidates on the Pre-Apprenticeship programme. She said, "These young people show determination and resilience. We are delighted to have seen them go on to fulfil their potential in Apprenticeship roles – as electricians and bricklayers, and within early years education and hospitality, to name a few examples.
"They bring new insight, creativity, and absolute dedication to their employers and the Chancellor's support for this programme is extremely encouraging. The extension of the scope of the programme further widens the opportunity for young people with a Level 3 qualification. This is welcomed."
Mike Blakeley, Director of Apprenticeships and Employer Engagement at the College, will explore the role of Apprenticeships and technical education in the economic recovery in our upcoming employer webinar, on Thursday 23rd July, 10:00am – 11:15am. We are delighted also to welcome Rob Nitsch, Chief Operating Officer for the Institute for Apprenticeships, and Nicola Drury UK Apprenticeship Manager at Amazon.
If you would like to join us, please register in advance.
For further information on accessing the government's support for Apprenticeships and Pre-Apprenticeships, please contact the Exeter College Team on 01392 400800 or email Apprentices@exe-coll.ac.uk.