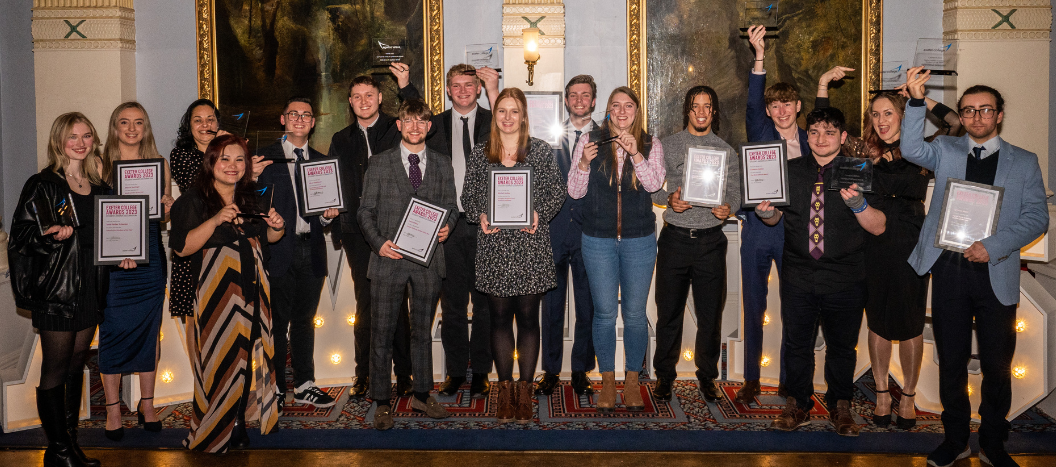 Exeter College Alumni Celebrated at Glamourous Awards Night
Exeter College was delighted to return to an in-person event for this year's Student Awards. Over 100 guests attended the 2023 awards ceremony at the Mercure Rougemont Hotel, celebrating the very best from a wide range of courses and achievements.
This group of students emerged from the pandemic and managed to deliver a set of exceptional results from all areas of the College. Their level of ambition has ensured they have achieved what they set out to do, with students progressing to an impressive list of universities, graduate schemes or directly into employment.
John Laramy CBE, Chief Executive and Principal at Exeter College said;
"I would like to congratulate all of tonight's award winners, last year's students and apprentices across the college combined to create one of the most successful years in our long History – thank you! Students delivered our best ever A Level results, outstanding T Level results and a stunning range of achievements, that covered every facet of college life. We are proud that you now become an Exeter College alumni.
"Our partners continue to work positively and proactively with us to make a meaningful difference to the student experience. I would also like to thank our sponsors and our employers; their ongoing support is, simply superb!"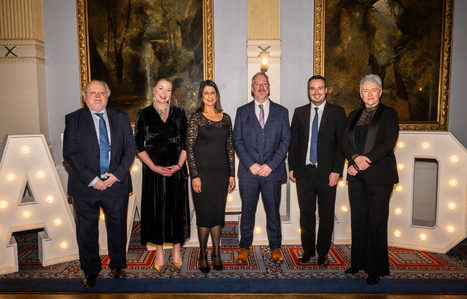 The College was delighted to welcome Suzanne Tracey as guest speaker to the awards. Suzanne is the Chief Executive Officer for the Royal Devon University Healthcare NHS Foundation Trust and has been instrumental in creating a sector leading relationship with the College which means that students can access work experience opportunities and occupationally specific pathways, such as midwifery.
Suzanne Tracey, Chief Executive Officer of the Royal Devon University Healthcare NHS Foundation Trust said:
"I've been delighted to be part of these special awards, celebrating the extraordinary achievements of students at Exeter College.
"We are really proud of our partnership with the College, which offers students the opportunity to find their future career, through a number of innovative qualifications and hands-on work experience, in both clinical and non-clinical roles.
"The students we work with are fantastic and we are excited to see what we can do together next."
Students from the 2021/22 academic year were invited back to celebrate their impressive achievements and have the chance to catch up with past tutors and teachers.
Lily Tomlinson studied A Levels in Maths, Biology and PE and won an award for Academic Excellence. She is now studying at Loughborough University doing Sport and Exercise Science and is hoping to work in elite sport. She said;
"It's an honour to be here, the college is so big, and all my friends did very well too so it's a nice surprise.
"College really widened my horizons; it was a great steppingstone from school before university and made me take more responsibility for myself but there was still a lot of support when I needed it."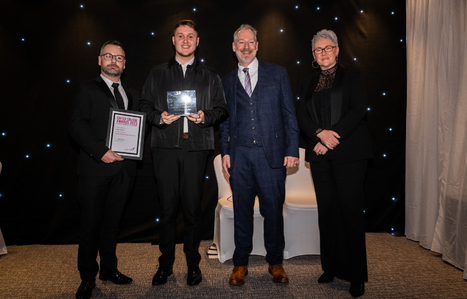 Louis Skilton studied Esports Production and Management at College and is now doing a degree in Coaching and Management at the new College of Esports in London. He is planning to play internationally and is already speaking with companies about managing teams. Louis won the award for Esports Academy Student of the Year. He said:
"I've never seen as much passion and enthusiasm as I did at Exeter College in all my years of education, it changed learning for me. I had amazing opportunities like being interviewed by BBC Spotlight and competing in National Championships.
"This award feels like gratification for all the hard work, but I also feel like anyone could have got it as the whole team was amazing."
Joshua Dyer studied the T Level in Software Development and did his work placement with Teignbridge Propellors where he now works as a Junior Software Developer. He won an award for Vocational and Technical Excellence and said;
"I'm really happy to be here tonight. My time at college was amazing, the way the course was taught was dynamic, practical, and hands-on. I would recommend it. The tutors and staff were amazing. Everyone is really friendly, I made lifelong friends."
The College would like to congratulate all the 2023 award winners and say a big thank you to all our Sponsors who make this event possible.