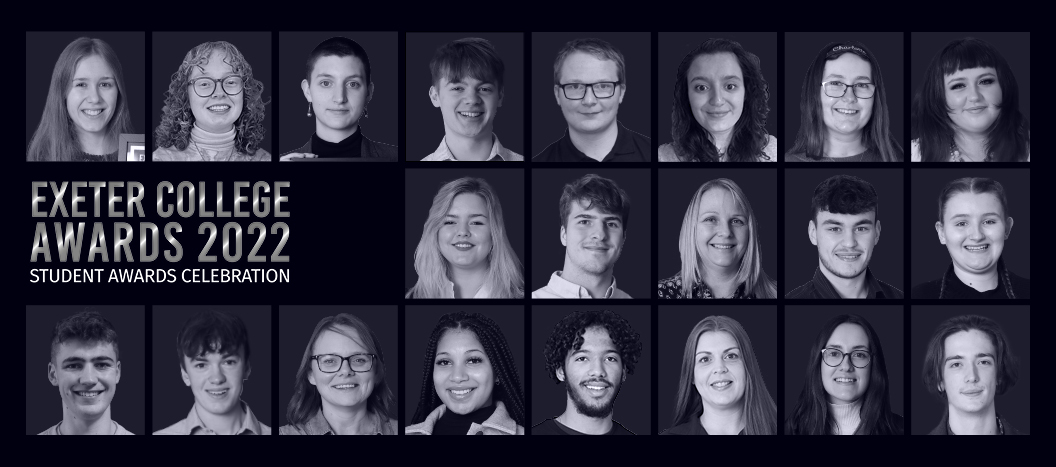 Exceptional Student Talent Celebrated at Exeter College Awards
The Exeter College Student Awards moved to a virtual celebration this year to recognise exceptional student achievements. In total, 21 categories were awarded, celebrating students from across the College's wide range of subjects and specialties.
Students' hard work, dedication and passion is part of what makes Exeter College truly outstanding and this event, although virtual, is a way of recognising students' commitment and ambition for what they do.
"I love my Apprenticeship, and to be awarded for something I love is incredible."

Rebekah Charles, winner of the Apprentice of the Year Award
Exeter College Principal and Chief Executive John Laramy CBE said, "The Exeter College Student Awards are always a highlight of the College year, and despite making the decision to move it online this year, this has remained true.
"Every year the talent, skill and commitment of our students is truly impressive, but the last year has really shown that even in a pandemic, our students excel. Tonight I would like to congratulate the award winners, but also recognise that every student over the last year has shown, through their attitude and study, why we are and remain an outstanding College.
"This year I felt the messages from our award winners was a fantastic addition to the event, I was so pleased that almost every student talked about the amazing staff at the College, something I am privileged to see every day. Finally, I would like to thank the sponsors for their fantastic support and wish all of our students a bright future, whether they are continuing at college, moving on to University or heading off into employment, we are exceptionally proud of you all."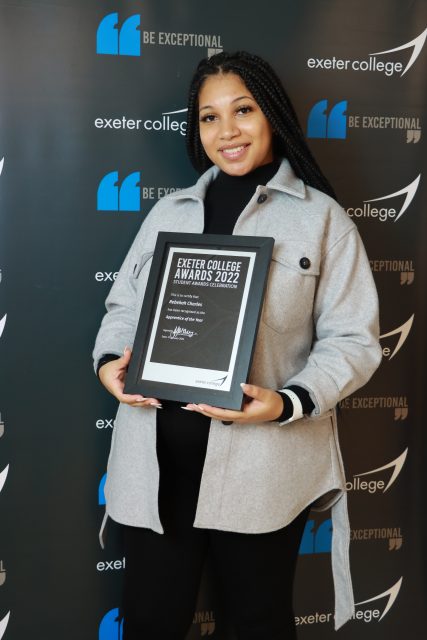 Rebekah Charles has been named as Apprentice of the Year. She is currently on a Level 3 Apprenticeship and hopes to apply for a high-grade position in her current place of work once it is completed. She said: "The support I've received from the Apprenticeship Team at Exeter College has been amazing, they pushed me to do my best and never let me give up. I wouldn't be doing what I do if they hadn't encouraged me."
Speaking about the Student Awards, she added; "I feel grateful and thrilled, I love my Apprenticeship, and to be awarded for something I love is incredible."
Callum Covill, winner of an award for Vocational and Technical Excellence, started his time at Exeter College on a Level 2 course and has since progressed to Level 3 and is now working as a Technical Support Facilitator in the College's Construction faculty.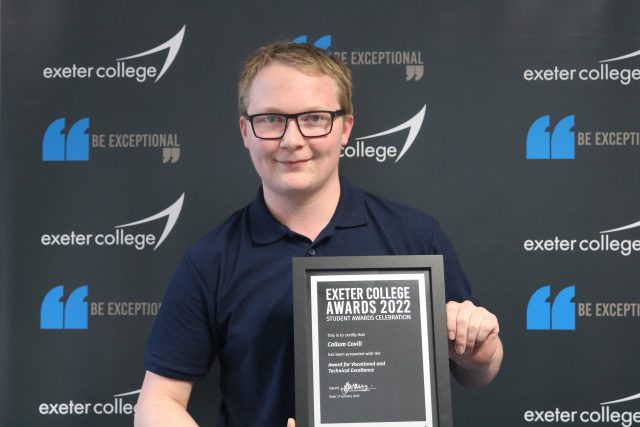 He said; "I feel incredibly honoured to have won this award, it is a true pleasure to have been a part of Exeter College for the past year and I look forward to the rest of my time here.
"In the future, I hope to further my skills and knowledge so that I can gain a teaching qualification and pass on my knowledge to aid the training of future generations of electricians."
"I feel incredibly honoured to have won this award, it is a true pleasure to have been a part of Exeter College."

Callum Covill, 2022 Award Winner
The College would like to thank our generous sponsors, who help ensure we can celebrate our student successes.
Professor Tim Quine, Deputy Vice-Chancellor for Education at the University of Exeter and Governor at Exeter College, said: "The University of Exeter is delighted to have been able to sponsor the Exeter College Student Awards, as it recognises and celebrates the incredible achievements of students at Exeter College, especially considering all the challenges we have been through the past year.
"It speaks closely to our partnership with Exeter College and also our commitment to support students from all backgrounds to succeed through the power of education. 
"As a Governor and a friend of the College I am privileged to see excellent work here and the unwavering commitment to high quality learning and teaching among all colleges and students."
Watch the Student Awards 2022.
Congratulations to all our 2022 Award Winners:
---