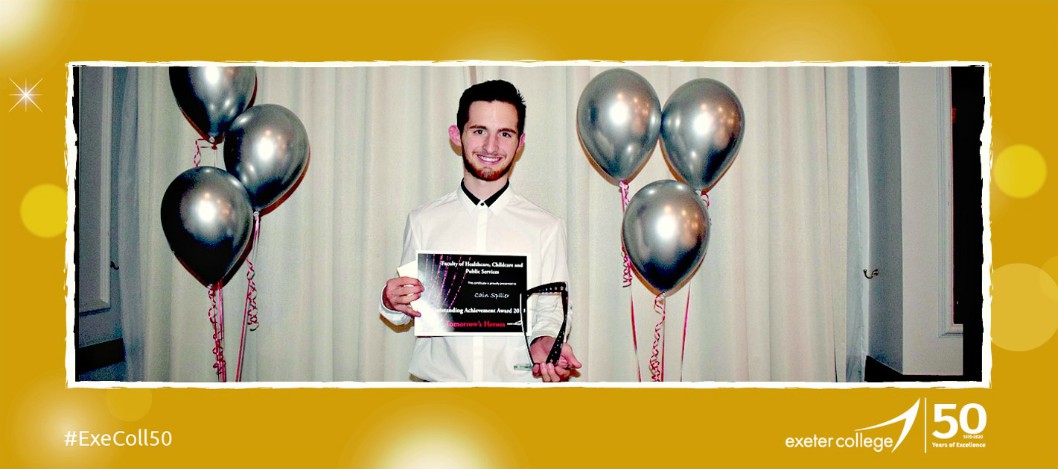 Cain Spiller: Don't Dream It, Be It
As part of Exeter College celebrating 50 years as the UK's first ever tertiary college, we're talking to some of the inspirational students, staff and alumni who have helped make us the Ofsted Outstanding education provider we are today.
Completing his studies at Exeter College in 2019, Cain Spiller is one of our more recent alumni. Yet, he is already firmly on his way to achieving his dream of working in law enforcement.
The former student from Honiton achieved a fantastic D*D*D* in his Level 3 BTEC in Public Services. Since, he has been accepted to be a Student Constable and is currently training with the police.
Reflecting on his time at college, Cain was thankful for the teachers and opportunities which helped to influence his ability to get where he is now.
"All my lecturers had previously taken part in the public services, which meant that they were able to answer any questions with confidence and give us the best possible guidance," he explained.
"The tutors took a genuine interest in all of the students' career ideas and did everything they could to make it happen. For me, it was – and always had been – joining the police service. If there was a recruitment campaign or a police training event, they made sure I knew about it. Some of the activities that we were involved in gave me added experience to include in my CV, and skills which I can use towards my career."
Reminiscing on some of the opportunities he was offered at Exeter College, Cain highlighted the Public Services practical day.
"We were given a chance to take part as a Gold Commander, Silver Commander and Police Officer for a major incident."
"This gave me the chance to perform a stop and search on a person with input from Police Officers. As much as this was amazing to take part in, it also completed a great number of criteria needed for multiple assignments," explained Cain.
It was activities such as this which provided Cain with a clear route into achieving his dream of policing.
Since being accepted into the police family as a Student Constable, Cain has completed an extensive 19-week E-Learning training course, where he recently passed his final exam.
The start of 2020 marks the beginning of Cain's practical training where he puts all he has learnt into operation with practical scenarios, safety training and much more.
Cain's aspirations don't stop here; he hopes that he'll be able to build upon his position, becoming a full-time police constable.
For anyone thinking about following in Cain's footsteps, he said, "Keep ahead of work where possible and keep persevering where you can't. Remember, you can do anything you set your mind to, but it takes action, perseverance, and facing your fears."
Exeter College is celebrating 50 years since being named as the UK's first tertiary college. Although our roots date back to the 1800s, our status as a tertiary college marked a revolution in further education and 2020 marks our 50 years of excellence since that landmark. If you have a memory of Exeter College through the years that you'd like to share then contact marketing@exe-coll.ac.uk or get involved on social media using #ExeColl50